true
The Artist is an absurdly anachronistic film in our age of 3-D cinematic assault. It's silent. It's black and white. And it's delightful.
The film is set in 1927 Hollywood, where George Valentin (Jean Dujardin) is a silent movie star—the speechless George Clooney of his day. He's a suave man's man—deftly escaping the wordless baddies on screen with the help of his trusty Jack Russell terrier. Off screen he has an infectious love affair with himself, spontaneously dancing for a rapt audience or a crowd of reporters and mugging at the life-size portrait of himself in his palatial home. We don't hate him for it; somehow he plays it for charm.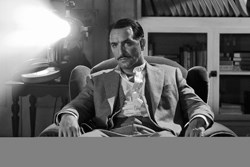 After yet another blockbuster, he finds himself accidentally sharing the red carpet with an adoring fan, Peppy Miller (Berenice Bejo). She uses her five minutes of fame to land herself a bit dancing part in one of Valentin's films. In one scene, George glides his way across the room to a clandestine meeting with a military operative, but keeps getting distracted by his comely costar—requiring take after take. It's a lovely silent seduction.
Peppy and George are obviously drawn to each other, but George is married to Doris (Penelope Ann Miller), a frowning blonde who seems perpetually bored with life and peeved with her husband. While they remain stuck with each other, the movie industry surges ahead with the advent of sound. Valentin's movie company—led by industry suit Al Zimmer (John Goodman at his grimacing, cigar-smoking best)—unceremoniously dumps him and hires a fresh crop of young talking stars, including Peppy. As her career takes off, George struggles to find his place.
Did I mention that all of this unfolds without any words? Seriously, you won't even miss them.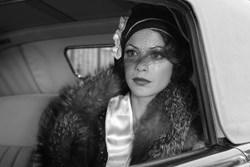 We do get a few screens with a sentence or two of dialogue. But mostly in the place of words there's a superb score that sets the emotional tone for each scene—playful, ominous, achingly romantic. And there are the pitch-perfect expressions of Bejo and especially Dujardin—reminiscent of Douglas Fairbanks and Rudolph Valentino. He's never mugging at us, rather authentically communicating with sly smiles and skipping steps. The film just wouldn't be nearly as effective without his nuance and charisma.
The film itself has a charming exuberance for the opening third, with a playful dancing duet between Valentin and unknown feet behind a screen, a touching moment between Peppy and Valentin's suit coat, a funny dream sequence that cleverly acknowledges the lack of sound. The tone is playful, a joyous homage to a simpler, yet more sophisticated time when movies sought to entertain.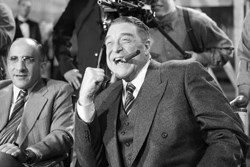 The film does drag a bit toward the third act, when that joy turns to confusion and angst as the movie world on screen changes and our leading man loses his way. As he grieves for what's lost in the name of progress, we grieve a bit with him—even as The Artist reminds us of the simple joys of well-developed characters, plots that are given time to breathe, stories that unfold with clever twists and maybe even a little dancing.
Valentin also illustrates the way pride can interfere with progress, how failure to adapt can make you obsolete. And Peppy's character speaks to the need to understand and respect what's come before. In our own world where we are changing the way we experience movies, read books, and gather news, this storyline feels altogether relevant.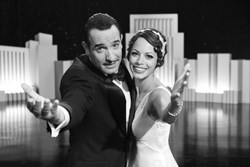 How fitting that this delightful piece of nostalgia would speak so eloquently about navigating the future. How well it captures both the agony of falling into obscurity and the joy of falling in love. And how brilliant that it can do all of this with only a handful of words.
Talk About It
Discussion starters
In an opening scene when George is acting in a silent film, he tells the bad guys who are torturing him, "I won't talk. You can't make me!" Do you remember some of the other playful nods to the lack of dialogue?
How does George change throughout the film? What prompts these changes?
As successes in their respective genres, what does George teach Peppy and what does Peggy teach George?
Given the lack of words, what about the film spoke to you best? What does this genre offer that others don't?
Did you miss the talking? Why or why not?
The Family Corner
For parents to consider
The Artist is rated PG-13 for a disturbing image and a crude gesture. The crude gesture comes when one character flips a middle finger to another, but honestly, I can't recall what might qualify as a "disturbing image." One couple gets a divorce. George also sets fire to his own home in a fit of frustration and depression. Though it would qualify as mostly "family-friendly," children would likely be bored with a wordless film. Mature teens might really like it, especially if they're into old films and retro styles—and it makes for a nice homage to the silent movie era.
Copyright © 2011 Christianity Today. Click for reprint information.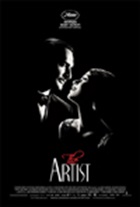 Browse All Movie Reviews By: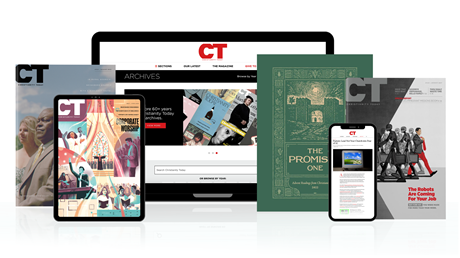 Subscribe to Christianity Today and get access to this article plus 65+ years of archives.
Home delivery of CT magazine
Complete access to articles on ChristianityToday.com
Over 120 years of magazine archives plus full access to all of CT's online archives
Subscribe Now
The Artist
The Artist