true
When most of us think of Shakespeare, we think of Hamlet, Macbeth, King Lear, Romeo & Juliet or about a dozen other of the Bard's well-preserved dramas; we don't think of Coriolanus. That is, unless we have a Ph.D. in literature or are T. S. Eliot (who considered Coriolanus "Shakespeare's most assured artistic success"). But the relative obscurity of this late-career Shakespearian tragedy is no hindrance—indeed, it's likely an asset—for actor-turned-director Ralph Fiennes, whose cinematic version of the play is so masterfully executed and attuned to contemporary sensibilities that it's likely to elevate the play to a more prominent place in the Shakespeare canon.
With the help of screenwriter John Logan (Gladiator), Fiennes faithfully situates the Elizabethan iambic pentameter in a contemporary context (complete with cell phone cameras and 24-hour cable news), a risky and sometimes gimmicky anachronism that manages to work well here. Though to modern ears the language may sound confusing and silly (why say "Methinks I hear hither" when you could just say "I think I hear"?), connoisseurs of Shakespeare will be delighted by the eloquence of the words as spoken by a coterie of British thespians fluent in the rhythms and diction of the Bard.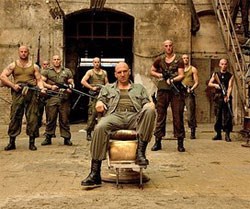 In addition to directing, Fiennes (following up his superbly malevolent tenure as Voldemort in the Harry Potter franchise) stars as the title character. A military hero of aristocratic stock, Caius Martius Coriolanus is a prideful, stubborn man at home in battle and uneasy in the halls of politics, where he is unwittingly thrust by his domineering mother Volumnia (Vanessa Redgrave) and opportunistic political advisor Menenius (Brian Cox). Alternately loved and loathed by his constituents, Martius has no patience for the fickle masses and makes no attempt to hide his disdain for the Joe Plumbers of the world. He hates political rhetoric and instead of giving speeches would much prefer a good knife-fight with his sworn enemy, Tullus Aufidius (Gerard Butler), head of the Voluscian rebel army. Like Tullus, Martius is a macho warrior at heart, not a slick, baby-kissing politician. And this means his political rise turns into an explosive downfall about as fast as you can say "Herman Cain."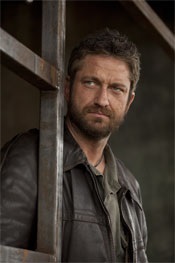 Set in "a place calling itself Rome," with the look of war torn Serbia, Coriolanus reflects Shakespearian themes of power, pride, ambition and downfall; but it also speaks quite sagely into the issues of our world today. Scenes of an angry mob of "plebeians" organizing, rioting, and using the media to spread their grievances against the aristocratic "1 percent" has obvious parallels to Occupy Wall Street and today's global economic discontent. Other scenes of urban warfare—bodies in the street and bombed-out cars—evoke contemporary warzones like Iraq. But there are also timely commentaries on the role of personality in politics, the way that handlers can manipulate a politician's image, and the speed with which public opinion can turn on a candidate when the slightest gaffe is recorded and virally spread throughout the populace.
On one level, Coriolanus works as a particularly prescient application of Shakespeare to our moment—a moment in which unrest, protest, war, and volatile political fortunes are regular features on the nightly news. But Coriolanus, like most of Shakespeare's works, also clicks on a deeper, more existential level. This is not a film primarily about politics and war; it's about a man, his faults, and his family.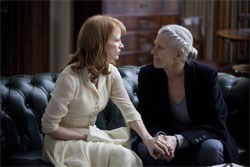 Coriolanus is first and foremost his mother's son, and where most all the world cowers in fear to his larger-than-life persona, his mother Volumnia stands her ground and molds him to her will. Portrayed with fierce, unsettling eloquence by Redgrave (a performance sure to earn an Oscar nomination), Volumnia is a patriotic, duty-bound noble of the old school. She's devoted to Rome above all, and her son—his battle wounds a marker of great pride for her—is her best chance at continued glory. Coriolanus' loving wife Virgilia (Jessica Chastain) is less of an influence on him but nevertheless plays an important role; mostly as the more charming sidekick to her mother-in-law. Perhaps as escape from the oppressive influences of the women in his life, Coriolanus also cleaves tightly in affection to his nemesis Tullus, who ironically becomes the man who understands him the most. It's a characteristically complex tapestry of Shakespearian relationships, and Fiennes and his fantastic array of actors lend it just the right amount of panache and subtlety.
There are a few great, explosive bursts of theatrical speech here and there (these are the words of the stage, after all), but on the whole Coriolanus makes the most of its cinematic nature, i.e., using close-up camerawork to capture the nuances of facial expression, editing/montage to convey plot points without narration, and so on. Excellent battle choreography, coupled with sharp on-the-ground photography by Barry Ackroyd (The Hurt Locker) and a modern, atonal score from Ilan Eshkeri, lend the film a very gritty, guerilla feel, enhancing the beauty of the luxurious metered language precisely spoken by expert thespians.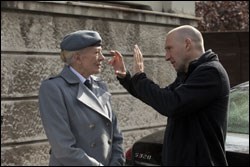 If Coriolanus doesn't quite reach the level of masterpiece it's because the material seems occasionally too idiosyncratic; sometimes the whole spectacle draws a bit too much attention its own esoteric project. But if you can give yourself over to the film's anachronistic conceits and let the words of Shakespeare do their bidding through the talents of fine actors and filmmakers, Coriolanus is a breathless, beautiful example of the timelessness of tragedy and the visceral impact of a story well told.
Talk About It
Discussion starters
What is the character flaw that ultimately brings Coriolanus down?
Who does Coriolanus most trust or respect in the film and why?
What does the film have to say about politics and the way that the masses interact with their political leaders today?
What motivates Volumnia?
The Family Corner
For parents to consider
Coriolanus is rated R for some bloody violence. It include a few graphic scenes of warfare (bombs, guns, knifes, etc.) and some intense hand-to-hand combat that results in characters with stab wounds or slit throats. One character is seen shot in the head at point blank range. The violence is not ubiquitous, however, and if young adult viewers can handle a few brief scenes of violence, the film has much of value to offer, especially for those who appreciate Shakespeare.
Copyright © 2011 Christianity Today. Click for reprint information.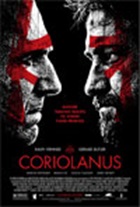 Browse All Movie Reviews By: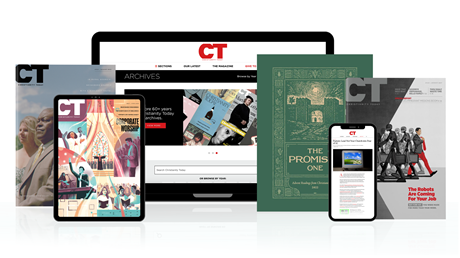 Subscribe to Christianity Today and get access to this article plus 65+ years of archives.
Home delivery of CT magazine
Complete access to articles on ChristianityToday.com
Over 120 years of magazine archives plus full access to all of CT's online archives
Subscribe Now
Coriolanus
Coriolanus