true
Louis Gossett Jr. returns to the big screen this week, a rarer occurrence than you might think for an actor who owns an Academy Award.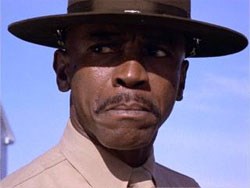 It's been almost three decades since Gossett won that Oscar (for Best Supporting Actor in 1982's An Officer and a Gentleman). It's also been almost three decades since Gossett has been in anything one would call a blockbuster, save for a small role in 2007's Daddy's Little Girls, a Tyler Perry film. And all of Perry's films are guaranteed box office hits.
Gossett, now 74, stewed about his plight for years, wondering how an Oscar winner (and multiple Emmy winner) could never land another good gig. He thought racism might be an issue; indeed, when he first arrived in Hollywood in the 1967, he took a stroll on the grounds of the Beverly Hills Hotel only to be nabbed by police and chained to a tree for hours. He wondered if he'd stepped on any toes or burned any bridges over the years. He had no clue, and it tore him up inside—and out.
He has been married and divorced three times. He had a longtime cocaine habit, and did plenty of drinking too. He once was so sick, he was told he had six months to live. It wasn't till 2001 that he learned that a toxic mold growing in his Malibu home was part of the problem, though he admits drugs and booze were the main culprits. He checked into rehab in the summer of 2004, and has been clean since. He was diagnosed with prostate cancer in early 2010, but after a series of radiation treatments, he is now cancer-free.
Gossett has also found God in recent years, and has played roles in a number of faith-based films, including 2005's Left Behind: World at War, opposite Kirk Cameron. (Gossett played the President of the U.S.). His most recent faith-based film, The Grace Card, opens this Friday in some 400 theaters nationwide. The film, made by a church in Memphis, addresses issues of racism, forgiveness, and reconciliation—topics near to Gossett's more recently softened heart.
He is founder of the Eracism Foundation, whose mission is "to eradicate the systematic impacts of all forms of racism" through various programs and interventions. Gossett himself says he has committed "the last quadrant of my life to an all-out conscious offensive against racism, violence, and ignorance."
We spoke with him about The Grace Card, his career, and faith-based films.
Why did you want to make this film?
It's a very important film. It's about something that's happened in my life, and it's a story about forgiveness and healing that everybody should take to heart. It's the best film I've ever participated in that says that. It's a healing film.
What do you mean when you say it's about something that happened in your own life?
I figured when I won the Oscar and an Emmy, I'd get some great [movie roles], but it really didn't happen. It's not happening at all. So I have a choice of being very upset or letting all that pressure go and doing the best I can and being a fine example. It's an easier way to live. The worst resentment that anybody can have is one you feel justified to keep. And I think maybe it's a time to heal, to try to get this country together as one country. But there are some things in the way, and racism is one of them.
Do you feel like we've made some strides and erasing racism?
I think we've made some great strides because now it's out of the closet. It's on prime time television. But we need to get rid of [racism] as much as possible. We say it's one nation under God, indivisible, but it's not quite there yet. But it's so close. We have an opportunity here. We have a window.
Do you feel like you were the victim of racism in Hollywood?
In some places, yeah. When I didn't get a chance to play the men of history that our children need to know. I got to play Sadat, but I didn't get to play Kwame Nkrumah (Ghana's first president) or Jomo Kenyatta (Kenya's first president) or the most successful cowboy in the West, Bass Reeves. I was always told that I'd have to do a movie with a white guy in order to get the money. That's the way it was. That made me feel that I should have chosen some other profession, so I could have gotten my just deserts. But I don't think that way anymore, because I think things happen for a reason.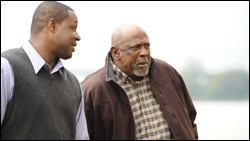 The Grace Card is a play on the words "race card." It tackles the issues of racial prejudice and reconciliation.
Yes, reconciliation and healing. Those are the most important two words, and that's what attracted me to the film. I concentrate on what I think are healthy directions, rather than the unhealthy direction of my past.
What do you mean by the unhealthy direction of your past?
Sometimes anger would eat me up inside. That's where you get your cancers and your high blood pressure and all kinds of stuff, whether the anger is justified or not. That's self-defeating, especially if you know that there's a better way—and that's to live in this country together, one nation under God, indivisible, with liberty and justice for all. We're going in that direction, but I still see poverty and bad people all across the country. At my age, I'm a mentor, and I try to pass it on to the young that we need more forgiveness and understanding.
What happened in your life to change you from an angry man to a forgiving one?
It was a gradual, but one big thing was when I was in South Africa [while filming 1994's A Good Man in Africa]. Apartheid had just ended, and I was standing in Cape Town near the Cape of Good Hope, looking out at Robben Island where Mandela spent 18 years in prison. And he came out with this peaceful, healing grace that blew me away.
And if anybody had a right to be angry …
It would be him. My situation paled in comparison to his. And my anger kind of dissolved right there.
Tell me about the Eracism Foundation.
It's about five years old. We're working in Los Angeles, and we're going to be working with the NAACP. We want to help children learn the basics of self-respect and respect for the others, knowledge of their culture, respect for the opposite sex, how to dress appropriately, spirituality, physical fitness, and hygiene. All of that was taken care of in the old days, but nobody's teaching those things anymore. So we teach them that, and they're better equipped to resist some evils, and to better get along with one another. That's one way to attack racism right up front, by reaching them at a young age.
You've done a number of Christian films in recent years. Why?
Well, they're the only roles I'm given. I'm not offered anything else. What do you think that would be, why I'm not offered anything else? You tell me.
I don't know. There are plenty of actors in their 70s who are getting work.
Yeah. And I play [like I'm] 50. I do have all those awards. But rather than go there, I just do the best I can. And the movies that are faith-based are necessary anyway.
They're necessary?
Necessary. They're nice messages. Anyway, my foundation and my book An Actor and a Gentleman are the way I make my living these days. Without that, I would be broke.
The book income is keeping you afloat?
The book income and my speaker's engagements and stuff like that is keeping me solvent, and these faith-based movies are keeping me solvent. What's going on in my business, I don't know. Maybe I stepped on some toes, but it doesn't make sense to me.
Has anyone ever told you why you're not getting more acting gigs?
No. It's too subtle. But I don't know. It doesn't make sense.
What can you tell me about your own faith journey?
Well, there are certain things in life. I've been sick, and I've gotten well. I'm in a recovery program, and I'm doing very well with that.
And your cancer is gone?
It's gone. Anyway, you have a bout with death, things that touch your mortality, when that happens, all that bling-bling gets thrown away because all you've got is you and God. You get a new outlook on life, and it's quite spiritual. And then that's when the faith that you have in God begins to get strong. Perhaps I had to go through all of that in order to have this faith, but I had it all along. It's just stronger now.
I'm cancer-free. And I'm on antioxidants and acupuncture and a different diet. And I have a different outlook on life. I don't have resentment any more. It's wonderful.
No more resentment?
Well, I'm curious about certain things, but I don't have any resentment. The lesson I learned is I can't devote my livelihood on what I get or do not get from Hollywood.
More and more churches are getting involved in the moviemaking business. What are your thoughts on that?
Well, the churches are coming to the table where they belong. So they have muscles again, and their congregations are getting quite large. They can singlehandedly maybe change the spiritual countenance of the country.
Through moviemaking?
Moviemaking, yeah. And through rallies and music and lifestyles. They're doing a wonderful job. But movies are very important.
Do you think the quality of church-made movies is improving?
It's getting there. The Grace Card is a high quality movie. These young filmmakers are having a chance to prove their points, and they're doing beautifully.
What do you want audiences to take away from The Grace Card?
I hope it encourages them to heal and to forgive, so we can get on with this country and their lives. We have to get on with it. It's a beautiful film, and it should appeal to both blacks and whites. It's what they call a crossover film. But it's not political; it's necessary. It's a very strong statement. And if anybody says anything negative about it, then maybe they should forgive, too, and heal. It's about healing.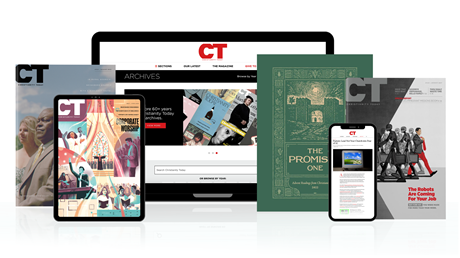 Subscribe to Christianity Today and get access to this article plus 65+ years of archives.
Home delivery of CT magazine
Complete access to articles on ChristianityToday.com
Over 120 years of magazine archives plus full access to all of CT's online archives
Subscribe Now
A Healing Journey
A Healing Journey