true
Many superheroes are masked avengers; in addition to their day jobs, they moonlight as crime-fighters. Thor is altogether different—the god of thunder championed in ancient Norse mythology. As envisioned in Marvel comics by Stan Lee and Jack Kirby back in the 1960s, "The Mighty Thor" doesn't put on a costume to be the hero. Like Superman, he really is the hero who occasionally dons civilian clothes to fit in.
Wait, why does a Norse god need to "fit in" anyway? I like mythology, but Thor always seemed a tad lame (on his own and as a member of The Avengers). He's essentially the Viking answer to Hercules—long blond hair, wielding a big hammer, tossing around "thee" and "thy," traveling on a rainbow bridge between "the nine realms." Maybe fans of Tolkein or Dungeons & Dragons were drawn to the fantasy elements, but I prefer story and character study. What's Thor's motivation for being a hero? What can a Norse god struggle with to make him interesting?
Those questions are answered more clearly now that Thor has made the mighty leap to the big screen. What could have been a stiff and overwrought production turns out to be one of the more well-rounded and enjoyable superhero movies in recent memory.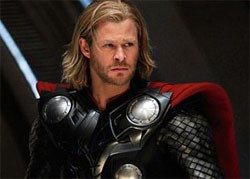 Most of the film's first 30 minutes focus on establishing Thor's mythology, narrated in part by Anthony Hopkins as King Odin, the "all-father" of Norse mythology. We're introduced to Thor (Chris Hemsworth) and his stepbrother Loki (Tom Hiddleston) as the former prepares to succeed Odin as king of Asgard. But the realm's sworn enemies, the Frost Giants, attempt to infiltrate the palace, causing Thor and his friends to launch a rash counterattack—against Odin's wishes.
The ensuing battle shows Thor's capabilities. No disrespect to the Hulk, but Thor makes the green guy look wimpy by comparison. But Thor's prideful and misguided actions rekindle the potential for war with the Frost Giants, so Odin banishes his son to Earth to teach him humility. This leaves devious Loki in line for the throne, and that could spell trouble for Asgard and Earth alike.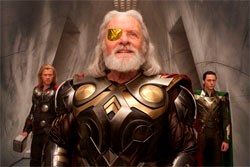 This opening act features impressive sets and exciting battles. But it's also hokey, with campy pageantry reminiscent of 1980's remake of Flash Gordon. Asgard is essential to the mythos, and while the CGI visuals and art design are visually interesting, a couple hours of this stuff might be hard to stomach.
Fortunately, the filmmakers recognize the potential for silliness and don't take it all too seriously. The fun really begins once Thor is banished to Earth, where he is found in the deserts of New Mexico by astrophysicist Jane Foster (Natalie Portman) and her assistants Erik (Stellan Skarsgard) and Darcy (Kat Dennings). The film then switches to a fish-out-of-water comedy, and it's a hoot to watch Thor adjust to the modern culture around him while citizens puzzle over his Viking ego and mannerisms.
But it's not all played for laughs. Borrowing from Arthurian legend, Thor aims to return to Asgard by reclaiming his magic hammer, embedded in rock and quarantined by the government agents of SHIELD (as seen at the end of Iron Man 2). As Thor learns to embrace a humble attitude, the film offers a none-too-subtle nod to Christianity, briefly turning Thor into a Christ-figure after Loki sends a robotic Destroyer to eliminate his stepbrother.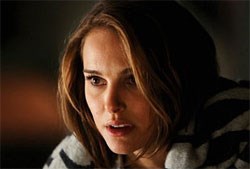 Acclaimed actor/director Kenneth Branagh is an inspired choice to helm the film. His Shakespearean background brings more gravitas to the Asgard scenes, his experience with action films helps tell the story with visual panache, and his sense of humor aids greatly with the comedic timing. (Jane's second "encounter" with Thor is priceless.)
Branagh also benefits from a strong cast all around. Thor is a star-making role for Hemsworth, best known till now as Captain Kirk's dad in the recent Star Trek reboot. The 6-foot-4, 245-pound Aussie wears the part of a Viking beefcake well, yet tempers the heroism and joviality with tenderness. It's also great to see Portman in a more casual role, exuding wit and charm as the scientist romantically drawn to Thor. Hiddleston is convincingly conniving as one of the all-time great Marvel villains—it'll be a pleasure to see him sowing discord for years to come. And we couldn't ask for a better Odin than Hopkins' portrayal.
Still, the movie is far from perfect. The action scenes range from sloppy to thrilling. The story is often predictable. There's no good explanation for Odin's sudden coma. And Thor's transformation from arrogance to humility is abrupt—it comes through a moment of emotional clarity rather than a process.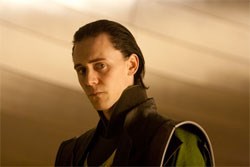 Nevertheless, it's all a lot of fun: a step below Iron Man, a step above Iron Man 2. There's plenty to spark more interest in the Marvel movie franchise—assuming this is a hit and that Captain America delivers as expected in July, audiences will be hungry for return of Thor and others in The Avengers next year. (As with previous Marvel movies, stay through the credits if you want a taste of what's to come in 2012.)
Thor remains true to Marvel's history of superheroes wrestling with personal struggles, and that's what impresses most. This movie succeeds not because of its action, but because it depicts a hero who learns humility with heart and humor.
Talk About It
Discussion starters
Where does Thor's pride stem from? How does it lead him away from righteousness? What eventually changes his heart? Why is contrition essential in gaining humility?
Erik asks Thor, "Is it such a bad thing finding out you don't have all the answers? That's when you start asking the right questions." How does this mirror a Christian's understanding of the gospel?
How is Thor's transformation from pride to humility made complete? List the ways his actions and words mirror the sacrifice of Christ (see John 15:13). In what important ways is Thor different than Jesus?
Thor explains to Jane how magic and science are related: "Magic is science we don't understand." How does this correlate with today's understanding of faith and science, how the unseen interacts with the seen every day.
Referring to Odin, Thor's mother Frigga says there's "purpose to everything your father does." Why do you believe Odin sends Thor to Earth? To punish him or to instruct him? Is there a parallel to this and the way our heavenly Father teaches us?
The Family Corner
For parents to consider
Thor is rated PG-13 for sequences of intense sci-fi action and violence. It's all very much in the realm of comic book action—punching, smashing, and pounding with very little bloodshed. The worst of it comes at the start of the film with an intense battle reminiscent of Lord of the Rings. Odin loses an eye in battle, but we don't see the act—just the bloody wound that leads to his trademark eye-patch. There's no sex or profanity, but Thor is seen throwing back boilermakers and out-drinking another character. Parents may also want to discuss with kids the difference between the gods of Norse mythology and the one true God.
Copyright © 2011 Christianity Today. Click for reprint information.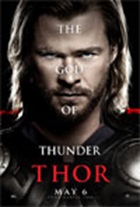 Browse All Movie Reviews By: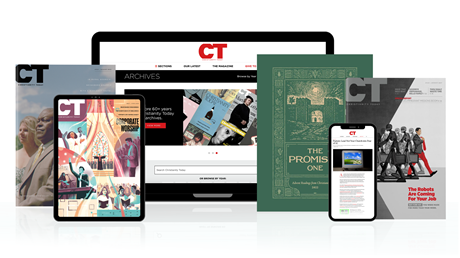 Subscribe to Christianity Today and get access to this article plus 65+ years of archives.
Home delivery of CT magazine
Complete access to articles on ChristianityToday.com
Over 120 years of magazine archives plus full access to all of CT's online archives
Subscribe Now
Thor
Thor