true
When gospel music singer Anthony Evans stepped out to croon the Marvin Gaye classic "What's Going On?" on NBC's The Voice (Mondays, 8/7c), he was nervous. Like every other contestant, he only had 90 seconds to impress the judges in his "blind audition," to convince one of them to push a red button that would send him through to the next round.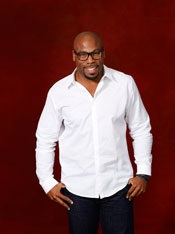 But Evans, already a professional artist with six albums under his belt, figured he really only had a little more than 10 seconds to make an impression—and the final 10 seconds at that. Because "What's Going On?" is so subdued, Evans held back on his "big voice" capabilities until the very end, when he cut loose. And then, about 10 seconds away from elimination, judge Christina Aguilera smacked her button, thus putting Evans on her team and buying him at least a couple more weeks on the show.
Evans, the son of popular pastor and author Tony Evans, says he's having a blast, and that it's a fun break from his normal gig as a gospel artist and worship leader. He wants to win, but says he wouldn't mind if someone else did instead. We spoke with him by phone from Los Angeles.
Why did you want to be on The Voice?
It was kind of random. Jeremy Camp and my drummer were at my house in Nashville over a year ago, and they were like "Anthony, just do it for fun. Why not?" So I just sent something in [to the show]. They saw a YouTube clip of me and called me for the first season, but I couldn't come because of other obligations. Then they called again last July and asked again, and I was like, "You know what, it's kind of a random opportunity, and
How did you end up choosing "What's Going On" for the song?
People who know me really well have been asking me that, because it just kind of felt like it wasn't me. But at The Voice, they let you be involved in the song choice, but there are a lot of cooks in the kitchen; it's a big machine. So we had to kind of go with what was corporately decided. You've just got to grab it and move on.
I'm not criticizing the choice; it's one of the greatest pop songs of all time. At least they didn't ask you to sing another Marvin Gaye song like "Sexual Healing" or "Let's Get It On"!
Exactly! But here's what I love about The Voice: They are real big into who you are and what your story is, and upholding the integrity of your story. So when they learned I was a pastor's kid, a Christian artist, they were like, "Okay, we are not going to set up you to look crazy or to lose your current supporters and fans. We are not that kind of show." I have a lot of respect for the producers of the show and Mark Burnett, the executive producer, because they're not trying to use this as gimmicks to get ratings.
The fact that Burnett himself is a Christian probably helps.
I did know that, because after my blind audition he came backstage to meet my dad. He was like, "Where is Tony Evans? Can I meet him?"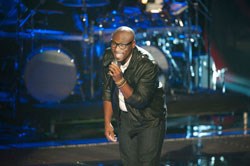 When you sang for the blind audition, you were only about 10 seconds away from being eliminated before Christina picked you. Were you sweating bullets as those seconds raced by?
Funny thing is, I knew that that was going to happen. Before I went on stage, I said to one of the producers "If somebody turns around it's not going to be till the last ten seconds of the song." Because it's a Marvin Gaye song, if I start singing like I know I can, they're probably not going to turn around because I overdid it. So I was like, "Okay, I'll sing in a key works where at the end I'll be singing like Anthony—the higher singing that I normally do." I knew they wouldn't respond until I did that, because it's such a laid-back song. It's weird to be given Marvin Gaye when you have a minute and thirty seconds to be intense, because Marvin Gaye is like the opposite of intensity. So it was a challenging moment. It was crazy.
The irony then is you got picked by a judge who is a big voice diva known for her intensity! What do you think you're going to learn from Christina as she coaches you in the weeks ahead?
What I've learned so far is that she doesn't apologize for who she is. Even if she has an insecurity about something, she just doesn't apologize for it. I think I could learn something from that in the area of who I am, what I believe, how I live. She's unapologetically herself, and I want to live with that same boldness. She's also very sweet and respectful. Some people might think she's aggressive and kind of in your face, but she's just a really sweet girl who knows what she wants. She says what she wants, and most of the time gets what she wants because she's good at what she does.
What about technically?
Technically what can I learn from Christina? Just being around her it challenges me. It's like being around pro athletes and you want to play in a game with them. You have to step up or you're going to lose. You know what I mean? And what's cool is that they don't know what I do when I'm not here in Hollywood. So I enjoy the fact that she's like, "You're really good at this stuff. How?" I get to explain to her what I've been up to for the last ten years.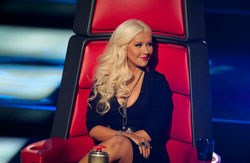 But then, the kind of singing Christina does is great and I love it, and I can keep up with her on a stage when it's about me. But in Christian music and leading worship, I have to almost think opposite of her; I can't sing like that when I'm leading worship. Even though I might have the ability to do it, I am trying to engage people into singing with me. I am not singing at them. The difference about being here at The Voice is that I am singing at people, and they want to be impressed. So my mindset has to flip, and that's been the hardest thing, thinking, Impress them. Do not engage them. You're not trying to engage their hearts. You're trying to impress them. That's my biggest challenge here.
What's crazy is that the worship leader heart and stuff—that doesn't translate here. When they see that, they see shy and timid. They don't see God. It's like they see this dude and they wonder, "Why isn't he trying to wow us?" It's an interesting mindset because I have to be like cocky on the stage here.
Do you wrestle with that?
Yes. But not theologically, because I'm on a different stage than usual. I wrestle with it because I have trained myself to perform differently. If I did this show back at the beginning of my career, it would have worked out perfect because I was into impressing people with my vocals. But I had to stop doing that if I wanted people to engage in worship with me. That's what it boils down to.
You got your professional start more than a decade ago when Kirk Franklin asked you to be a backup singer. What's the biggest thing you've learned from him?
The biggest lesson I've learned from Kirk is that there are twenty-three hours of a day that you are not on the stage, and they are more important than the one hour of a day that you are. That's the lesson is that we artists have to learn. We're wrapped up in the hour that we're on the stage, and that becomes our life. We forget about the other twenty-three. And then that's when we get caught up in nonsense. And I've been guilty about that. I've been guilty of being so much about the hour that I lose the other twenty-three, and my relationships with others and the Lord gets messed up because I'm so focused on the lights and the smoke and the band and all that stuff.
How about your dad? What has been his biggest influence on you?
As a professional, my dad does not buy into hype. He is Tony Evans and he's one of the greatest Christian orators in our generation. But we still live in the same house I grew up in. My dad has always just stayed the same. He does not believe the hype about himself, and he just lives humbly. He is very into what he does and what he's called to do, but he's not a star. He's just doing what he's called to do.
American Idol has become a real showcase for dozens of Christians over the years. Do you think The Voice is possibly going to be the same?
The Voice could be that because they air your story. Mandisa was an outspoken Christian on American Idol, and they aired that. I believe The Voice can become that kind of platform for outspoken believers too.
But on Idol, the performers were unknowns before the show. You are already a known, with six albums. You're already a pro. So what's in this for you?
You know what? What's in it for me is getting a break from being a professional Christian. This experience is more about the relationships I'm making off the stage with the other contestants. A young lady on the show told me when she was 13 she had decided she was never going to church again, and we've become friends. I was at Brooklyn Tabernacle a few weeks ago, and guess who came and sat in the audience? She goes, "Anthony, if my parents knew I was here, they would flip out. I have not been in church for the last fifteen years." Now, that's no longer just me standing on stage and singing. It's about me impacting lives the way I feel like I'm supposed to. That's what's in it for me.
You sound really relaxed. Most reality show contestants are stressing out.
I'm not stressed. I'm having a ball. If I was stressed out you'd know it, because I wear my emotions on my sleeve. I'm chilling. Now don't get me wrong: Before I went up on stage, my heart was flipping out. That was stressful. But for the most part, I really am relaxed.
But what about your competitive spirit? Do you care if you win or lose?
Oh, I do care! I do care. I do not like to lose. But what I don't want to do is to jump in front of people in this competition who might need this more than me. I have become friends with these people. And as much as I want to win and be the last man standing, I have friends here who need this opportunity. When I leave here, I am going to go lead worship and do what I do. But there are contestants here who are waiting tables. Another guy gave up singing with Alicia Keys to be on this show. Another guy has been homeless, sleeping in his car. I know these guys personally. So it's competitive, but at the same time, if Christina picks somebody over me, I will be a supporter.
And you know you've got a good life to return to after this, but for others, this is their big break.
Exactly. It is a big break. And it would be a big break for me too; I would be known—at least a different kind of known than now. But I'm not going to scratch and claw people's eyes out to get to the top. That's not who I am.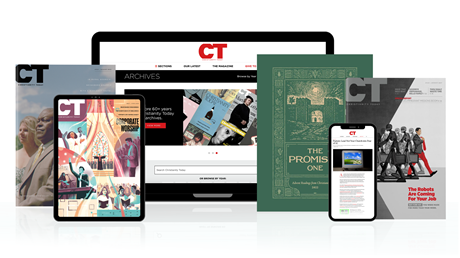 Subscribe to Christianity Today and get access to this article plus 65+ years of archives.
Home delivery of CT magazine
Complete access to articles on ChristianityToday.com
Over 120 years of magazine archives plus full access to all of CT's online archives
Subscribe Now
Q & A: Anthony Evans Has Got 'The Voice'
Q & A: Anthony Evans Has Got 'The Voice'