true
Merida (voiced by Scottish actress Kelly Macdonald) is a feisty princess in medieval Scotland who much prefers the bows that come with arrows to the ones you tie in your hair. Queen Elinor (Emma Thompson) works tirelessly to tame her free-spirited daughter and prepare her for the throne, but Merida refuses to relinquish her independence. Her dad, the good-naturedly brutish King Fergus (Billy Connolly), is too fun-loving to be a disciplinary force; it falls to Elinor to maintain stability in the kingdom.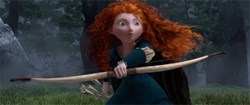 Matters come to a head early in the film, when Elinor tells Merida she must fulfill her royal duties by allowing the dim-witted sons of the kingdom's rowdy clan-leaders to vie for her hand. Merida rebels and flees to the woods, where she encounters a witch who offers the chance to change her fate. When a spell is cast with unexpected and potentially tragic consequences, mother and daughter must work together to undo the damage before it's too late.
Brave is Pixar's thirteenth offering; several elements distinguish it from its predecessors. Remarkably, it's the studio's first story to revolve primarily around a female character—and we actually get two strong women in Merida and her equally iron-willed mother. It is also Pixar's first "fairy tale," albeit an unconventional one refreshingly devoid of formulaic romantic elements.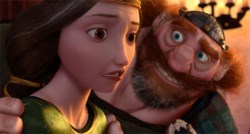 Most notably, Brave represents the debut of Pixar's completely rewritten animation system. The results are jaw-dropping. The film is a visual feast; each strand of Merida's cascading red hair, each intricately veined tree leaf, each ripple of water and wriggle of fish is rendered in lush, hyper-real detail. The sensation is not one of watching animation, but rather of entering a parallel universe imbued with wider skylines, higher waterfalls, and intensified light.
Unfortunately, Brave also distinguishes itself from other Pixar films by offering story development that doesn't measure up to the studio's lofty standards. The fantasy elements in movies like Toy Story and The Incredibles are organic—we know early on that Woody and the gang come to life when humans aren't around, or that Bob and Helen Parr have dormant superpowers and an intriguing past. The plotline for Brave, however, hinges on a magical deus ex machina that is introduced abruptly and confusingly in the second act. The device is far more familiar and less whimsical than other Pixar twists. (To be fair, the effect of the magic is an original and unexpected surprise; it's just that the story struggles to get us there.)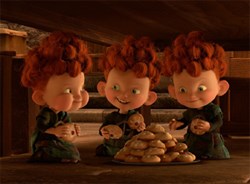 Compounding the issue is some surprisingly thin character development. Pixar films are typically populated (right down to the bit parts) with people, creatures and animate objects who leave indelible impressions—think of Toy Story's Slinky Dog and Etch-a-Sketch, Finding Nemo's aquarium dwellers, or Monsters Inc's George Sanderson (the hapless monster who keeps getting decontaminated by the CDA.) Brave's supporting cast is decidedly more forgettable. The film's hordes of Scottish clansmen have a few fun features (one lord in particular is sure to please Braveheart fans), but for the most part they are barely distinguishable from each other. Merida's three would-be suitors are disappointingly flat caricatures. And though the rambunctious behavior of her triplicate younger brothers puts some icing on the cake, the film is lacking the layers needed to make the humor truly delicious. As a result, Brave's screenplay writers are forced to resort to cheaper comedy than we're used to finding in a Pixar flick.
If the laughs in Brave are muted by Pixar standards, so are the tears. The storytelling that made past offerings so compelling involved a potent mix of whimsy and nostalgia; the writers had a knack for subversively tapping adult pathos even while delighting children. (The first five minutes of Up alone kept tissue companies in business.) Brave's writers do their best to tug at heartstrings with their exploration of the mother-daughter bond, but while the theme is universal, the treatment is too conventional and lacking in nuance to evoke the real Pixar magic. Although in many ways Brave feels more grown-up than other Pixar films (it's darker and surprisingly scary in a few spots), thematically it delivers more juvenile, less satisfying fare.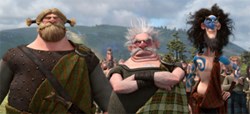 None of this is to say that Brave is a bad movie. On the contrary, it has plenty going for it. Visually and technically, it's astonishing. The music is note perfect; composer Patrick Doyle's lilting soundtrack does just the right amount of heavy lifting, heightening drama and cuing tenderness as needed. The lead voice actors inhabit their characters wonderfully, and the film's crisp pace ensures engagement in the story. Brave would be an impressive offering from almost any other film company. But making a movie for a studio with Pixar's track record takes a special kind of vision and courage; compared to its predecessors, Brave is not quite brave enough.
Talk About It
Discussion starters
Merida faced an apparent choice between being true to herself and fulfilling her responsibilities. Was there a way she could do both?
Should children obey their parents no matter what? At what age is it appropriate for kids to assert their independence? What does "honoring your parents" mean for adult children?
Merida wanted to "change her fate." Do you believe in fate? Do you have control over your future? What role do you play, what role do circumstances play, and what role does God play in the unfolding of your life?
The Family Corner
For parents to consider
Brave is rated PG for some scary action and rude humor. Numerous fight scenes (involving people as well as menacing animals), a repeated sense of peril, and a somewhat spooky witchcraft element may make the film too intense for some younger children. The rude humor primarily involves bare (animated) male butts (courtesy of some kilt humor), a youngster's snotty nose, and a key hidden in a matronly servant's cleavage.
© 2012 Christianity Today. All rights reserved. Click for reprint information.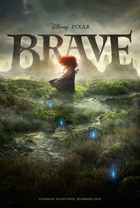 Browse All Movie Reviews By: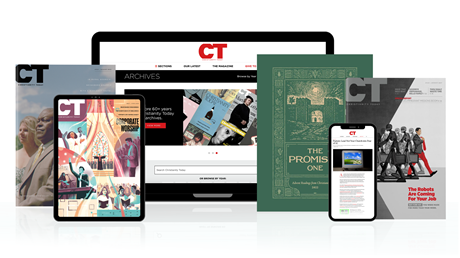 Subscribe to Christianity Today and get access to this article plus 65+ years of archives.
Home delivery of CT magazine
Complete access to articles on ChristianityToday.com
Over 120 years of magazine archives plus full access to all of CT's online archives
Subscribe Now
Brave
Brave