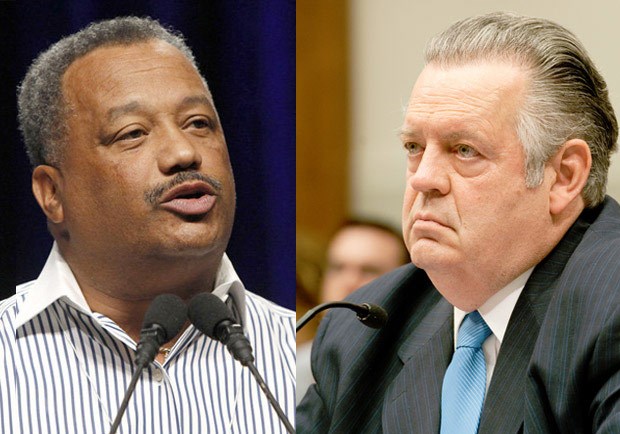 Image: Photo of Luter/AP; Land/Getty
Who will be the face of the Southern Baptist Convention (SBC)?
Will it be Fred Luter, the New Orleans pastor expected to be elected this June as the first African American president in the convention's 167-year history?
Or will it be Richard Land, the denomination's longtime Ethics and Religious Liberty Commission (ERLC) president disciplined by his board today—including the cancellation of his radio show—over racially charged comments about the Trayvon Martin case?
While insiders characterize Luter's anticipated election as a watershed moment for a denomination started by slave owners, some observers outside the SBC voice skepticism about the true potential impact on race relations.
"The real issue is whether denominational leaders, of whom Land is perhaps the most public right now … have any intent on sharing real denominational leadership with Luter or other non-whites outside the traditional networks of denominational power," said Bill Leonard, professor of Baptist studies and church history at Wake Forest University in North Carolina.
Leonard noted that the SBC president serves a one-year term traditionally followed by a second one-year term—for a maximum of two years.
"Whether that is long enough to give voice to 'leadership of color' in the denomination is uncertain but doubtful," Leonard said, describing the post as largely ceremonial.
David Goatley, a black Baptist scholar-pastor who heads the Lott Carey Foreign Mission Convention in Washington, D.C., said the SBC seems willing to embrace an African American supportive of the denomination's current "theological, political, and social direction."
"That implies a certain kind of progress in the organization," said Goatley, who earned a master of divinity degree and a Ph.D. at Southern Baptist Theological Seminary in Kentucky. "There was a time when no African American … could have ascended to this position."
However, Goatley predicted that Land's statements would continue to carry more weight than those of Luter.
"No president with one or two years … can hope to have substantial influence in comparison to an agency leader who has served for decades … and nurtured a public persona that identifies him as a—or the—principal spokesperson for the organization," said Goatley, a national board member for the National Association for the Advancement of Colored People (NAACP).
But in the view of Timothy George, dean of the Beeson Divinity School at Samford University in Alabama, such statements wrongly ignore "a great sweep of history."
"For a denomination to have been conceived in the womb of slavery … and now to elect its first African American president has to be seen in a much wider arc of history from 1845 to the present," said George, a Southern Baptist who describes Land as a friend. "That far outweighs any present flopping controversy over what Richard Land said or didn't say."
Land, who has headed the ERLC since 1988, issued two public apologies and sent a personal letter to President Obama seeking forgiveness after charging Democrats and civil rights leaders with exploiting the killing of Martin, an unarmed Florida teen.
In a statement released by Baptist Press, the SBC's news service, Luter said he accepted Land's apology.
"Our convention has made a lot of progress in the area of racial reconciliation, and we want to continue this effort," Luter said. "Dr. Land's letter of apology will hopefully keep us on track. I accept his apology and will look forward to working with him and others within this convention to tear down the walls of racism in our great country."
Land also apologized for failing to attribute the material he used when discussing the case on his radio show.
The ERLC today announced it would terminate the Richard Land Live! radio program and publicly reprimanded Land "for his hurtful, irresponsible, insensitive, and racially charged words" and for "quoting material without giving attribution."
"We must now redouble our efforts to regain lost ground, to heal re-opened wounds, and to realize the dream of a Southern Baptist Convention that is just as diverse as the population of our great Nation," the committee said in a statement published by Baptist Press.
"Land's comments were unfortunate, but he did the right thing by meeting with leaders from the African American community and offering a full apology," said Nathan Finn, a professor of historical theology and Baptist studies at Southeastern Baptist Theological Seminary in North Carolina.
Finn said he strongly disagreed with Land's comments but stressed that Land "has been among the most vocal proponents of racial reconciliation in the SBC over the years."
Finn also questioned whether Land is the "most visible" leader among Southern Baptists, noting that Albert Mohler, Frank Page, Ed Stetzer and Russell Moore—among others—enjoy wide recognition.
"Over the long haul, Luter's election will have a more lasting influence upon the SBC," Finn said. "Land's comments will be a historical footnote."
George said students of history must recall the 1940s, when the first African Americans were admitted to Southern Baptist seminaries, and 1995, when the SBC publicly apologized and repented for its role in racial discrimination.
He cautioned against downplaying the appointive power of the SBC president or the importance of a pastor serving in that national leadership role.
"Fred Luter is a tremendous preacher," George said. "The ability to speak and sway influence through the spoken word should not be underestimated. Remember Martin Luther King."
Related Elsewhere:
Earlier coverage of Richard Land and Fred Luter includes:
After Meeting with Black Southern Baptists, Richard Land Apologizes Again over Trayvon Martin Comments | The Southern Baptist leader said he has sent a personal letter to President Obama seeking forgiveness. (May 10, 2012)
Richard Land's Comments On Trayvon Martin Investigated By SBC | President of Southern Baptist Convention's Ethics and Religious Liberty Commission accused of plagiarism, setting back racial reconciliation efforts. (April 20, 2012)
Southern Baptists Look To Minorities To Jump-Start Growth (June 15, 2011)
Gingrich Creates Stir with Statements on Race | Richard Land came to Gingrich's defense, saying the NAACP was being "a little too sensitive" about the comments (January 13, 2012)
Richard Land Leaves Interfaith Coalition on Mosques (January 25, 2011)
Richard Land: The Economy Took up all the Oxygen in the Room | "My first reaction [to Obama's election] is that there's something really good about our country and something we ought to celebrate that an African American has been elected president." (November 4, 2008)
Richard Land glows over Palin pick | "Clearly, her nominations tapped into something, which I can observe as a white male but can't experience." (September 1, 2008)
Q&A: Richard Land | The president of the Southern Baptist Convention's Ethics and Religious Liberty Commission talks about his new book, The Divided States of America? (July 30, 2007)
Earlier CT coverage of black Southern Baptists includes:
Southern Baptist Surprise! | Why are so many African Americans attracted to a church that was once identified with white racism? (September 2004)
Black Southern Baptists | The SBC's valiant efforts to overcome its racist past. (May 15, 1995)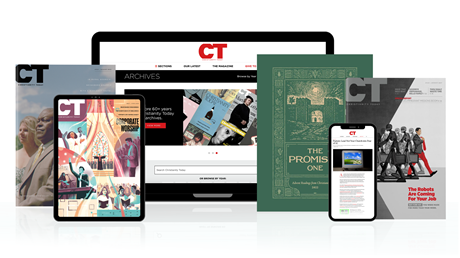 Annual & Monthly subscriptions available.
Print & Digital Issues of CT magazine
Complete access to every article on ChristianityToday.com
Unlimited access to 65+ years of CT's online archives
Member-only special issues
Subscribe
Luter vs. Land
Luter vs. Land