true
The director of Blue Like Jazz, a film based on Don Miller's popular book, says that the "Christian Movie Establishment … is out to get us."
That's what Steve Taylor, director of the film that releases next month, wrote in a provocative blog post this morning at the Blue Like Jazz website, a post that also went out to thousands of subscribers to the film's e-newsletter. Taylor claimed that the executive producer of Courageous, Fireproof and Facing the Giants has declared that no one who worked on Blue Like Jazz would ever be allowed to work on one of his own movies. Taylor also wrote that a studio exec requested that the Blue Like Jazz trailer not be shown prior to another Christian film opening this weekend.
Taylor wrote that Sherwood Baptist Church executive pastor Jim McBride—a producer on Courageous, Fireproof, and Facing the Giants—had "issued what amounts to a fatwa against Blue Like Jazz when he made it known that nobody who worked on our movie would be allowed to work with them in the future." He also wrote that this "edict" was issued before Jazz had ever been screened.
CT was unable to verify Taylor's claim, but Taylor insisted that two of his "trusted associates" had seen the memo from McBride, which Taylor says came out last May. Taylor says he asked his associates to verify the accuracy of his blog post before it went live; he told CT they both said, "Yeah, it's accurate." Taylor added, "I wouldn't write something like that just based on hearsay."
CT asked Taylor if either of his associates would discuss McBride's edict; both declined, but he re-affirmed that both confirmed that what Taylor blogged this morning was "absolutely" the truth. Taylor said he didn't know why the Sherwood team would want to essentially blackball the Blue Like Jazz team. "I would understand if they had seen the movie and did not like it, or if they had seen a screenplay and did not like it, but there's no way" either of those things happened, he said.
CT tried to contact McBride, an executive producer on Sherwood's movies, but he was unavailable due to a family emergency. CT also tried unsuccessfully to reach Alex Kendrick, who co-writes and directs Sherwood's films, and Steven Kendrick, who co-writes and produces the movies.
Taylor also blogged that a vice president at Provident Films—whom Taylor later identified as Kris Fuhr—requested that theater managers not show the Blue Like Jazz trailer prior to October Baby, which opens Friday. October Baby, a pro-life film being heavily marketed to Christians, is being distributed by Provident—which has also distributed Sherwood's movies and Taylor's first full-length feature, The Second Chance, in 2006.
Taylor wrote that "as a longtime pro-lifer, I certainly support [October Baby's] message. So why would Provident's Vice President go to the extraordinary measure of attempting to get the Blue Like Jazz trailer banned from running in front of their movie?" Taylor wrote that he had gotten a copy of an e-mail that Fuhr had written, and he quoted the e-mail in his blog post:
i think exhibitors are going to try to play the Blue Like Jazz trailer with october baby

this cannot happen - the trailer actually has the words "I hate Jesus" in the voiceover along with a number of images that will be very offensive to catholics

it is in the best interest of theaters to not run the trailer because they are going to have a lot of angry patrons if they do

thanks for your help here
Taylor wrote, "Apparently Provident Films have no qualms when it comes to lying about the content of our trailer ("I hate Jesus"???)."
Fuhr told CT that she had written the e-mail to Michael Silberman of co-distributor Samuel Goldwyn Films, and did not know how it had leaked. She also told CT that she did not have any ill wishes toward Taylor, whom she called a good friend, or his film, and that she hoped Blue Like Jazz is a success when it hits theaters on April 13.
Fuhr said the "I hate Jesus" line was an error in her e-mail that she had intended, but neglected, to correct. (The character actually says, "I'm ashamed of Jesus," in the context of confessing his own failure to live up to his claims of being a Christian.)
Taylor and Fuhr spoke to each other this morning after the blog post went live. Both acknowledged that Fuhr apologized for the error of misquoting the trailer, but both also said they disagreed about whether the trailer was appropriate to show before October Baby. Taylor believes it would be fine (both films are rated PG-13), but Fuhr does not. She told CT that Provident and Samuel Goldwyn had taken heat from audiences for trailers and ads that played before some of their other films, and that she was being extra conservative this time.
Fuhr said that "on every movie we work on, part of my job is knowing our audience and making sure that I anticipate their experience in the theater." She said that when Facing the Giants released in 2006, some theaters showed a Nestea commercial featuring "a scary skeleton" that "scared the dickens out of all the kids" in the theater. "The audience went crazy, they wrote letters to the theaters, they called and wrote to us," said Fuhr. She said that when Fireproof released in 2008, theaters showed the trailer to Jesus Camp "and the same thing happened. So ever since then, I look at what possibly could be trailered on our films and I give Goldwyn a heads up, so they can give exhibitors a heads up so some poor theater manager doesn't end up getting lambasted all Saturday afternoon by our audience."
When asked what specifically about the Blue Like Jazz trailer might offend audiences, Fuhr noted both the "I'm ashamed of Jesus" comment and several images "I thought would be offensive to a Catholic audience." (One character wears a pope's mitre in a confession booth.)
"I have no ill intent toward Blue Like Jazz and Steve Taylor," Fuhr said. "Steve is my friend, and I wish him well. But I was hurt by his blog post."
Taylor told CT that when he first received the leaked e-mail, "I was bummed out because Kris and I are friends and she's been really kind to me in the past." He says he tried to contact Fuhr about the e-mail before writing his blog post, but says he was unable to reach her until this morning—after the blog post went live. Fuhr told CT she was disappointed she hadn't heard from Taylor first, noting, "He has my cell phone number; he could have called."
When Taylor and the producers of Blue Like Jazz sought a distributor for the film, Provident passed on the opportunity, even though they had worked with Taylor on his previous movie, The Second Chance, and even though (according to Taylor) senior vice president Ben Howard and president and CEO of Provident Music Group Terry A. Hemmings had expressed interest in Jazz long before it went into production. Fuhr said she did not know why Provident passed on Jazz, adding that she wasn't part of that decision. (CT attempted to reach Howard, but he did not return our calls.)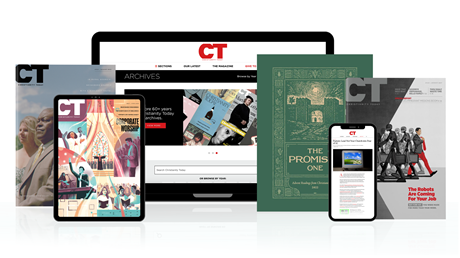 Annual & Monthly subscriptions available.
Print & Digital Issues of CT magazine
Complete access to every article on ChristianityToday.com
Unlimited access to 65+ years of CT's online archives
Member-only special issues
Subscribe
A Christian Conspiracy Against 'Blue Like Jazz'?
A Christian Conspiracy Against 'Blue Like Jazz'?