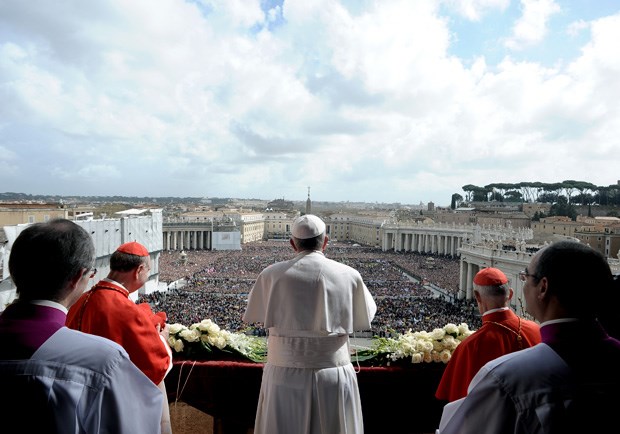 Image: L'Osservatore Romano / AP
There is a new sheriff in Vatican City and, judging by the way the world is embracing the differences this fresh pontiff brings to office, it appears many inside and outside the Catholic Church are gladdened and inspired.
Wearing the name Francis, the change agent of Assisi, he says things the saint himself might have said: "How I would like a poor church for the poor." On Holy Thursday he visited a Roman youth prison, something he did in Buenos Aires as archbishop, to wash (and kiss!) the feet of convicts. This provoked a strong response from some when he washed the feet of a young Muslim woman, a ritual the church's liturgical rules limit to men.*
His decision to live as an ordinary man, even within the privileged confines of Rome, has inspired awe and can be studied by looking at the way Jorge Bergoglio lived outside the clerical "bubble" in the decades leading to his installation: baking his own empanadas, flying coach, and—he might forgive us for the assumption—perhaps ironing his own spartan vestments.
His demeanor, characterized by a simplicity of style in dress and liturgy, reflects an ethos that underpins the Argentine's ministry—he really does believe, to the dismay of some traditionalists, that he is no different than you and me.
This played itself out on one of the biggest stages the world knows. Signaling to the Christian East and all Christians that he is but one patriarch among others, he stood on the porch of St. Peter's Basilica after his election and called himself simply "the bishop of Rome … which presides in charity over all the Churches, a journey of brotherhood in love, of mutual trust."
Still, there are things that are not at all new about Francis. Already, he inspires impatience and surprise in those who somehow expected him not to be Catholic when it comes to the family or the unborn, in those who want a cheerleader for their political version of salvation. Media have speculated that he may be open to reversing rules on celibacy, but really Francis is a Catholic's Catholic.
As a non-Catholic observing and leading a flock in many traditions shared with Rome, I'm deeply encouraged. And, as I learn about "Papa Francesco," there's one "new thing" in particular that inspires this pastor: Francis pushes the envelope when it comes to the Sacraments.
As a cardinal in Argentina, Francis encouraged his priests to leave the safety of their chapels, churches, and cathedrals to take the Eucharist, to take Jesus, to the public squares, streets, alleyway garages, and ghettos, preaching the gospel and offering baptism on the spot, with instruction, to those who desired conversion of heart and mind to Christ.
In an interview last winter, then-Cardinal Bergoglio told Andrea Tornielli of Vatican Insider:
Instead of just being a Church that welcomes and receives, we try to be a Church that comes out of itself and goes to the men and women who do not participate in parish life, do not know much about it and are indifferent towards it. We organize missions in public squares where many people usually gather: we pray, we celebrate Mass, we offer baptism which we administer after a brief preparation.
Speaking to his brother cardinals prior to the conclave, Bergoglio took his cues from John's Revelation:
Jesus says that he is at the door and knocks. Obviously, the text refers to his knocking from the outside in order to enter but I think about the times in which Jesus knocks from within so that we will let him come out. The self-referential Church keeps Jesus Christ within herself and does not let him out.
Jesus himself was never afraid to leave the temple or the synagogue, to go outside the churches of his day, to come into the presence of those whom the righteous too often reject and despise, that he might walk and dine with them and convert them by his presence.
If men and women can come to Jesus by an altar call in a stadium, by praying the Sinner's Prayer in a theater, why not take the very presence of Christ in bread and wine to them, celebrating on the square?
One can wonder whether Holy Communion is shared with those not yet baptized, but this pope's heart-felt pastoral remarks, made as a vanguard of the rising church in Latin America, make clear his passion to take Jesus to the streets. His directive is something fresh, one response to the reticence of "nones" for houses of worship, and gives us a new vision of a church without walls.
Bergoglio, again:
We need to avoid the spiritual sickness of a Church that is wrapped up in its own world: when a Church becomes like this, it grows sick. It is true that going out onto the street implies the risk of accidents happening, as they would to any ordinary man or woman.… If I had to choose between a wounded Church that goes out onto the streets and a sick withdrawn Church, I would definitely choose the first one …
Jesus wants to draw near to the poor in spirit, and the poor in pocket change, too. He gave his church the sacraments for that purpose: to bring the baptismal power of Christ's crucifixion and resurrection to those on the street, in the street, as so often happens in the Book of Acts.
And the new pope's radical sacramentalism doesn't end there. Last year, in a sermon, he voiced deep concern that priests in his home country were withholding baptism from some children because of the perceived moral status of their parents, as first reported by Gianni Valente of Vatican Insider:
I say this with sadness and if it sounds like a complaint or an offensive comment please forgive me: in our ecclesiastical region there are presbyteries that will not baptize children whose mothers are not married because they have been conceived outside holy wedlock.
The cardinal discerned his clergy were neglecting the reason Jesus took on flesh: to draw near to those who need divine redemption. The doctrine and the discipline are not there to protect an institution but to fuel genuine mission; his pastors are not the kingdom's gatekeepers but its heralds, welcoming all:
Jesus did not preach his own politics: he accompanied others. The conversions he inspired took place precisely because of his willingness to accompany, which makes us all brothers and children and not members of an NGO or proselytes of some multinational company.
By building high walls around the church, said Bergoglio, the hypocrites of today "drive God's people away from salvation." They are the followers of the "Pharisees" whom Jesus always turned his back on, instead "appearing among the people, the publicans, and the sinners."
So far, this pope's priorities are not at all different from the ones he demonstrated as a bishop. One can pray that his passion for street theology and public square worship continues; that it will find a hearing and fan a flame in congregations all over the globe, in all the churches he "presides over in charity," Catholic or not.
A mission like that will require the sort of ministers Francis described in his first sermon as pope: priests, ministers, and chaplains who do not, like the Pharisees, hijack the gospel or blackmail its hearers for their own ends, humble pilgrims who will not pass by those who are broken and left for dead on the road, who will gently lead those who seek the narrow path to the kingdom of heaven, pastors who live in the way of the Cross:
When we walk without the Cross, when we build without the Cross and when we proclaim Christ without the Cross, we are not disciples of the Lord. We are worldly. We may be bishops, priests, cardinals, popes, all of this, but we are not disciples of the Lord.
In a sermon on Holy Thursday to the priests of the city of Rome, at an "oils mass" that annually recalls them to the purpose of their ordinations, Francis boldly charged his pastors to pass their anointing on, following the pattern of Jesus, whose anointing "is meant for the poor, prisoners and the sick, for those who are sorrowing and alone":
It is not a bad thing that reality itself forces us to "put out into the deep," where what we are by grace is clearly seen as pure grace, out into the deep of the contemporary world, where the only thing that counts is "unction"—not function—and the nets which overflow with fish are those cast solely in the name of the One in whom we have put our trust: Jesus.
The Rev. Kenneth Tanner is pastor of Church of the Holy Redeemer in Rochester Hills, Michigan.
* Note: An earlier version of this article said that canon law limited foot washing to men. It is a liturgical rule, not canon law.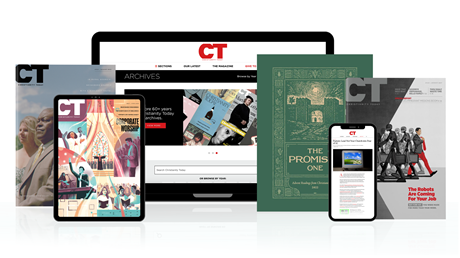 Annual & Monthly subscriptions available.
Print & Digital Issues of CT magazine
Complete access to every article on ChristianityToday.com
Unlimited access to 65+ years of CT's online archives
Member-only special issues
Subscribe
Pope Francis's Emerging Revolution
Pope Francis's Emerging Revolution