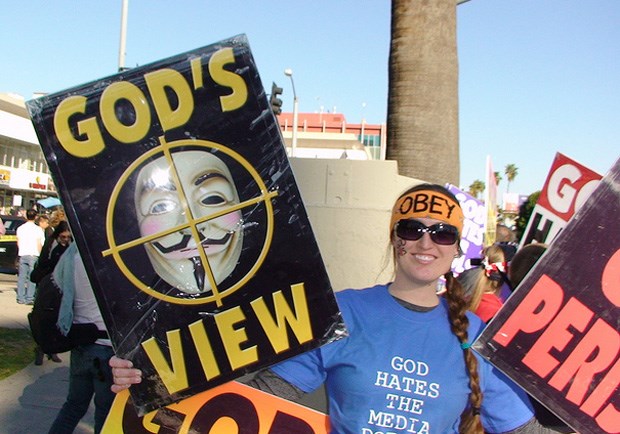 Image: K763 / Flickr
Funny, how in thinking we're doing much good, we can, in fact, be guilty of much evil, of unleashing harm on those around us. That's what 27-year-old Megan Phelps-Roper is learning. Megan is the granddaughter of Fred Phelps, the founding pastor of Westboro Baptist Church.
In a recent interview, Megan dropped a bombshell: She and her sister, Grace, left Westboro. To defect from the church means that her relatives will cut all ties with her (since the congregation consists of nearly all family members). It means saying goodbye to the only life she has ever known. It means having family damn her to hell. It's a terrifying experience.
Prior to leaving her hate-mongering church, Megan was on her way to assuming the mantle of leadership. She launched the church into the world of social media, increasing Westboro's notoriety while spreading its hate. Even so, she couldn't retreat from her doubts. Jeff Chu reports that in December 2012, Megan went to the library in Lawrence, Kansas, and began combing through books on philosophy and religion. As she read, "it struck her that people had devoted their entire lives to studying these questions of how to live and what is right and wrong. 'The idea that only (Westboro) had the right answer seemed crazy,' she says. 'It just seemed impossible.'"
Megan came to terms with the idea that maybe, just maybe, Westboro might be wrong. Not long after her visit to the library, she and Grace left home. Megan doesn't know where she's headed in her conversion away from hate to love, but one thing she does know is that she can never go home again. And by "home" I'm referring not only to a house on a particular street, but to the way things were. Her home is now inhospitable to who she is becoming. She and Grace are now outsiders searching for a new place to call "home."
It's easy to distance ourselves from Westboro Baptist Church. They're extremists with monstrous practices that flow from a twisted theology of a deceived people. We're not extremists. We'd never dream of protesting the funerals of American soldiers or even conceive of picketing the funerals of Sandy Hook Elementary victims in the name of God while smugly declaring via Twitter that "God sent the shooter." We'd never indoctrinate our children as they have and call it nurture. Between most of us and those at Westboro Baptist Church, there's a great gulf fixed.
Maybe we expect those at Westboro and Megan Phelps-Roper to be social misfits or sociopaths. It may be surprising to discover that's not the case. In 2011, the Kansas City Star newspaper described Megan as intelligent, athletic, a lover of Harry Potter and Mumford & Sons, and as "peppy, goofy and, by all accounts, happy." But in the next breath reporter Dugan Arnett rounds out his 2011 description of Megan with: "Oh, and one other thing about Megan: She wants to make it perfectly clear that you and the rest of this filthy, perverted nation will be spending a long, fiery eternity burning in hell." This same peppy, goofy Megan is also the one who picketed the funerals while holding hateful signs. What a contrast.
Most of us wouldn't go to the same lengths as those at Westboro, but collectively, we have our own prejudices, rigid rules, regulations, and zealotries. These drive us to marginalize, cast aspersions upon and exclude others within our own churches, Christian organizations and institutions who so much as dare to differ, even slightly, from our own political or theological stances.
I observed this firsthand during the recent presidential election. Two of the godliest people I know were eviscerated—slandered by other believers for publicly sharing the reasons they weren't voting for Mitt Romney. Christian zealots went so far as to demand that these two be fired from their place of employment.
In an insightful post entitled, "Zealotry Today," Scot McKnight observes:
Zealotry is conscious zeal to be radically committed, so radically committed that one goes beyond the Bible to defend things that are not in the Bible…. Zealots…convince themselves that, even though the Bible does not say something, what they are saying is really what the Bible wanted after all.
My friend and New Testament scholar, Tim Gombis, says that such behavior is due to our underlying assumptions. In his post, "The Fundamentalist's Error" (an error made by many of us, not just fundamentalists) he explains, "The underlying assumption is that my thoughts are God's thoughts; my cause is God's cause. This divine alliance makes me exempt from obedience in order that I might bring about God's purposes."
There's no doubt that some of us evangelicals do have a penchant for bludgeoning those Christians unlike us; we zealously use godless means to accomplish what we believe to be God's ends. We fail to realize that God cares about the means we use just as much as he cares about the ends. Like Megan and those at Westboro, we too can be intelligent, peppy, goofy, all-in-all seemingly well-adjusted, while peacefully promulgating contempt for those who dare to question our stances.
How quickly we devolve into the "us versus them" mentality with our brothers and sisters.
Maybe this Lent we'll have a conversion akin to Megan's. Perhaps for the first time we'll see and confess that there's much more of Westboro in us than we care to admit, that we don't have it all right and that we've done violence to our brothers and sisters while purporting to do good. Are there some we've driven away from home, some who have a hard time feeling at home with us and our congregations? Maybe we'll realize that it's not just Wesboro, but us standing in the need of prayer.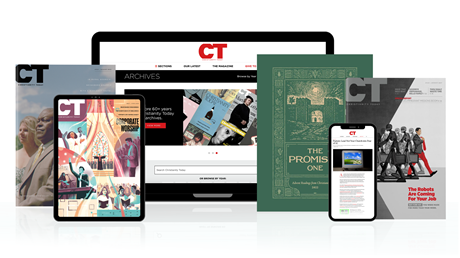 Annual & Monthly subscriptions available.
Print & Digital Issues of CT magazine
Complete access to every article on ChristianityToday.com
Unlimited access to 65+ years of CT's online archives
Member-only special issues
Subscribe
The Westboro Baptist in All of Us
The Westboro Baptist in All of Us