true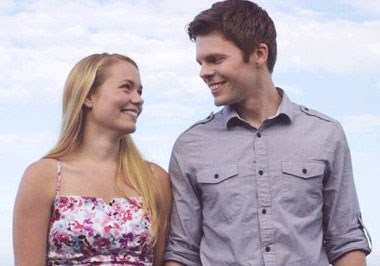 Matthew Wilson wants you to know two things. He's not that Matt Wilson. And his new comedy, The Virgins, isn't that kind of "Christian" movie.
Wilson—who sometimes goes by "Matt"—says he once almost missed landing a writing gig when he was mistaken for a critic who had written some negative reviews about the company producing the shows he was being considered to write for. But he did manage to get hired to write for Cartoon Network's Krypto the Superdog when he was just twenty-three, a recent Biola graduate.
Just as quickly as the television work came, though, it dried up. Wilson then went to work for Disney Feature Animation—according to him, the best day job he has had in the industry. He got to sit in on company town hall meetings where John Lasseter and Ed Catmull discussed the Pixar approach to storytelling.
Wilson entered—and eventually won—Amazon Studios' movie contest with his test film, The Umpire. That came with a $100,000 prize (for a film he shot with some friends from church), but more importantly, it gave him practical experience. The contest "demystified the filmmaking process for me," the director says. "I realized, 'Hey, I can do this!'"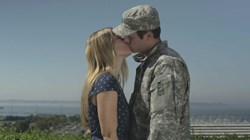 That was three years ago, and Wilson is now ready to share his new feature, The Virgins, with the world. The comedy, about Christian newlyweds who are thwarted by comic circumstances in their attempts to consummate their marriage, is streaming via several web services, starting today (July 18). The Virgins stars Blake Webb and Sonya Davis as the newlyweds; Wilson is credited with writing, directing, and editing.
In a blog entry at the film's web site, Wilson attempts to address an important question: "Is This One of Those Stupid Christian Movies?" In it, the director speaks of his great anticipation, while a student at Biola, when presented with the opportunity to screen the newest "Christian" films.
But after watching one high-profile film brought to campus, he says he was "appalled." He even felt that bad Christian films turned off a generation of Christian artists from wanting to have anything to do with "Christian" movies.
Even so, as he went to Hollywood, he never lost the desire to introduce Christian characters into his writing—but only when he was "cool" enough to get away with it!
Eventually he realized that he wanted to find a middle way. Perhaps he could write about emotions and experiences most people could relate with—chasing a seemingly unattainable dream—but focus on how those universal themes were specifically experienced by Christian characters.
When asked how The Virgins differs from other Christian movies, Wilson said that "most Christian films are trying to show you why you should become a Christian, but I'm trying to show you what being a Christian is like." He then adds, "Most of all, I'm trying to make you laugh."
In that final, most important goal, he largely (and I will admit, surprisingly) succeeds. The Virgins shares a few of the pacing problems that plagued a comedy like Mom's Night Out, but it also produces more consistent laughs. Webb and Davis make a cute couple and are easy to root for. Webb looks like a cross between Scott Wolf (circa Party of Five days) and Jesse Eisenberg, with that wry, crooked grin that stops just short of a sneer. He infuses Nick, who is scheduled to deploy to Afghanistan the next morning and has only one night to consummate the marriage, with just a tinge of ironic detachment that serves the film. Nick may be exasperated—and desperate—but he doesn't lose sight of fact that his frustrations are temporal rather than eternal.
Davis, in a slightly harder role, is able to make Mary a participant, balancing her own desires with Nick's, rather than making her simply being the voice of "no."
The film's comic high point probably comes when Mary's father (who is against the marriage and wants the couple to be thwarted so that the marriage could still be annulled) and Nick's grandfather (who wants the couple to have the same healthy relations he and his wife have) engage in dueling—and increasingly loud—late night prayers, all the while unaware that the young couple had taken refuge in the nearby church a few minutes earlier, thinking they had finally found a brief moment of privacy.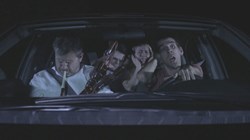 Wilson told me that he financed the entire film himself, making him a true "independent" Christian filmmaker. He concedes that budget constraints affect him—and other Christians—much the same way they affect everyone.
"I know I'm not going to win any awards for sound mixing or color correction," Wilson said. "But my hope is that it's passable enough to keep people focused on the story."
The very fact that he is aware of—and cares about—both technical artistry and story content is no doubt a big reason why The Virgins is better than many other "Christian" movies.
Will enough viewers, Christian especially, be able to find the film to make Wilson's gamble pay off? We're about to find out.
Here's the trailer for The Virgins, streaming today on iTunes and Vimeo.
Kenneth R. Morefield is an Associate Professor of English at Campbell University. He is the editor of Faith and Spirituality in Masters of World Cinema, Volumes I & II, and the founder of 1More Film Blog.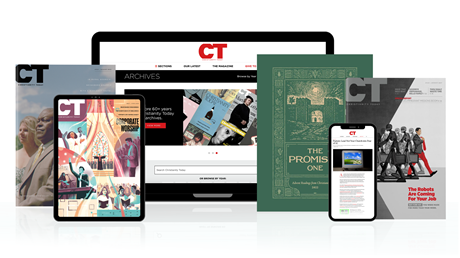 Subscribe to Christianity Today and get access to this article plus 65+ years of archives.
Home delivery of CT magazine
Complete access to articles on ChristianityToday.com
Over 120 years of magazine archives plus full access to all of CT's online archives
Subscribe Now
'The Virgins' Are On Their Way
'The Virgins' Are On Their Way