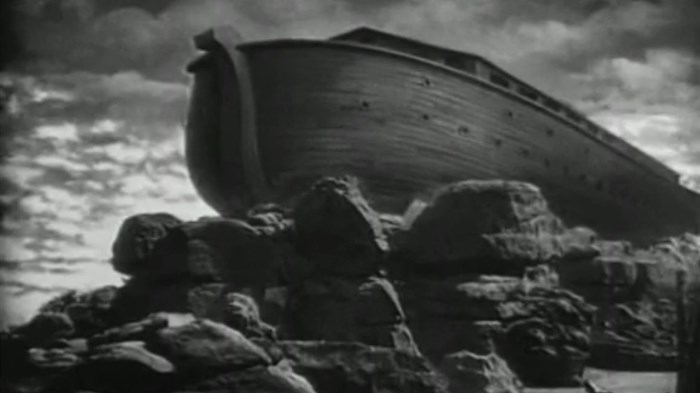 The story of Noah and the Flood is one of the most easily recognized stories in the world, but it hasn't had a whole lot of attention on the big screen—until now, thanks to Darren Aronofsky's Noah, which may be the first feature-length film made for the big screen that devotes its entire running time to Noah's story. (Here's my interview with director Darren Aronofsky and his co-writer Ari Handel.)
The biblical version of the story is fairly brief, so filmmakers who have tackled it in the past have tended to do so either as part of a larger treatment of the early chapters of Genesis, or by pairing it with a completely modern story. They have also tended to pad the story out with elements borrowed from other parts of the Bible.
Filmmakers have turned to the Bible for source material since the earliest days of the silent era, back in the late 19th century. The films they made were usually quite short and often reflected the religious iconography that was popular at the time. Little emphasis was placed on turning the stories into theatrical dramas, per se, let alone on making things "realistic."
Towards the end of this period—just as Hollywood was making the transition from silent films to sound—Warner Brothers produced a film called Noah's Ark (1928).
Based on a script by Daryl F. Zanuck, and plagued by rumours that a few of the extras died while shooting the Flood sequences, it was one of the first American films directed by a Hungarian named Michael Curtiz, who would go on to become famous as the director of films like Casablanca, The Adventures of Robin Hood and the Elvis-starring King Creole.
Like a number of silent films—such as D.W. Griffith's Intolerance ...
1