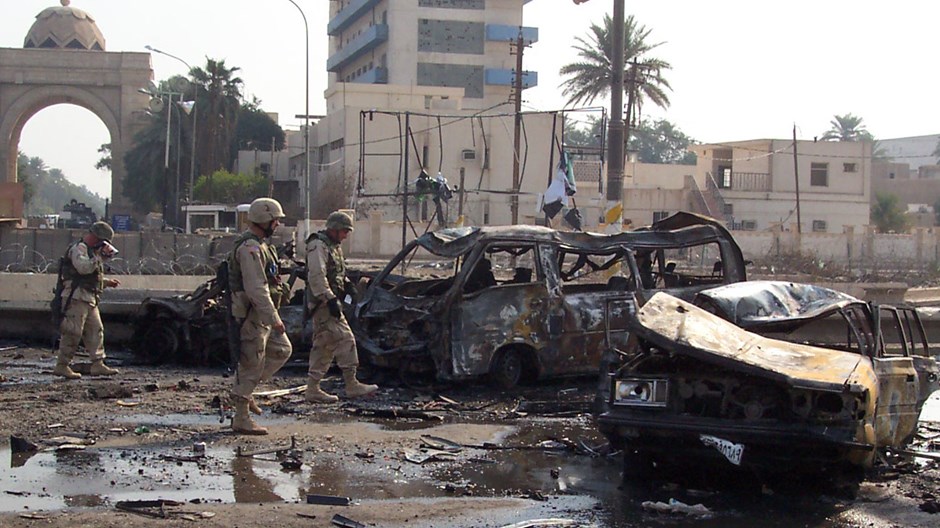 Image: Aaron Keene / Flickr
This June, CT drew attention to veterans' experiences in the cover story "Formed by War." To continue the discourse sparked by that story, alongside the Centurions Guild, CT is hosting an online series called Ponder Christian Soldiers. (Read the introduction to the series here, the second installment here, and the third, here.) The following essay is from US Army chaplain Terry Cobban, who reflects on Emmanuel, "God with us," in the midst of horrific physical pain incurred on the field.
Four-leaf clover, rabbit's foot, lucky penny—all things people keep on hand for luck. In the military, the list includes the chaplain. "The chaplain's with us, nothing bad's gonna happen," is a sentiment many chaplains are familiar with. It is a nice sentiment, but it's false. Most chaplains are not so naïve as to believe it. Bad things happen even when chaplains are present.
Fortunately, it's during the tragedies—accidents, attacks, miscalculations that result in the loss of life—that Jesus can meet us and draw us into an ever more intimate relationship with the Father. I know this firsthand.
On December 20, 2007, I was with my unit in Iraq, north of Baghdad. During a return convey to our Forward Operating Base, we stopped to visit a local leader. A group of us went into the leader's compound, and when it came time to leave, he insisted on showing us a nearby market. We obliged and made ready to go.
Our commander sent two of our troops into the broad avenue onto which the compound opened. We waited for the all-clear before proceeding one at a time out of the gate and into the street. I stepped over the gate and into the street—and I don't remember the next 20 minutes. It's not that the memories are blurry or conflated; they simply don't exist.
Eyewitnesses later told me what had happened. Once our group was in the street, a man wearing a long, flowing thawb walked up to us and detonated the vest strapped to his chest. The explosion immediately rendered me unconscious and threw me 20 feet. The percussion of the blast ruptured both of my eardrums. Shrapnel destroyed two ear bones in my right ear, ripped away my right deltoid, and dug into my right thigh and calf. One of the holes in my thigh was the size of a golf ball. My face was singed; my eyelashes and eyebrows were burned away. Second- and third-degree burns covered my right arm and leg.
I had been three feet away from the man. Of the nine casualties, one died instantly. Of the eight remaining alive, I was the most severely wounded.
A Christmas Gift Absent the Bow
I remember regaining consciousness during parts of the medevac flight to the local military hospital and a brief stay at Landstuhl Regional Medical Center in Germany. From there I traveled to Walter Reed Hospital in Washington, D.C., then to an Army medical center at my home base of Ft. Lewis, Washington. I arrived December 24, wrapped like a Christmas gift absent the bow.
Over the next month in the hospital I was prepped for skin grafts, started physical and occupational therapy, was poked and prodded—all while I recovered strength to get out of bed. Due to the exceptional care of hospital staff, including one particular social worker, I was able to leave the hospital at the end of January 2008 for a month of convalescence at home.
While God was with me throughout the whole ordeal, I would learn on that first Sunday in February 2008 just how personally Jesus identified with my brokenness.
Stubbornly I made my way to the church that my family and I had been attending before my deployment. Mustering up strength, I limped my way in from the parking lot. The short walk left me peppered with sweat. I made it to the sanctuary and all the way to the front, plopping into a pew. The short distance felt like a marathon.
When I turned my gaze to the altar, my heart sank. It was Communion Sunday. During Communion, church members walked forward to receive the bread and dip it in the cup. This is one Communion to sit out, I thought.
When the time came, however, I found myself standing in the aisle, inching forward step by step. Thank God that I had sat close, close enough to hear the words said to each one as they approached the bread and the cup. "The body of Christ, broken for you. The blood of Christ shed for the remission of sin." These words rang in my near-deaf ears.
Then, as Elijah must have experienced in the cave on Mount Horeb (1 Kings 19), a still, small voice rose gently within my mind. "Terry, I know," Jesus said. "I know what it's like for people to want to kill you. I know what it's like for them to tear flesh from your body. I know."
By the time I reached the bread, I was weeping, not "sweating" around the eyes, but pouring forth tears. When I reached the cup, the pastor—who had not been at that church for long and knew of me only through my wife—saw my tears. He placed his hand behind my neck, drew our foreheads together, and said, "Chaplain, let me pray for you."
As an officer in the military, if I'm not called "sir," I'm "chaplain," the more personable of the two. It serves in place of a first name. When the pastor addressed me as "chaplain," I sensed Jesus calling me by my name. I cried audibly as I limped back to my seat.
Even to this day, when I return to that church or recount the story, I am overwhelmed by the real, intimate presence of Jesus, my Lord, who knows what it is like to suffer. His brokenness in me helps me become, more perfectly, a child of God (2 Cor. 4:10). I can trust him, because he knows.
We want to invite conversation about the experiences of veterans. If you have a story to share, or a question to ask, direct those to Centurions Guild founder Logan Isaac at logan[at]centurionsguild.org.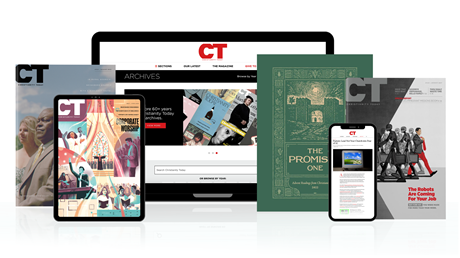 Annual & Monthly subscriptions available.
Print & Digital Issues of CT magazine
Complete access to every article on ChristianityToday.com
Unlimited access to 65+ years of CT's online archives
Member-only special issues
Subscribe
Read These Next
Trending

American Christians Should Stand with Israel under Attack

While we pray for peace, we need moral clarity about this war.

From the Magazine

The Unusual Epistle that Helps Me Counsel on Sexuality

Jude has strong words for immorality in the church. Yet he advocates for mercy for those who doubt.

Editor's Pick

Don't Miss These African Christmas Hits

Jam out this season to highlife, Afrobeats, jazz, a cappella, R & B, rap, dance, and hip-hop artists from Nigeria, South Africa, and more.
What Jesus Said to Me After the Suicide Bombing
What Jesus Said to Me After the Suicide Bombing