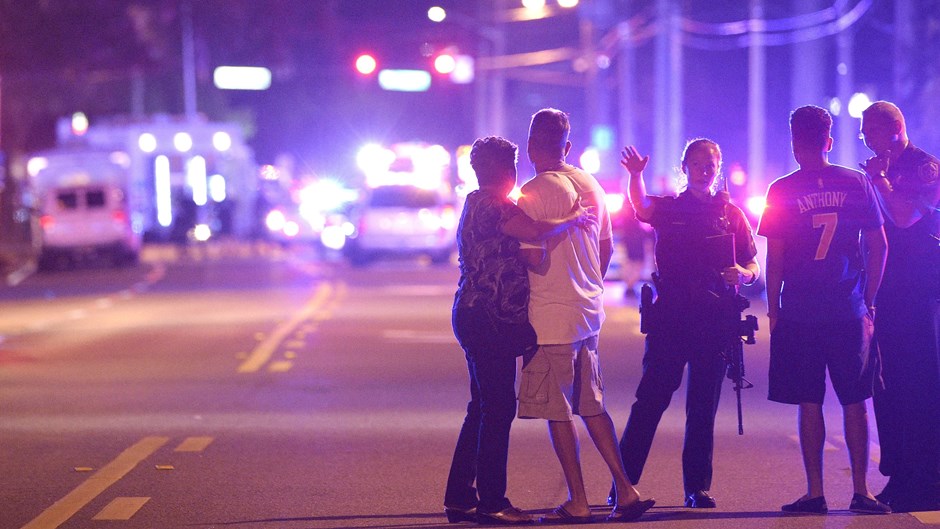 Image: Phelan M. Ebenhack / AP
We at Christianity Today are deeply grieved by the shooting in Orlando that killed 49 people. Our heartfelt sympathies go out to friends and family of the victims. In this case, the attack was targeted at one group, and so our prayers go up for gays, lesbians, and other sexual minorities who now live with a heightened sense of fear. We are glad to hear of so many Christians, from many theological persuasions, reaching out to comfort them in their grief.
This weekend's murders unfortunately remind us of the LGBT community's place among the many groups who have been singled out for mass killing by hateful people. Just five examples since 2000:
African Americans: The most recent attack we are remembering just this week: On June 17, 2015, nine people were murdered at Emanuel African Methodist Episcopal Church in Charleston, South Carolina.
Sikhs: On August, 5, 2012, six people were killed and three injured at a Wisconsin Sikh temple.
Christians: On December 9, 2007, two people were killed at a Youth With A Mission training center in Arvada, Colorado, and another two at New Life Church in Colorado Springs.
It's times like these that it can be hard to pray, but it's vital we take Jesus at his word on this matter.
Jews: Surprisingly, Jews have been regularly subject to a number of murderous rampages since 2000, with fire bombings at synagogues in the Bronx and Syracuse New York in October 2000, the LAX shooting at the El Al ticket counter on July 4, 2002, the Seattle Federation shooting on July 28, 2006, and the Overland Park, Kansas, attack on April 13, 2014.
Mexican Americans: No, they have not been murderously attacked—but there was a serious plan afoot. On May 1, 2007, five members of an anti-immigration militia in Birmingham, Alabama, were arrested for planning to mow down "Mexicans" with machine guns.
And we're only talking about what's happening in the United States. International attacks on specific groups are even more horrific.
What are we to make of this hateful targeting? To be sure, there is a matrix of political, social, and psychological issues that must be addressed with vigilance. But while we attend to these matters, we Christians also recognize that this is at heart a spiritual battle with what the apostle Paul calls the "principalities and powers." And that gives us a clue as to what, in addition to our social service as citizens, our unique contribution can be at times like this: prayer.
We share this with other religionists, of course, but we practice it in our own way. We don't often see its effect, but Jesus has promised that prayer in his name makes a difference. It's times like these that it can be hard to pray, but it's vital we take Jesus at his word on this matter.
But there is one particular prayer that Jesus teaches and models. I'm not enough of a world religion scholar to know if it is unique to Christianity, but it is remarkable part of Christian faith and life. It's the prayer of Stephen as he was stoned and of Jesus on the Cross: "Father, forgive them for they know not what they do."
It is one way we obey Jesus' command to love enemies, even murderous ones—whether they target us or those with whom we sympathize.
This struck me afresh recently as I recited an Eastern Orthodox prayer of intercession. In the litany of petitions, this one jumped out at me: "Lord, we pray… for those who hate us and those who love us."
In the Orthodox tradition, this prayer is to be said every evening. The Orthodox know something about enemies, having lived under repressive Muslim and Communist regimes for centuries. So they know why this petition must become habitual for people of faith.
I believe if this were a daily prayer for American Christians, it would help us to do that which does not come naturally to us: loving our enemies—and the enemies of all those we love. And it would shape us as a people to be Christ's presence in a hateful and divided world—a world that needs to know of his presence more than ever.
Mark Galli is editor of Christianity Today.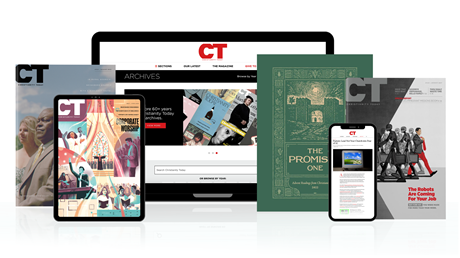 Annual & Monthly subscriptions available.
Print & Digital Issues of CT magazine
Complete access to every article on ChristianityToday.com
Unlimited access to 65+ years of CT's online archives
Member-only special issues
Subscribe
A Meditation on the Orlando Shooting
A Meditation on the Orlando Shooting