true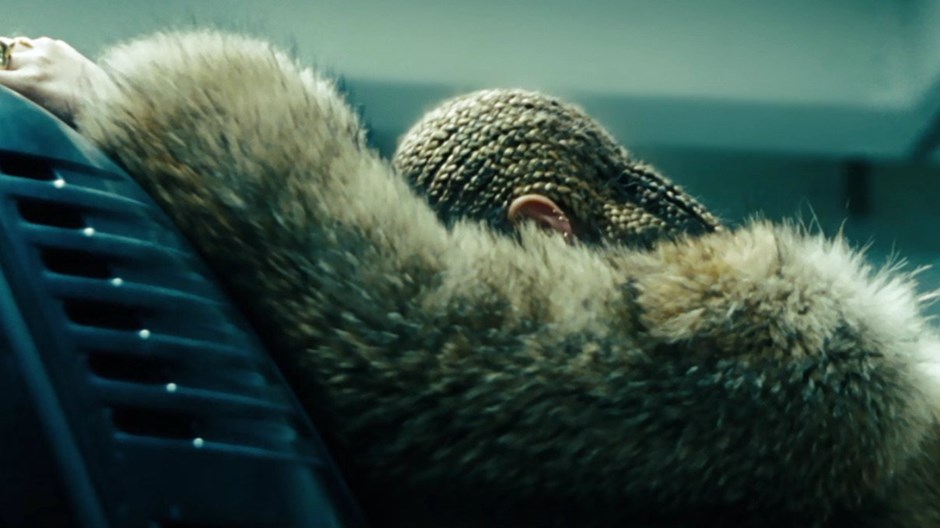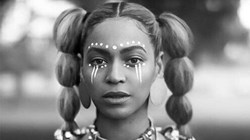 In "Don't Hurt Yourself," the third and angriest track on Beyoncé's album Lemonade, the singer spits out the phrase "God complex" as an insult at the target of her song—contextually, her husband, the rapper Jay-Z, to whom she has been married since 2008. That little line, and some other bits slipped into the lyrics and visuals, form a sort of a skeleton key to pry open what the project has to do with God.
The story of Lemonade has a lot to do with God, and with idols.
Released without warning a week ago, Lemonade is a "visual album," meant more to be watched than to be listened to (though you can do that too). It's an hour-long devastating film, gorgeously shot, rich in imagery. Spliced into the tracks—sometimes in the middle of them—are Warsan Shire's poems, along with home video and images of Beyoncé's parents and her own marriage, heartbreaking moments with the mothers of Trayvon Martin and Michael Brown holding their son's portraits and staring into the camera, dance, and other familiar faces and voices.
Lemonade also boasts a deep religious sense. Its images of water and fire seem torn from a book of prophecy, a personal apocalypse. It relies on the narrative of baptism and redemption, and yet is a remarkably complex work of art. On release, it inspired a frenzy of writing on a variety of topics, from feminism and womanism to marriage, adultery, American history, its African and Creole sources, and much more. The film also draws on images traditionally associated with fertility, particularly the ankh she wears around her neck in "Don't Hurt Yourself." The ankh was a symbol of life in ancient Egypt, and all the Pharoahs and deities were pictured clutching it. (It's sometimes used by Coptic Christians as well.)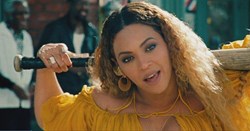 It would be a mistake to interpret any of the tracks in isolation. This is an album best taken in whole, because it tells a story. My colleagues noted last week on CT's "Quick to Listen" podcast that you can read Lemonade as a modern-day book of Psalms, which fan across the spectrum from angry shouting to songs of deliverance. The music and lyrics tell a story: first the singer intuits that something is going on in her marriage, but doesn't want to believe it; then, when it's confirmed, she goes through stages of anger and grief, eventually deciding that it's worth pursuing reconciliation. We're meant to understand that this is a personal narrative—likely for Beyoncé, but for many other women, and in particular, black women—and it's laid out in chapters with text on the screen, some of it overtly religious: Intuition, Denial, Anger, Apathy, Emptiness, Accountability, Reformation, Forgiveness, Resurrection, and Redemption.
As in much of her public work in the past few years, in Lemonade Beyoncé is concerned with the ways women suffer and recover and gain agency—particularly black women in America, who Malcolm X proclaims at one point in voiceover are the most disrespected, unprotected, neglected people in America. Lemonade suggests that black women have been let down by two groups of people repeatedly: the men in their lives, particularly fathers and husbands, and their country more broadly. In personal and social history, the very people meant to protect them have taken advantage of them. (In Lemonade she focuses mainly on the personal, but the cultural implications are there as well, sometimes explicitly.)
Here is where God comes in. The album's first track, "Pray You'll Catch Me," finds the singer lurking at a door, trying to hear a whispered conversation. But the "prayer" also seems directed upward; in the film, she dives off a building, whispering to the heavens. So who is God, here?
The answer seems to be this: God is real (Beyoncé has famously proclaimed as much), a listening deity close to the despairing, the provider and protector of the weak. But sometimes men try to play God. They make themselves idols. And women get hurt.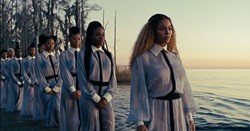 The "God complex" reference hurled in Jay-Z's direction during "Don't Hurt Yourself" is echoed in the "Accountability" chapter, in one of Shire's poems which Beyoncé reads over images of family. This poem is directed at "Mother." "Did he convince you he was a god?" she asks. "Did you get on your knees, daily? / Do his eyes close like doors? / Are you a slave to the back of his head? / Am I talking about your husband or your father?"
But people can't play God without destruction. The words GOD IS GOD AND I AM NOT flash briefly on screen in "Don't Hurt Yourself." In "Emptiness," Beyoncé describes an empty intimate encounter between a man and a woman, then says that God was in the room, even then. It seems the point of emptiness is where the singer regains her sense of man and God as separate entities—one to be trusted, and the other to be loved as a fellow broken being under the heaven.
But that doesn't mean excusing betrayal or looking the other way. The pivot point in Lemonade comes soon after, with a baptism—a symbol of death and rebirth. After Beyoncé confronts her father's harmful legacy—toward both her and her mother—we see, in the "Reformation" section, a group of women walking into water in white dresses. In the following "Forgiveness" chapter, she says, "Baptize me. Now the reconciliation is possible. If we're going to heal, let it be glorious." Backed by an all-female choir, seated at a piano, she croons the moving song "Sandcastles," a gospel ballad spliced into images of the couple.
What follows is "Resurrection," which begins with an older woman's voice:
Something is missing. So many young women, they tell you, "I want me a hu — see, all them make me feel better than you." So how we supposed to lead our children to the future? What do we do? How do we lead them? Love. L-O-V-E, love. Mm-mmm-mmm. Hallelujah. Thank you, Jesus. I just love the Lord, I'm sorry, brother. I love the Lord. That's all I got.

When your back gets against the wall and your wall against your back, who you call? Hey! Who you call? Who you call? You gotta call Him. You gotta call Jesus. You gotta call Him. You gotta call Him 'cause you ain't got another hope.
This follows with the song "Forward," which includes images of Martin and Brown's mothers, and gives way to "Freedom," a full-on foot-stomping spiritual staged as a camp meeting at which a ballet dancer performs. We briefly see a crown of thorns, and the line: "I break chains all by myself / don't let my freedom rot in hell." You could see this as a proclamation of independence from God, except for its context with "Resurrection"—"You gotta call Jesus. You gotta call Him. You gotta call Him 'cause you ain't got another hope."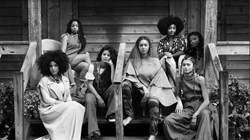 "Freedom" is a call to get up and pursue freedom and truth, and as it concludes, the chapter called "Redemption" begins with a recipe for lemonade. Shire's poem addressing her grandmother says that she "conjured beauty from the things left behind. Found beauty where it did not live." The grandmother "broke the curse with your own two hands" passed along by generations. Then the words "Hattie's 90th" flash on screen, followed by a video of an old woman—Hattie—saying to a crowd, "I had my ups and downs, but I always find the inner strength to pull myself up. I was served lemons, and I made lemonade."
Hattie, it turns out, is Hattie White, Jay-Z's grandmother. She is talking about finding the strength to forgive in her own life. The film concludes with images from Beyoncé's parents' lives and her own (we see home video of Jay-Z and Beyoncé getting their ring fingers tattooed, and later, a pregnant Beyoncé; we also see Beyoncé's mother getting remarried). That Beyoncé took what seems to be a deeply personal anguish and found a way to make a story about so many women is remarkable—but that she named it for a line from her husband's grandmother speaks volumes. To "break the curse," it seems, means pursuing a course of resurrection, over and over again.
So we can re-read Lemonade as a different sort of story. A man fancied himself God, and let a woman pin her hopes on him. Then he proved he wasn't worthy. She broke. She was angry, then empty. But it wasn't her fear that led to reconciliation; it was rediscovering who can be trusted, in the midst of pain. The feminist message of Lemonade isn't girl power—it's hard-won strength. You can't let a man have the power only God should have.
Is there anything orthodox about Lemonade? No. It draws on imagery from a variety of religious and non-religious sources; those bent on drawing a coherent theology from it will be frustrated; there's plenty to quibble with. But its narrative of women's freedom springs from an old, old story of freedom and reconciliation—a lesson as old as the human race.
Caveat Spectator
In thematic content and language, Lemonade should rank the equivalent of a hard-R. Beyoncé and other women also wear skimpy clothing throughout. In one song, the middle finger figures significantly; another one seems to be about a prostitute, though that's not said explicitly.
Alissa Wilkinson is Christianity Today's critic at large and an assistant professor of English and humanities at The King's College in New York City. She is co-author, with Robert Joustra, of How to Survive the Apocalypse: Zombies, Cylons, Faith, and Politics at the End of the World. She tweets @alissamarie.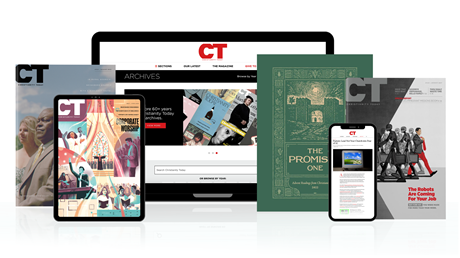 Subscribe to Christianity Today and get access to this article plus 65+ years of archives.
Home delivery of CT magazine
Complete access to articles on ChristianityToday.com
Over 120 years of magazine archives plus full access to all of CT's online archives
Subscribe Now
Bey and Bey's God
Bey and Bey's God