So much of life is spent waiting.
The mother waits months to hold the babe nestling in her womb. The parent devotes years of love and discipline in hopes of helping the child bloom. The Christian shares the gospel, trusting God to bring forth fruit in future days or months or years. And the farmer anxiously watches sun and rain for weeks to see if seeds will sprout. "Sow your seed in the morning, and at evening let your hands not be idle," we read in Ecclesiastes, "for you do not know which will succeed, whether this or that, or whether both will do equally well."
We know, of course, even as we wait, that many of the returns on our investments—whether of time, money, teaching, love, or labor—will never be seen in our lifetimes.
The place where God taught me the most about waiting was the abortion clinic.
For ten years, once a week, every week, I waited outside the abortion clinics in the city where I was then living, offering help to the women and men going in and coming out. At most of the clinics, it was nearly impossible to initiate a conversation because the sidewalks were often far from the clinic entrances. But sometimes patients would walk by or even go out of their way to talk to me—sometimes out of curiosity, sometimes out of anger, but most often out of desperation.
Most of the hours I spent outside the abortion clinic are now a blur of defeat and despair: an obscenity hurled by a passerby here; a confrontation with an angry boyfriend there; an occasional clash with volunteer escorts, clinic workers, or abortionists; freezing snow; sweltering heat; pouring rain.
However, punctuating all this failure every once in a while, a woman would change her mind—quietly, tearfully, joyfully, or all three—and decide not to have an abortion.
I estimate conservatively that, in a span of ten years, over the course of my weekly shifts, I saw at least 2,500 women go into the clinics (quite possibly twice that). Roughly a couple dozen of them told me upon leaving the clinic that they had decided to keep the baby. Some of them accepted the help I offered while others said they didn't need it. And how many more changed their minds without ever speaking to me, I will never know on this side of heaven.
But even as I wait for eternity to reveal its secrets to us, God is gracious and kind in granting me—and all of us—glimpses now and then of the fruit of efforts performed in faith.
I received such a glimmer not long ago. It arrived—just a message on Facebook on a lazy Sunday afternoon:
I'm not sure you remember me. I met you 20 years ago outside of Women Services on Main St. … I was only 15 years old. You saved my son's life. I was alone, there to start a two-day procedure. Day one of the would-be termination, they instructed me to wait at home come back the next day and have it completed. However, that night I felt my son move. The next day on my way into the building I met you. … I believe you read me some scriptures and made me aware of other options. So I decided to have the laminaria removed and continue with the pregnancy. That day you took me home and you never left my side, took me to your church, linked me to several agencies. You were truly a blessing to me. Today my son is almost 20 years old, away at college beginning his sophomore year. I miss him so much—he's the best thing that ever happened to me. When I think of him I often think of you.
As I read the note, I became utterly undone.
I wasn't sure if I remembered the girl correctly, so I dug out my old journals and flipped through the pages of my entries for that year until I found it. As with many of the other women and girls who changed their mind at the clinics, I kept up with this one for a little while afterward, taking her to church and to lunch and talking to her father when he called to thank me. The pro-life ministry I worked with always threw baby showers for mothers and helped in various ways as long the help was needed and wanted.
Often in these cases, however, by the time the baby comes, it becomes awkward for the women to be open with others about the decision they almost made, and they quietly move off into new lives birthed along with their babies into the world. (This is why I requested and received permission from the woman to share this story.) A year and a half later, I moved to another state and we lost contact.
Nonetheless, she never forgot me. In our subsequent messages, she confessed to finding and watching me on social media for a while before reaching out. "You have always held a place in my heart," she wrote. She told me that as a single parent, she had managed to put her son through private high school and then to send him to a private college. "I've never finished college [but] worked in banking for 15 years," she explained. "Every penny and thing I ever had, I saved for my son. … I gave up so much for myself for my son—no regrets."
For most of us, it's only human to want to know that somehow we've made a difference, and yet most of the important things in life require us to wait a long time before we see any evidence of that difference.
During those years of waiting in front of abortion clinics, I trusted that God would bring forth from my small efforts the fruit he saw fit. I was content to be obedient and faithful without reward. And yet, being offered just a sliver of that reward now, many years later, I am encouraged all the more to be faithful even in times when I don't see visible fruit.
In contrast to the cycles of karma in Hinduism and Buddhism, the nothingness of nirvana in Buddhism, and the instant access to paradise by the Muslim's martyrdom, Christianity requires and rewards faithfulness in waiting. James 5:7–8 encourages believers:
Be patient … until the Lord's coming. See how the farmer waits for the land to yield its valuable crop, patiently waiting for the autumn and spring rains. You too, be patient and stand firm, because the Lord's coming is near.
Waiting is the fertile soil of our sanctification and one of the hallmarks of Christian practice. And yet what a joy it is to see at last the blessings God enables us to harvest.
Somewhere out there, a 19-year-old college student is bringing his faithful mother a harvest of love and joy. How much more love and joy we bring our Father as we patiently await the fruit only he can bring.
Karen Swallow Prior is a professor of English at Liberty University and a research fellow with the Ethics and Religious Liberty Commission of the Southern Baptist Convention. She is the author of Booked: Literature in the Soul of Meand Fierce Convictions: The Extraordinary Life of Hannah More.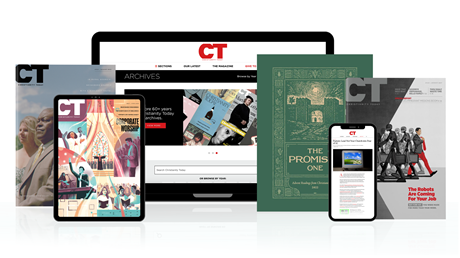 Annual & Monthly subscriptions available.
Print & Digital Issues of CT magazine
Complete access to every article on ChristianityToday.com
Unlimited access to 65+ years of CT's online archives
Member-only special issues
Subscribe
Waiting Outside an Abortion Clinic Years Ago Was Worth It
Waiting Outside an Abortion Clinic Years Ago Was Worth It