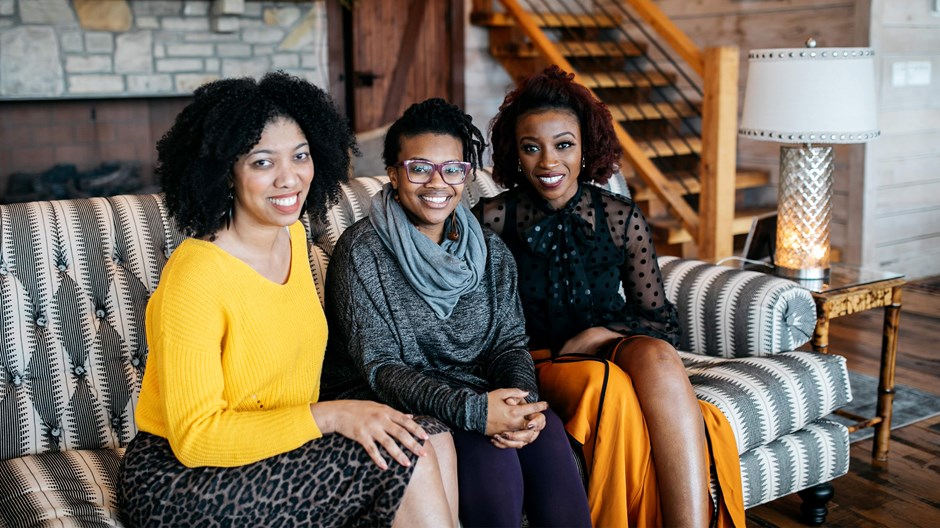 Image: Courtesy of Random House
There are two well-worn paths for discussing Black religiosity. You can center white evangelicals or Black trauma.
The first path emphasizes the recent large-scale white evangelical support for former President Donald Trump. That story chronicles Black disappointment and their slow but steady exodus from a variety of evangelical settings. The focus is not so much Black faith, but African American reaction to someone else's religious and political decisions.
The second path turns to Black and brown voices in the face of a particular racial trauma. One of our precious Black girls or boys, men or women is mistreated by the state. Writers, thinkers, and theologians do our duty by articulating our resistance to the latest atrocity. This is important work; part of the work of Black resistance is to make sure there is a historical record. People need to know that we see and understand exactly what is being done to us.
But these are all meals at tables set by others. The ingredients have already been predetermined. It is a credit to Black ingenuity that we have often added spices of our own, rearranged the proportions of flour, salt, butter, and vanilla extract to transform the bland cake of Black protest or trauma into something that often transcends the medium.
What happens when Black women in particular get tired of preparing this food for others and decide to make things that are life-giving to them instead? What happens when they want to step out of the spiritual binary of white evangelical or white progressive? Is there freedom for them to simply be Black, female, and Christian?
The desire to create a table of their own is being explored by three women: Michelle Higgins, Ekemini Uwan, and Christina Edmondson in the launch of their Truth's Table podcast and now a book entitled Truth's Table: Black Women's Musings on Life, Love, and Liberation. I sat down with two of the women from Truth's Table to hear about their struggle to build a new space that is unapologetically Black, female, and Christian.
How did you all meet?
Uwan: We both grew up in Black spaces and found ourselves in white evangelicalism while never losing a sense of our own. We found ourselves in those spaces, not because we had an issue with the history of the Black church or the reality of the Black church.
Is it fair to say that sometimes when you are the only Black people in a room, you look for friendly faces?
Edmondson: Yes, you count the Negroes!
The three women formed an immediate bond and began a group text in which they shared the struggles of being Black, female, and Christian doing public ministry in a space dominated by white women and men.
These conversations were life-giving for them, and they thought other Black women might be encouraged by their conversations. Christina said, "We took the group chat on our phones and put sound to it. I knew that would be unique. You got an activist, a public theologian, and a psychologist. I knew we could have a generative conversation."
In order for the conversation to be genuine, it had to be authentic and uncontrolled by the money of people who had not loved Black women well.
Edmondson: We made some decisions about funding. You're going to be limited in radical truthful expression based on how you're financed. With much pay comes much say. We try to be in accord with the Word of God, but we did not want to be limited by other people's money.
Christian publishing is a billion-dollar industry. Why would advertisers be hesitant?
Uwan: We aren't safe. Our faith is central, and we are calling out systemic racism at the same time. That's a hard sell for some. We talk about Jesus. We talk about holiness, righteousness, reparations, and justice because these are all Christian categories.
Although the table was built for Black women and by Black women, the rest of the world began listening in. They now have over three million downloads, and it has spread beyond the world of Black women to the wider church. But this spread has not been without controversy.
Edmondson: White supremacy does not care if Black people are listening to Black people. But we started getting quoted by white pastors in their sermons. That is what made us threatening to that establishment.
This led to an actual movement online and in other places to discredit them and their work.
Uwan: I was called Jezebel. We would be called all kinds of names online. It was so crazy. This is no shade. I just don't concern myself with what white conservatives or white progressive are saying. I don't concern myself with that because from when I became a Christian, my home has always been in the Black church. I've always had a home.
I'm not saying anything different from Nannie Helen Burroughs. I'm not saying anything different from Fannie [Lou Hamer]. I'm not saying anything different from Ida B. Wells. These are the people I look to. You know what I mean?
Edmondson: We were dead set on providing a table of nourishment to Black women. We want to be clear because we know that well-meaning white people will pull what we're doing to themselves.
Uwan: That's how we came up with the tagline: "By Black women for Black women." Black women are at the table and non-Black women are in the standing room section. You listen in, but you are not the center.
Enough people were gathered around the table to attract the attention of publishers, leading to the book—which, true to the themes of the podcast, centers the questions Black women of faith and others wrestle with.
What kinds of issues did you believe Black women really needed to talk about among themselves?
Uwan: Three themes that are important to me were colorism, singleness, and disentangling following Jesus from the white supremacy embedded in too much American Christianity.
Can you say more?
Uwan: Colorism has been a long-standing issue within our community and has impacted me in ways that are profoundly detrimental. Colorism is discrimination against dark-skinned people in preference for light-skinned people. It occurs among Black people, non-Black people of color, and is also perpetuated by white people.
It impacts everything from the criminal justice system, employment, dating, marital prospects, and perceptions of beauty. I look at the grave consequences of what happened to me when white supremacy was internalized from a theological, historical, sociological, and personal perspective.
I am a single Black woman. For years now, the high rate of singleness among Black women has been fodder for the media. They have used the statistics to stigmatize Black women and pathologize the Black community. I turn that racist argument on its head by exposing the systematic mechanism that cause the high rates of singleness among Black women by using my own dating history as an entry point into this issue.
I'm fine with following Jesus. It's not the Christian faith that needs to be decolonized; it's the white supremacy embedded in American Christianity. We think it's just a problem with white conservative Christians, but I make the familial connections between white progressives and white evangelicals.
People of color become collateral damage in the midst of a family feud between white progressives and white evangelicals—which results in racial trauma.
Edmondson: I talk about what it means for me to be a Black woman married to a Black man for over 20 years. The unique social strains we experience from racism and misogyny and the challenge to walk together in accountability and kindness in a world that dissects and devalues us.
Although I trained as a marriage therapist, I wrote that chapter as a wife and not as a clinician. I wrote as someone who has grown, changed, and remains curious about how to love well and maturely within marriage.
Another topic I hope to start a conversation about is accountability within churches. I have a chapter on disciplining the church and how we must hold ourselves to loving correction and accountability or else suffer the judgment of those outside the church.
Bearing in mind the exodus many have taken from the local church over the years as a response to Trumpism, #MeToo/ChurchToo, and insensitivity around COVID-19, for example, there is a need to acknowledge and prepare those who might consider returning on how to do so with the right the questions.
People are owed answers to hard questions about the church in America. I try to offer questions that move the church community to better align with our calling to be a shelter from the storms of life versus a source of deep pain.
Readers will notice that the book is deeply honest about the joys and struggles of three Black women. It chronicles singleness, divorce, and married life, issues in the church and the world. But the authors are also clear that their faith has been crucial to their flourishing.
There will be some people who accept the sociological analysis about the problems facing Black women but reject the spiritual response. Others may share your faith commitments but not like so much talk about so-called controversial issues. Does that trouble you?
Edmondson: We have a lived faith, an embodied faith. I think there's a problem with some brands of Christianity that cannot touch on every aspect of life. We believe that God is concerned about the intimate details of our lived reality from the mundane to the miraculous.
We have people who went to church who were longing for someone to say something about Breonna [Taylor], and the pulpit was silent and it wrecked people from the inside out. If we don't address it, we're saying its beyond God's imagination and compassion. I'm not willing to say that about God.
What do you hope Black women get from this book?
Edmondson: I hope they see themselves. I visualize Black women at brunch together passing those books to each other saying, "Girl, this is what I've been thinking about"—the loneliness in the heart of Black women, the workplace dynamics for Black women. I want to inspire other Black women to write responses to this book.
I know this is for Black women and by Black women, but what can the rest of us who are listening in glean from your writing? What do you hope that we get from it?
Ekemini: My hope is that it would begin to help them desire to learn from people that are further in the margins so they can understand their plight and what they are going through.
Christina: We're not representative of all Black women by any means. But when Black men pick up this book, but they have an opportunity to have a mirror that comes up and to start searching themselves and work through their Black male identity.
You can learn from people that don't share the exact cultural identities. I didn't have to be Anne Frank—I didn't have to be a Jewish little girl in a war-torn country to deeply empathize with what it would feel like to be afraid to know that my faith would cost me.
In the tension of that difference, people are going to have an opportunity to do some self-exploration and to see the commonality, the shared humanity, because Black women are fully human—just as human as everybody else.
Ekemini Uwan and Christina Edmondson are coauthors, alongside Michelle Higgins, of Truth's Table: Black Women's Musings on Life, Love, and Liberation, releasing April 26 from Convergent Books.
Esau McCaulley is an associate professor of New Testament at Wheaton College in Illinois. He is the author of Reading While Black: African American Biblical Interpretation as an Exercise in Hope and Josey Johnson's Hair and the Holy Spirit.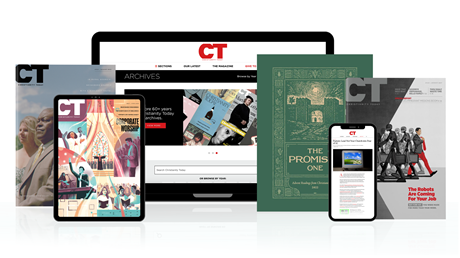 Annual & Monthly subscriptions available.
Print & Digital Issues of CT magazine
Complete access to every article on ChristianityToday.com
Unlimited access to 65+ years of CT's online archives
Member-only special issues
Subscribe
Truth's Table: How Black Christian Women Resist White Labels
Truth's Table: How Black Christian Women Resist White Labels