Supreme Court
When the United State Supreme Court ruled in 2004 to keep the phrase "under God" in the pledge of allegiance, its power to influence Christianity and the broader religious culture came into clear focus. Often the most significant moral issues in the evangelical dialogue—abortion, homosexuality, church-state issues—go before the United States Supreme Court. Charged with interpreting the Constitution, the highest court in the nation consists of one chief justice and eight associate justices. Due to the life tenure of each justice, infrequent presidential appointments to the court have become an important action item for Christian lobbyists and a point of moral concern for evangelicals.
Featured Articles
6 Catholics, 3 Jews
Does it matter that there might soon be no Protestants on the Supreme Court?
Anti-AIDS Program Can't Require Groups to Oppose Prostitution
Some religious groups see ruling as a protection against future "loyalty oaths" on other issues.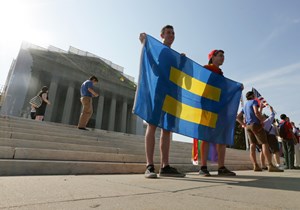 Ministry Leaders and Experts Respond to the DOMA and Prop. 8 Rulings
What the decisions really say, plus responses from Jim Daly, Andrew Marin, and others.
Loading More