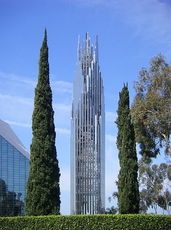 Crystal Cathedral leaders met with vendors and creditors on Friday to discuss debt payments after businesses filed lawsuits against the California megachurch, alleging that it owes $2 million in unpaid services.
"The purpose of the meeting was to gather all these vendors, suppliers and friends into one place and apologize for the delinquency of the accounts that we currently have with them," Shiela Schuller Coleman, daughter of Cathedral founder, Robert H. Schuller, said in a statement.
The Orange County Registerreports that church officials asked that creditors not resort to legal action for 90 days so they could resolve the issues.
Among those who have not yet been paid are Kristina Oliver, who supplied camels, horses and sheep for the Christmas pageant; Juliet Noriega, who was the wardrobe supervisor; Sharon Crabtree who did the props for the show; and Bruce Johnson, the drycleaner who is still holding the pageant's costumes in lieu of payment.

Vendors who attended Friday morning's meeting said they had no idea there were so many creditors. When asked, cathedral administrators told them that there are as many as 185 creditors waiting in line to be paid.
CT reported earlier about how the church cut $4.9 million from its $20 million budget and interviewed Robert A. Schuller about his departure from the church his father Robert H. Schuller founded.