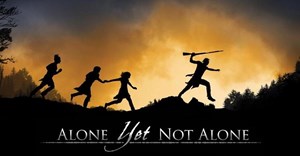 I just finished an interview with T. David Gordon, author of Why Johnny Can't Sing Hymns, about the power of hymns vs. the relative mediocrity of most of today's modern worship and praise choruses. That conversation came right after a call from my friend Ken Wales, a Hollywood producer who wanted to let us know about a new film he's working on – a film which, coincidentally, also recognizes the power of hymns.
Alone Yet Not Alone, a true story, began shooting this week in Roanoke, Virginia, with Wales and Michael Snyder as producers, George Escobar as director, and Oscar-nominated composer Bruce Broughton (Silverado) handling the music. Wales says it's a cast of talented but mostly unknown actors, except for Jenn Gotzon, who played Tricia Nixon in Frost/Nixon.
The story is set in the mid-1700s in western Pennsylvania, where European settlers and Native Americans aren't quite getting along. When natives raid one village, they kidnap two young sisters, Barbara and Regina Leininger, who are later separated. The young girls cling to the hope instilled by their family's Christian faith, especially by remembering the words to a German hymn their family often sang together, "Allein, und doch nicht ganz allein." The first stanza is translated:
Alone, yet not alone am I,

Though in this solitude so drear,

I feel my Saviour always nigh.

He comes the very hour to cheer,

I am with Him, and He with me

E'en here alone I cannot be.
The hymn ends up playing an instrumental role not only in sustaining the girls during their captivity, but even in reuniting them with their mother.
Wales says the film, tentatively slated for a fall 2011 release, is "an Amazing Grace type of movie," another project he produced. He says it will be a family-friendly flick that accentuates the faith angle in the story.