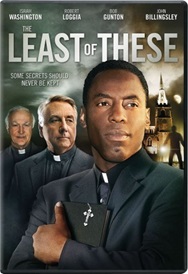 There are all sorts of directions one might take a screenplay about abusive Catholic priests, but writer-director Nathan Scoggins takes his story along unexpected paths in The Least of These, a drama/mystery releasing to DVD today.
Made four years ago, the just-now-to-video release stars Isaiah Washington (Grey's Anatomy) as Father James, an African-American priest who steps into a new role as a teacher at a Catholic boys' school—but he's got some emotional baggage. Figuring out just what that baggage entails is part of the mystery—and it's not as cut-and-dried as you might think. Meanwhile, Father James' predecessor at the school has gone missing . . . and watching that mystery unfold is another compelling element.
The school's head priest (played by former Oscar nominee Robert Loggia) welcomes Father James, a former student, into the fold, but another priest (Bob Gunton) is suspicious of the newcomer. And yes, the film's title plays a vital role in how events ultimately unfold in the end.
It all adds up to a "Christian movie" that rises above cliché, predictability, and agenda. There are no in-your-face sermons here, just realistic men trying to live their lives according to the cards they've been dealt. They all sin and make errors in judgment, some more serious than others. But grace and forgiveness also have their place in the story. It's worth a watch.
Here's the film's official website, here's where to buy it, and here's the trailer: