A couple years ago, we ran a "Filmmakers of Faith" feature about Leo McCarey, a practicing Catholic who directed such classics as An Affair to Remember and The Bells of St. Mary's.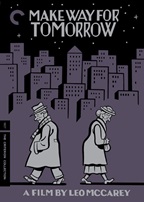 That article included a paragraph about 1937's Make Way for Tomorrow, a sobering Depression Era film which McCarey apparently considered his best movie. "If I really have talent," he told an interviewer, "this is where it appears." Orson Welles once said that Make Way "would make a stone cry." Our writer, Eric David, noted that the film "concerns an elderly couple who, because of tough financial times, are forced to separately move in with their too-busy-to-care five children who pass them around like hot potatoes."
I've just read another essay about the film that makes it even more relevant today, during the worst recession since the Depression, and an age of "entitlement" where many younger people feel they deserve the good life to the point that they'll launch an "occupy movement" to voice their complaints. (Personal side note: I'm all for complaining about how banks and Wall Street are the bad guys responsible for our economic woes, so occupy away. But when "occupy" becomes an "I deserve it" mentality, that's going too far.)
Anyway, David A. King, writing for The Georgia Bulletin, a Catholic newspaper in Atlanta, has penned a thoughtful essay about about McCarey's classic. King, associate professor of English and film studies at Kennesaw State University, where he teaches courses in Christianity and film and Flannery O'Connor, brings a fascinating perspective to this profoundly sad film: Students really like it.
King writes that McCarey "meant it for struggling young people then, and I think he'd be pleased to know that it resonates with the young today. When the film appeared in 2009 as a Criterion Collection DVD release, it became certifiably hip, and students who are today seeing the film for the first time find themselves wanting to see it again. It's become a popular choice for college cinema society screenings; my own campus film group screened the film this week."
He continues, "The film is heartbreaking. But too many people have focused solely on the anguish, which is perhaps why it went unseen for so many decades after its initial release. Yet students anxious about their future don't want to wallow in sadness; they want to find a way out. Make Way for Tomorrow has a message, I think, that must transcend pathos."
That message includes a command from Scripture itself: Honor thy father and thy mother. Writes King, "That's how the film begins, literally, with the onscreen acknowledgment that there exists a gap between the young and the old and that one way to bridge that gap is through attention to the Fifth Commandment."
I've never seen Make Way for Tomorrow, but after reading King's essay, it's going onto my must-see list pronto. Meanwhile, here's an important scene from the film: