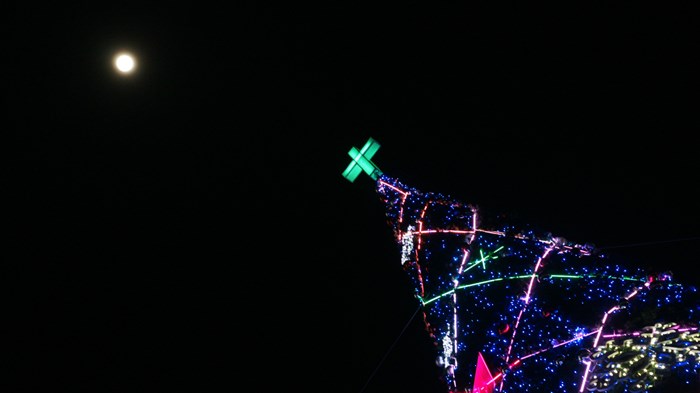 Image: rok1966/Flickr
Military tensions have caused a leading group of South Korean Christians to drop plans to construct a tower on the North Korean border and light it up with Christmas cheer.
"The establishment of our Christmas tree [tower] was to be a religious event aimed at promoting peace," Hong Jae-Chul, a Christian Council of Korea (CCK) senior official, told the media. "However, our pure intention caused undesirable misunderstanding that it would aggravate inter-Korean friction."
The CCK had requested permission to replace an old tower, which had been lit up for many Christmases as part of a propaganda war between North and South Korea, The New York Times reported. The old tower was so rusty, it was dismantled for good in October, according to the NYT. The new, 30-foot tower was to be temporary and to light up from December 23 to January 6.
The Christmas-tree-shaped tower faced strong resistance from the residents of Gimpo, the border town where it was located, the Associated Press reported.
While the Seoul Ministry of Defense promised to protect Christians who would gather to light the tower, which would be visible to North Koreans within about six miles of the border, the residents didn't want to provoke Pyongyang, which sees the lit tower as a sign of "psychological warfare."
The original 59-foot tower, topped with a cross and draped in lights around Christmas, has an off-again, on-again history that reflected the tensions between the two countries.
The tower lit up every year until 2004, when South Korean marines stopped lighting it after a 2000 summit where the Koreas agreed to stop slandering each other. In 2010, the country's military let Christian groups light it up, and it flickered on again two years ago after the North fired a long-range rocket before Christmas.
CT previously noted how South Korea lit up three steel trees on the border in 2011, and how the lights display was suspended and then reinstated in 2012.
[Image courtesy of rok1966 - Flickr]