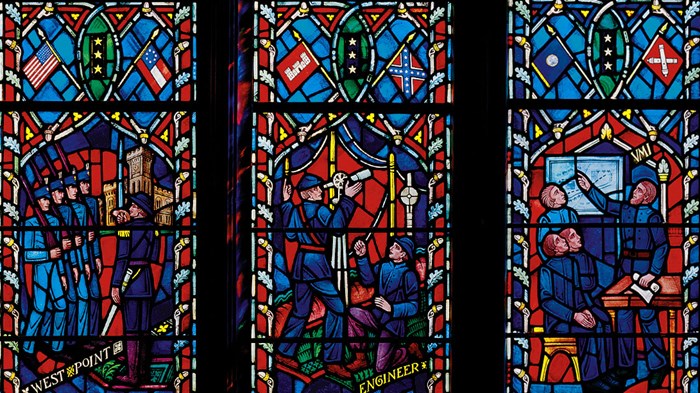 Update: Southern Baptists have voted to repudiate the Confederate flag.
"We call our brothers and sisters in Christ to discontinue the display of the Confederate battle flag as a sign of solidarity of the whole Body of Christ, including our African-American brothers and sisters," states Resolution 7, passed today by an overwhelming majority of messengers to the annual meeting of the Southern Baptist Convention (SBC). [Baptist Press has the details.]
"It's not often that I find myself wiping away tears in a denominational meeting, but I just did," wrote Russell Moore, president of the SBC's Ethics and Religious Liberty Commission. In a statement, Moore noted:
The Southern Baptist Convention made history today and made history in the right way. This denomination was founded by people who wrongly defended the sin of human slavery. Today, the nation's largest Protestant denomination voted to repudiate the Confederate battle flag and it's time and well past time.

The Confederate flag is a symbol of horrific injustices against our African American brothers and sisters in Christ and has been used as a threat of terrorism against them. Today Southern Baptists affirmed that we are more committed to the gospel than we are to a flag and more committed to the future than we are to the past.
The controversial resolution, proposed by Texas pastor Dwight McKissic, was presented for a vote in a "less strongly worded" form, but was strengthened from the floor, notes the Associated Press.
Much discussed was the speech given by Atlanta-area pastor James Merritt:
The resolution notes that in 1995, the SBC "repudiated 'historic acts of evil, such as slavery,' and committed 'to eradicate racism in all its forms from Southern Baptist life and ministry.'"
Today more than 20 percent of SBC congregations—almost 11,000 churches—"identify as predominately non-Anglo," notes the resolution. In the past two years, more than 50 percent of SBC church plants have been "predominately non-Anglo," it notes.
In 2011, the Pew Research Center examined US attitudes toward the American and Confederate flags. At the time, most white evangelicals felt neutral toward the Confederate flag's display. By comparison, slightly more black Protestants felt neutral than negative toward it.
The National Cathedral in Washington, D.C., recently announced plans to remove two Confederate flags from its stained glass windows.
-----
[Originally entitled "Three Evangelical Groups Are Tackling Racial Reconciliation. First Up: Southern Baptists"]
Race was one of the first topics that more than 6,000 messengers from Southern Baptist Convention (SBC) congregations addressed at their annual meeting this year.
Gathering in downtown St. Louis, 20 minutes from the suburb of Ferguson, messengers heard from the National Baptist Convention USA (NBC)—the nation's largest majority African American denomination—for the first time in 35 years. [Baptist Press has the details.]
"I am absolutely, totally convinced that the problem with America can be placed at the doorstep of our churches," NBC president Jerry Young told SBC messengers. "Some would argue, particularly as it relates to eschatology, that perhaps it is not accurate. But I would argue that it was Christ himself who said, 'You are the salt of the earth, and you are the light of the world.'"
Racism isn't a sociological problem, but a sin problem, he said. "If we're going to change racism in the church in America, we're going to have to change attitudes, and let this mind be in us that's also in Christ Jesus."
SBC president Ronnie Floyd said his heart has been burdened for racial unity since 18-year-old Michael Brown was shot by Ferguson police in 2014.
"[O]ne of the greatest sins in our nation today is the sin of racism," Floyd wrote in his blog when announcing the meeting speakers. "The sin of racism is a spiritual stronghold in this nation, and now is the time this wall must come down. As we repent of it personally, repent of it in our churches, and repent of it in our nation, we will perhaps see the next Great Spiritual Awakening in our generation."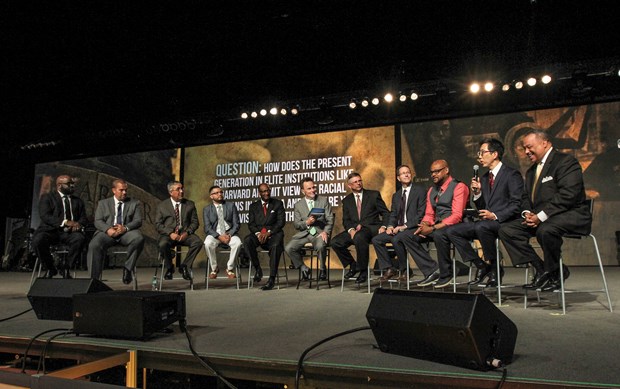 Image: Van Payne / Baptist Press
The SBC conversation comes just days before The Civilitas Group, a year-old coalition of pastors, university presidents, journalists, and ministry leaders, will meet in Charleston to commemorate the shooting of nine members of "Mother Emmanuel" AME Church last year.
Civilitas, which was founded by former Lausanne Movement executive chairman and American Bible Society president Doug Birdsall in response to the AME church shooting, has spent the past year hosting conversations across the country in order to bridge the white and black evangelical communities.
"In the days and weeks following the tragedy in Charleston, many in the white evangelical community wanted to do something to fight the plague of racism in our country and churches," stated Birdsall. "However, we soon realized that white evangelical and African American leaders did not even know each other."
Leaders gathered this week by Civilitas to remember the AME Church victims include Morehouse College president emeritus Robert Michael Franklin, Jr.; The Park Church pastor Claude Alexander; CT executive editor Andy Crouch; Wheaton College president Phil Ryken; Sojourners founder and president Jim Wallis; Christian Community Development Association president emeritus Wayne Gordon; Unashamed World documentary producer and New Metropolitan president Art Hooker; Wesleyan Church general superintendent Jo Anne Lyon; Houghton College president Shirley Mullen; Reid Temple AME Church executive minister Matthew Watley; and Cecil Murray Center for Community Engagement director Mark E. Whitlock Jr.
Next week, a third evangelical group will take up issues of race. The Presbyterian Church in America (PCA), which last year voted to defer repenting imperfectly of racism in favor of repenting more perfectly this year, will attempt to do just that.
More than two-thirds of the 63 PCA overtures call for the denomination's repentance for its actions during the civil rights era. While the denomination wasn't founded until nine years after the 1964 Civil Rights Act, many of its churches were already in existence. Some barred blacks from membership, participated in white supremacist organizations, or stayed silent about Jim Crow laws.
"[O]ur denomination's unwillingness to speak truthfully about our failure to seek justice and to love mercy during the Civil Rights period significantly hinders present-day efforts for reconciliation with our African American brothers and sisters and their participation in the PCA," wrote the Missouri Presbytery in an overture supported by seven other presbyteries.
The group called on the general assembly to confess "our continued sins of racism and failure to love brothers and sisters from minority cultures" and to recommit itself "to bear fruit in keeping with our repentance."
CT has previously reported on where John Piper and other evangelicals stand on #BlackLivesMatter, as well as how black and white Christians increasingly think differently about race.