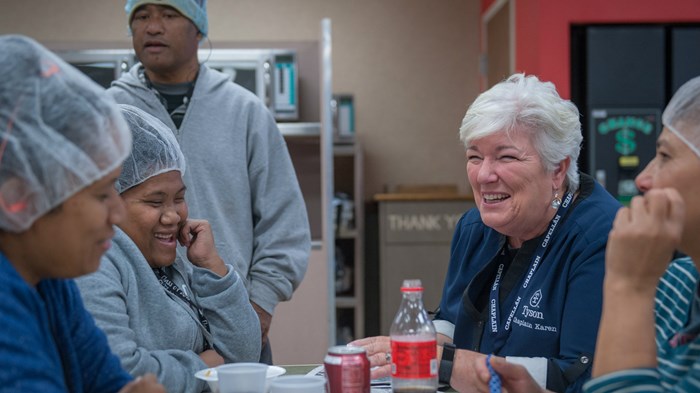 Image: Courtesy of Tyson Foods
Karen Diefendorf starts her days at Tyson Foods by checking in with the human resources and nursing staff at the Springdale, Arkansas, facility. After getting any personnel updates and taking care of emails, she puts on personal protective equipment and hardhat affixed with her title: CHAPLAIN.
Diefendorf, who comes out of the independent Christian Churches and Churches of Christ movement, wore the chaplain badge during her 24-year career in the Army before she began her work at Tyson, where she now does daily rounds to meet with employees. It's so noisy on the production floor that she relies on a thumbs up, thumbs down system to see who might need counsel, prayer, or guidance.
"If I get a thumb sideways, thumbs down, for sure I'm going to meet them in the break room and see what that's about," said Diefendorf, a graduate of Lincoln Christian College and Lincoln Christian Seminary. "If I need more than the 15-minute break or have multiple people I need ...
1