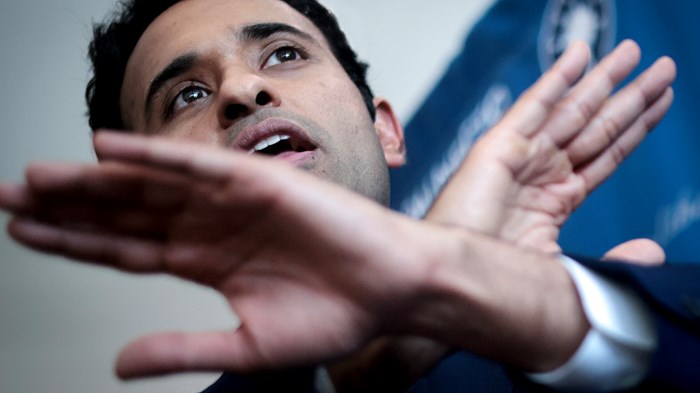 Image: Win McNamee / Staff / Getty
At 38 years old, Vivek Ramaswamy stands out among his fellow Republican presidential candidates for his age alone. The self-made billionaire has further set himself apart by saying he would ban social media for children, proposing to raise the voting age to 25, and espousing controversial views on 9/11. But when running in a party with a strong evangelical Christian wing, perhaps his most unique characteristic is his Hindu faith, which Ramaswamy has proudly discussed.
"Am I religious? Yes, I am. I am Hindu. I am not Christian. And we are a nation founded on Judeo-Christian values," he said in an interview with NewsNation that aired last week. "But here is what I can say with confidence: I share those same values in common. I believe I live by those values more so than many self-proclaimed Christian politicians."
White evangelical leaders who are considering other GOP candidates than former President Donald Trump are divided on whether a leader whose faith doesn't stem from Judeo-Christian traditions can effectively lead a nation they believe is rooted in these principles. But in interviews with CT, Indian American Christians expressed apprehension about a leader in the White House who admired Narendra Modi and would further give radical Hinduism a foothold in the United States.
"God is real"
In March, Ramaswamy appeared on CBN where he compared the current state of America to the Israelites wandering in the wilderness. David Brody, who conducted the interview, told The New York Times last month, "The lazy narrative that he's Hindu so he can't appeal to evangelicals, I don't buy it at all."
Ramaswamy, who grew up in Cincinnati, frequently points out that he is a product of Catholic schools and has credited his political ideology to the influence of a conservative Christian piano teacher.
"I've probably read the Bible more closely than many Christians that I know, and I can tell you deeply that we share that same value set. And for a guy who is not running for pastor in chief but commander in chief, that's really what matters," he said on NewsNation.
Nevertheless, the first statement under a part of Ramawamy's campaign website labeled "Truth" declares, "God is real."
Ramaswamy's second point, "There are two genders," nods to the candidate's strategy to build trust with voters through culture war grievances. Author of Woke, Inc.: Inside Corporate America's Social Justice Scam, Ramaswamy asserted to NewsNation that the real divide in the US on the front of religion is not between those who are members of traditional religions but between them and adherents of what he calls new religions like "wokeism, transgenderism, climatism, COVIDism."
Further elaborating on his viewpoint, Ramaswamy expressed his unwavering commitment to safeguarding religious freedom.
"I'm an ardent defender of religious liberty," he recently told the Associated Press. "I will be an even more vocal and unapologetic defender of it precisely because no one is going to accuse me of being a Christian nationalist."
A more concerning agenda?
But some worry that he may be too close with Hindu nationalists.
A Tamil Brahmin, Ramaswamy grew up speaking Tamil, visiting Hindu temples, and performing Hindu rituals at home. (Tamil Brahmins are a diverse group of Tamil-speaking Hindu Brahmins, situated at the apex of the caste hierarchy, and are often associated with conservative traditions, and cultural and intellectual privilege.) He and his wife, Apoorva Ramaswamy, are raising their two young sons in the faith.
For Indian American Christians, Ramaswamy's faith practices don't present a problem. But they've worried about his open admiration for Modi, who has been accused of compromising democracy, Hinduizing the country, and ignoring religious violence against minorities.
In the wake of the recent attacks on Christians in Manipur, which have killed more than 100 people, Ramaswamy praised Modi as "an outstanding leader of India."
"Modi has been building on that experience [of free-market capitalism] in India, lifting people up from poverty," Ramaswamy said in a July interview. "Regardless of their background, regardless of identity politics, India has prospered economically. GDP growth is up. I think that's the ultimate metric of a truly successful unifying leader."
Ramaswamy's presidential candidacy "seems to be a part of a deeper Hindutva agenda," says Jai Prakash Masih, a leader at Asian Mennonite Community Church, Lombard, Illinois. (Hindutva is an ideology advocating hegemony of Hindus and Hinduism within India.)
And the average American voter's ignorance about the nuances of Hinduism and Hindutva work to Ramaswamy's advantage, says Sam Beera, an IT professional from Boston.
"I don't think the average white conservative Christian knows much about Hinduism or Hindutva, other than yoga, elephants, or Modi. That is a big asset for Ramaswamy," said Beera. "There is an alarming lack of knowledge on the clear and present danger of Hindutva, which is an ideology modeled on Nazism."
The political objectives of Hindu nationalists, says Beera, include advocating for Akhand Bharat, a movement that calls for an "unbroken India"—a political unification of Pakistan, Bangladesh, Tibet, Nepal, Bhutan, Sri Lanka, and the Maldives—and endorsing Hindu political candidates globally while simultaneously marginalizing minority groups within India.
"What percentage of US conservative Christians are aware of the above? Hardly a pittance if at all," said Beera.
Opposition research written reportedly by Ramaswamy's GOP opponent and Florida governor Ron DeSantis's campaign tried to conflate his Hindu upbringing and his visits to India as a child with condoning the caste system, seemingly justifying Beera's concerns.
Currently, nearly five million people of Indian descent live in the US. According to a 2014 Pew report, Hindus constitute just around 51 percent of the diaspora population, compared with 18 percent identifying as Christians. Up until this point, the most visible Indian Christians have been Republicans Bobby Jindal and Nikki Haley (a convert from Sikhism). Both previous governors, Jindal ran for president in 2016, and Haley announced her own bid several months ago.
Many Indians who arrived in America after the Immigration Act of 1965 formed Hindu groups and associations that paved the way for many from these communities to later run for elected office, says Robert William, who grew up in Chennai, India, and previously served as a Republican in elected office in Lancaster County, Pennsylvania. Given the perceived wealth of this community, "one could argue that a conservative Hindu POTUS would not be able to ignore the powerful and growing influence of Hinduism in the US."
Numerous Hindu Americans, predominantly Democrats, already serve as state and federal legislators, and increasingly their connections to Hindu groups overseas have been questioned. Two of these politicians, Raja Krishnamoorthi and Ro Khanna, came to Ramaswamy's defense after his faith was targeted by a pastor from Nebraska. Krishnamoorthi has been called out in the past for his association with Hindu nationalist groups.
"Vivek Ramasamy has surprised many people in the past week by slowly moving up in the opinion polls," said John Prabhudoss, at the Federation of Indian American Christian Organizations of North America. "But what we are concerned about is his association with radical Hindu groups that are aligned with Hindu extremism."
Ramaswamy has in the past delivered the keynote for fundraisers for political advocacy groups linked to the US chapter of Vishwa Hindu Parishad of America (VHPA or World Hindu Council of America), notes Pieter Friedrich, an American who advocates for persecuted Christians in India. VHPA is the US wing of the VHP (World Council of Hindus), which the CIA classified as a "militant religious organization" in 2018.
"Rather than trying to court Christian voters by appealing to similarities between their faith and Hinduism, perhaps Ramaswamy should instead take up the cause of Indian Christians who are being persecuted by the Modi regime he praises," said Friedrich.
William, the elected official, is skeptical that Ramaswamy's voice could do much.
"It would be a fallacy to think that a person such as Vivek Ramaswamy would be able to influence someone like Prime Minister Modi because they are both of the Hindu faith," he said. "Any such attempts would be labeled by India as interference in India's internal matters and dismissed. But such a candidate will certainly catch the attention of US groups and trigger them to open their pocketbooks and galvanize them to rally behind such a candidate aspiring for political office in the US."
Ramaswamy's rise could further encourage radical Hindu groups to "increase their visibility and influence in the US to counter the influence of the evangelical Christian voters in the US," said William.
But "Vivek Ramaswamy's rise in politics will be stopped in its tracks if he attempts to focus on his Hindu religion and beliefs, because the reality is that the office of president in the US still remains out of reach for anyone other than for a mainline Christian candidate."