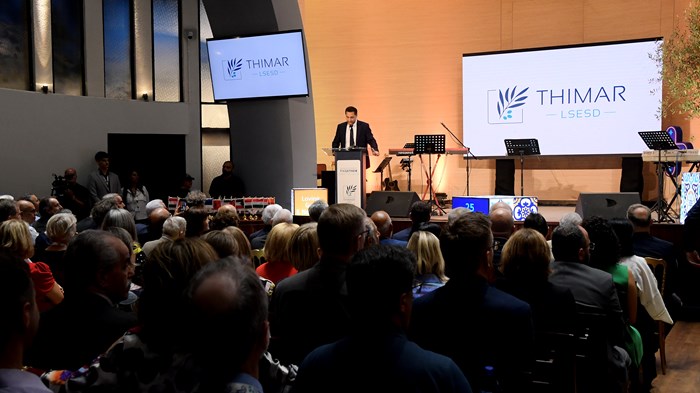 Image: Courtesy of Thimar-LSESD / Edits by CT
Middle East evangelicals must emulate China.
So stated Nabil Costa, chief executive officer of the Lebanese Society for Education and Social Development (LSESD), at his organization's 25th anniversary celebration, held last week at LSESD's Beirut Baptist School (BBS).
He was not calling for a change in geopolitical orientation. On the contrary, in attendance were dozens of financial partners primarily from Western nations he would not wish to offend.
But Costa continued, praising India and Saudi Arabia.
"Our vision is to equip churches to bear the thimar of faith," he said, using the Arabic word for biblical fruit, "in the midst of a changing Arab world."
BBS was founded by Baptist missionaries in 1955, who yielded their various ministries to local believers in 1998. Honoring their heritage at the gathering entitled "Celebrating Together," Costa also announced LSESD's name change to Thimar–LSESD, reflecting the spiritual impact of ministries in education, relief, special needs, community development, and publishing.
But speaking on behalf of the oft-called "Baptist Society," he invited a wider evangelical collaboration.
"Christians are meant to be catalysts and have a responsibility in building bridges, reconciling communities, and spreading the perfume of Christ," Costa said of the many regional like-minded evangelical ministries. "We see Lebanon as a hub and a gateway to the Middle East."
China's Belt and Road Initiative is a model, he said, as is India with its planned regional "economic corridor" and Saudi Arabia with its developing megacity of NEOM. If these nations recognize the importance of networks and cooperative partnerships—with "different hidden agendas"—Costa said evangelicals can do no less. And Lebanon, despite all its problems, is still a haven of religious freedom.
Some attendees thought the Middle East was headed toward greater regional integration and peace. Others doubted, anticipating renewed emergence of Christian persecution. But many took seriously Costa's call to turn the conference into a think tank, casting vision for the next 25 years of evangelical service.
"The world around us is changing. We cannot sit still and watch," he said. "But we are blessed with a 'spiritual belt' that forges corridors between continents and countries. Our Lord Jesus Christ has brought us from all over the world, to be one people."
And to produce "fruit." CT spoke with seven Arab and two Western attendees, for their vision of Middle East ministry to come.
Rosangela Jarjour, general secretary for the Fellowship of Middle East Evangelical Churches:
Our Lord Jesus commissioned his church with two golden words: preach and teach. While many congregations have communicated the gospel to the world, a neglected aspect of evangelical ministry has been the spiritual formation of disciples. Establishing the kingdom of God demands more than simple conversion.
In fact, when Paul addresses Timothy in his second epistle (2:2), he envisions four generations of impact. And his strategy is clear: hear, witness, entrust, teach. This is the "good fight" necessary, he adds two chapters later (4:7–8), to achieve the crown of righteousness.
In this advice, I address all Protestants in our region—Presbyterian, Baptist, charismatic, and others—for all call themselves "evangelical." In the next 25 years, in unity together, our ministries must rededicate themselves to the task of discipleship, so that believers old and new will pass on their faith to the next generation of the Middle East church.
Stephanie Haykal, volunteer at Kafr Habou Baptist Church in Lebanon:
While evangelical ministry in the Middle East has been growing and strengthening, sometimes it appears to take on the appearance of a business. And as one from the north of Lebanon, it seems that many of our efforts are concentrated in Beirut and other big cities, while our local needs are neglected.
This is scary to me.
The evidence is witnessed by the many Muslims who do not know what "evangelical" means. But also by the fact that many traditional churches get angry when they hear our name. We have not invested our resources widely enough to overcome this.
In the next 25 years, we must remember our first priority. It is not necessary for people to immediately understand, let alone accept, the gospel. But with hard work and reliance on the Holy Spirit, God will support us in sharing the message of salvation, reconciling man and God.
Farah Bou Kher, project manager for a relief and humanitarian organization in Lebanon:
Thimar–LSESD has modeled positive values by getting involved in the public square and focusing on holistic ministry. Moving forward, it can become even more exemplary by strengthening its demonstration of interfaith dialogue, ecumenical engagement, and the fostering of peace.
The Middle East is affected by all global trends: climate change, artificial intelligence, LGBT rights, abuse of children, science, faith, and atheism. While remaining faithful to Scripture, the church must respond with a spirit of inclusion, to become a safe place to experience God's love—and not simply his judgment.
Our ministries must not exist in silos but cooperate widely. Leaders can share resources, share power, and meet regularly to strategize together. And while maintaining an openness to everyone, over the next 25 years church leaders should be trained both to preach the gospel and to serve society.
We have in our pews all the professions we need.
Elijah Brown, general secretary of the Baptist World Alliance:
Christians across the Middle East have a powerful request: You have trusted us to develop communities of discipleship. Will you now stand with us in prayer and advocacy?
Refusing to see themselves as victims in the midst of war, displacement, and natural disasters, Baptists and other evangelicals have been quick to serve, regardless of ethnic or religious background. And it is more than service—they are blessing their communities with the welcome, hope, and sacrificial love of Jesus Christ.
Over the next 25 years, let them increasingly become to us a living reminder to frame our identities in the mission of God. And as they do, let us answer their request to increase our prayer and advocacy on their behalf.
Middle East leaders have pioneered some of the most vibrant ministries in our global Baptist movement. Our future will be shaped by theirs.
Imad Shehadeh, president of Jordan Evangelical Theological Seminary:
Nations in the Middle East are moving toward tolerance. This is a development we encourage, even as we would like governments to become even more open and lenient. It remains very difficult—even dangerous—for someone from a non-Christian background to convert to Christianity, for example.
Therefore, as we pray for a spiritual breakthrough, we must also invest more to train our people how to reach their neighbors in creative ways.
For example, it is amazing the impact our public ministry has had. Evangelical hospitals serve all religious backgrounds. Evangelical schools have large numbers of non-Christian students. As they hear the gospel and interact with believers, the truth of the Scriptures stays with many throughout their life.
Imagine if we could create an evangelical university.
But to accomplish these, we need greater theological depth in our churches. We need to teach the biblical basis of unity, and build bridges between our evangelical denominations, celebrating the positives of each. And we need it also as we engage the world. To address homosexuality and transgenderism, we must show the beauty of being created in the image of God. It is not enough to simply say it is wrong, but to explain why.
Furthermore, with the wider Christian community, we must repair the polarization that exists between evangelicals and the historical churches. Some have such enmity toward us, and I don't know how to address it, even as I understand some of their reasons. But it is a great obstacle to the advance of the gospel.
In the next 25 years, we can contribute to each of these trends.
Martin Accad, director of Action Research Associates:
For the past 25 years, the evangelical church—with Thimar very much in the lead—has addressed well the various needs in Lebanon. It has looked beyond its walls in relief work, special needs, theological education, and leadership development.
Now, evangelicals must become political.
By this, I mean aiming to influence policy at the highest levels through advocacy and lobbying. Rather than dictating morality, it can help create an open society where freedom is paramount. And if done well, it will help the church in the Arab world develop a robust public theology.
Specifically, evangelical leadership should gather to reflect collectively on the contributions of its respective institutions. Then it can identify legislative and national governance issues where the state has failed. And positively, the church should become a mouthpiece for justice, equality, and human rights, as it works to de-sectarianize the political system.
Some evangelicals have done this at the personal level. But in the next 25 years—and not just in Lebanon—the church must participate in building a civil society of equal citizenship for all in the Middle East.
Darin Wood, senior pastor of First Baptist Church in Midland, Texas:
I cannot speak with authenticity about the appropriate strategies for evangelism in the Middle East. But having spent time with pastors from Lebanon and Egypt, I believe these leaders can be trusted to do it. They speak eagerly, passionately, and fearlessly about how to reach their context for Christ.
My hope is simply to take this passion home with me, for my own church.
We discovered their ministry by coming from abroad. But over the next 25 years, the training of indigenous pastors will be inherently more effective than parachuting someone in from the outside. Our role must be to pray, encourage, and help fund them in their efforts.
There are many similarly-minded ministry partners. We can help them connect.
Jalil Alnamri, a Yemeni serving with NEO Leaders in the Arab world:
As God's servants in the Middle East, we aspire to increased training of local leaders able to shepherd their own church. Too often, foreign mission relationships have made us dependent upon regular support, rather than strengthening the local congregation.
Such funding must include efforts to better our overall economic situation, alongside the relief component that currently characterizes much of our ministry. It is more than the old comparison of "give a man a fish" versus "teach a man to fish." Neither one of these will truly help us serve our societies.
Over the next 25 years, teach us how to manufacture fishing rods.