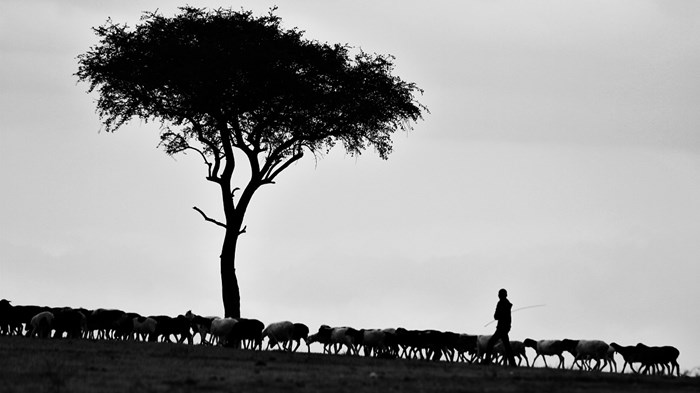 Image: Pawan Sharma / Unsplash
I began pastoral ministry in 1963. I was 23, fresh out of seminary, and assigned to a church on the wrong side of the street in a Southern California community. I was given practically no chance of pulling my little charge out of the doldrums. But I had learned from my heritage how important it was to love people.
So I did.
I called in their homes, paid attention to their children, visited the sick in hospitals and nursing homes, prayed for the downtrodden and lonely. I made myself available and told them publicly that next to my family they were the most wonderful people in the world.
What happened next had little to do with my ability as a speaker or administrator but with my role as a servant-shepherd. The church grew. The folks began to believe in themselves. Because they believed in themselves, they cared for one another. Word got out that ours was a church where love was genuine. People came to see if that were true, found it so, and stayed.
That was nearly 40 years ago. I went on to pastor three more churches before becoming a "pastor to pastors" at Focus on the Family, but my style never changed.
My colleagues would often poke fun of me. I still remember one of the most prominent pastors in our country laughing at my servant-shepherd style in front of a group of clergy. His jab hurt a bit then, and to be honest, it still does. But I would not change my way of leading. The most effective pastors minister from the marketplace up—not the pulpit down.
Call of Character
A growing number of pastors have modeled their style after the megachurch pastors. They think, If it is good enough for them to be a CEO, why can't I?
Yet I will almost guarantee that as these superstars were setting their original course, they too were servant-shepherd pastors. In their quieter moments, I suspect many wish for the simpler days when they could spend more time where their people live.
I have been told there are approximately 100,000 churches in North America with 50 people or fewer in a given service and that the average weekend attendance in our country is less than 100. I've also heard that eight out of every ten clergy with seminary training will never pastor a church of more than 200.
If that is true, then the need for CEOs is not so critical.
I propose that one of the most important aspects of being a pastor is fulfilling the role of servant-shepherd. Next to being faithful to God and attentive to spouse and family is the pastor's responsibility as shepherd—one who knows the flock, listens to the flock, watches out for the flock, cares for the flock, corrects the flock, and spends a great portion of time with the flock. Shepherds endear themselves to the flock. It's a wonderful style of ministry.
What is urgent is for our congregation and community to know that the shepherd of the flock is truly that—approachable, responsive, gentle, and genuinely filled with compassion. Those characteristics are more significant for the leader of the flock than academic degrees, church growth numbers, or status achieved.
At Focus on the Family, each year we promote October as Clergy Appreciation Month through our radio programs, magazine articles, and newspaper interviews. In 1995 we had a call-in program during Clergy Appreciation Week. We asked laypeople to tell us what they appreciated about their pastor and staff. In a short period of time, we received nearly 400 calls.
Few of the respondents talked about what great preachers their pastors were or how adequately they administrated. Most related stories about a pastor who was there when they needed one, which I call the "ministry of presence." This is simply being there when people are hurting, confused, and frightened; when they suffer loss and feel isolated and cut off; when they have won and need to celebrate; when they have been faithful and need affirmation.
Words to Shepherd By
My granddad, a dearly loved, lifelong minister, had a great influence in my life. He was a servant-shepherd. The last time I was with him, he was terminally ill in a Houston, Texas, hospital. As the day was ending, in our final moments together, I put my hands in his and said, "Pop, I love you very much. I need to ask you something. Your ministry has been so effective. People listen to you. They trust you. They admire you. What has been your secret?"
His eyes filled with tears as he fought to form his words. In barely audible words, he responded, "Junior, it's one thing to tell people how much God loves them, but it is also very important for them to know that you love them as well."
Those were the last words I ever heard my granddad speak.
I was a young pastor then, but those words helped form my ministry style for the years that would follow. It is a ministry modeled after the Good Shepherd himself:
"He calls his own sheep by name. They will scatter at the sound of a stranger's voice because they aren't used to the sound of it. I am the Gate. Anyone who goes through me will be cared for. I am the Good Shepherd. The Good Shepherd puts the sheep before himself, sacrifices himself if necessary. I am the Good Shepherd. I know my own sheep, and my own sheep know me. I put the sheep before myself" (John 10, The Message).
H.B. London, Jr., is vice president of ministry outreach/pastoral ministries at Focus on the Family.
Reprinted from Leadership, Fall 1996, Vol. XVII, No. 4, Page 48