Helping Guests Feel at Home
5 churches' bright ideas for a warmer welcome.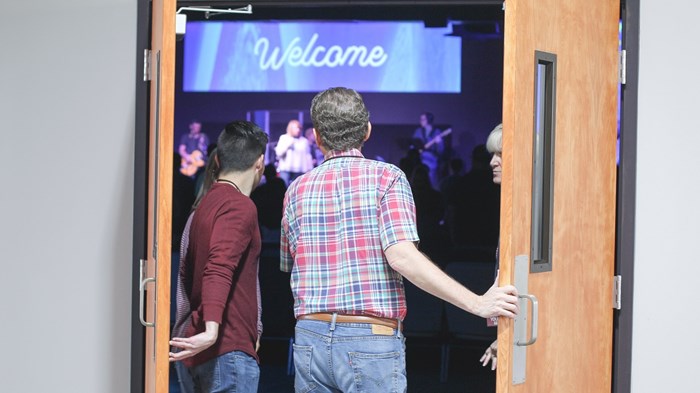 Image: Kristina Paparo / Unsplash
6 Ounces of Security
We employ four strategies to make our church more welcoming.
1. Hospitality time. We have a 20-minute segment between our two services when we provide coffee, juice, and donuts in our lobby. Greeters and hosts mingle and welcome people with cup in hand (one greeter remarked, "It's amazing how a six-ounce cup provides a sense of security for a 180-pound male").
2. Response cards. Our worship bulletins have perforated tear-offs that members and guests are asked to fill out and place in the offering plate. It has spaces for all kinds of quick interaction (such as "My decision today," "I'd like information," "Prayer need"), which we try to respond to quickly.
3. Deacon-of-the-week. The deacon-of-the-week attempts to call guests following the worship services to thank them for attending. This gives our guests a personal touch from someone other than staff.
4. Proactive small groups. This will eventually become our primary means of assimilation. Small groups meet twice a month and are asked to invite guests to their meetings (we do this in lieu of our evening worship service). We provide group leaders the names of interested guests to contact each Monday.
—James Appleby
Covenant Baptist Church, Topeka, Kansas
Friends Don't Let Friends Drift
The most important thing we do is develop the value within our people to build relationships with spiritually unconnected people and bring them to church. Thus the welcoming part is easy because most guests come along with a regular.
How do we develop this value in our people? We remind each other that every day we come into contact with people Jesus came to rescue. Our staff has made a commitment to pray regularly for five to ten people in our lives who are not connected with Jesus Christ. An attitude like that in the leadership tends to penetrate the rest of the church family. Several times a year, we remind the entire congregation of our ministry strategy, which includes hanging out with people who don't yet know Christ.
We make sure the people "up front" in church services communicate warmth to guests. That spirit of friendliness has a way of being contagious.
We also recognize that church bulletins, signs, and an information center and parking that are user-friendly help people feel more comfortable in a place they've never been before.
—Gene Appel
Central Christian Church,
Las Vegas, Nevada
Better Hospitality
We tried a hospitality room where we invited guests to come and meet the staff following the service. It didn't work.
We identified several reasons: (1) The room was not located conveniently, and people needed involved directions to find it, (2) people checking out a church for the first time seemed hesitant to walk into the "showroom" to be pounced upon by the clergy, and (3) members did not bring their friends to the room.
What has worked for us:
1. Parking spaces closest to the building with a sign that reads: First Time Guests.
2. About four times a year, I give a manners talk to the congregation: Guests get the best parking, the cleanest restrooms, the highest quality nursery, the warmest welcome ("Make sure to introduce them to others, invite them to sit with you, offer them directions, invite them to lunch"). I remind the church what it's like to visit a church for the first time. I give examples of how to meet people without embarrassing them or yourself: "Hi, my name is Merle Mees. How long have you been attending Western Hills?"
3. Our ushers or greeters do not wear name tags because we want guests to feel that people aren't nice just because it's their Sunday to do so; rather it's part of our culture.
4. We have a Welcome New Members board in the church lobby. For each person there is a picture and a brief bio: where they are from, how long they've attended the church, their family, hobbies, and so on. This helps people connect with others.
I emphasize the role of leaders in making our church more welcoming. The staff make a point to mingle with the congregation before and after the worship celebration. We also work at scripting what is said during the welcome time. For example:
"Welcome to this time of worship. To the guests among us, we know there are a number of good churches you could have driven to, and we are honored that you came here. You'll find the order of worship on the front of the worship folder and the words to our songs on the inside. If you like to write things you don't want to forget, you'll find a listening guide on the back of the worship folder. And if you'd like some information about the church or answers to some of your spiritual questions, simply fill out the welcome form and drop it in the offering plate when it comes your way. I'm glad we're here together."
1. We also have a Rapid Response Team that delivers to a visitor's door a personal note and some cookies immediately following the morning worship. We try to drop this off before they arrive home. This works well, provided they don't have dogs hanging around outside!
2. We send our guests a personal letter from the pastor along with information on the church, plus any specific information they requested and a First Impression Survey on a postage-paid, self-addressed card. The card states, "Western Hills wants to serve you better, so would you please give us your opinion? What did you notice first? What did you like best? What did you like least? Thanks for your input!" We receive back about 50 percent of these cards) and share them with the appropriate ministry leaders.
—Merle Mees
Western Hills Baptist Church, Topeka, Kansas
Seeing for the First Time
We welcome people publicly but do not introduce visitors. We don't call newcomers visitors but guests. We encourage everyone to wear a name tag given out by ushers, and ask guests to wear a temporary name tag. Dress is casual, which means no coats or ties, even for the staff.
During the time to greet one another at the service, we give instructions on what to say after they've said hello, and we often provide a question related to the theme of the service that day. For instance, a recent theme dealt with evangelism, and we suggested people ask each other, "Can you recall some good news you've heard recently?"
Our worship bulletins have a tear-off section that people use to request information, share prayer concerns, request a sermon tape, and so on. We have a handout including parking suggestions (this is a problem in our church) and nearby restaurants.
We encourage guests to enjoy the service as our gift to them. At offering time we ask them to pass the offering plate without giving any money, and we watch our terminology. We are careful not to say, "We are now going to take the offering," or "As our guests, please don't feel obligated to give" (as if everyone else is obligated).
—Wayne Ogimachi
Christian Layman Church, El Cerrito, California
All-encompassing Strategy
Our welcoming strategy begins before a person ever attends a service and extends well after they've left the church campus.
Like many churches, we provide special parking for guests, single parents, and the physically disadvantaged, and we have signs strategically located at the entrance of the parking lot instructing guests to turn on their emergency lights so they can be directed to parking near the church building. Parking attendants help people find a parking space.
When visitors enter the building, they find a Welcome Center staffed by friendly, helpful volunteers who answer questions and give directions. They also discover plenty of literature explaining each of the church's ministries. The church provides complimentary cappuccino, latte, and donuts for guests.
The pastor offers a complimentary cassette tape of the weekend message to any guest who wants one. The church delivers "love loaves" (freshly baked bread) to the home of guests who filled out a guest card. Guests are contacted by Welcome Callers following their visit, thanking them for attending and offering to answer any of their questions.
In our welcome letter, we invite guests to a Newcomers' Dessert where they can meet the pastoral staff and their spouses. Woodmen Valley also offers a Discovery Class, where persons interested in the church can get their questions answered. We have created a Web page to provide information about the church's service times, programs, staff, and so on. The Web address is on all the church's brochures.
—Jim Tomberlin
Woodmen Valley Chapel,
Colorado Springs, Colorado.