Pastor's Library
Access the complete Leadership Journal archives. Containing over 35 years of issues. These archives contain a trove of pastoral wisdom, leadership skills, and encouragement for your calling.
Fall : Your Walls Talk
Volume 30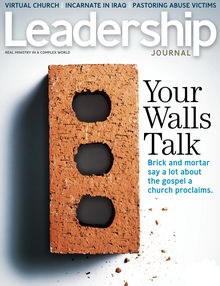 Subscribe to Christianity Today and get access to this issue and the entire CT Pastors archive.
10 award-winning print issues
PDFs of each issue
Full web access to ChristianityToday.com
60+ years of magazine archives
In this Issue
Features
Parse
Commentary
Toolkit
Bonus Article
All Articles
Against the Current
The unexpected challenges of multi-ethnic ministry.
Sacred Space, Shared Space
A city planner says it is time for churches to serve their communities by restoring sacred spaces to the public square.
Space Frontiers
How three churches are pioneering new ways to use facilities for the gospel.
Loading
Subscribe to Christianity Today and get 2 special issues from CT Pastors each year plus instant access to the digital archives.