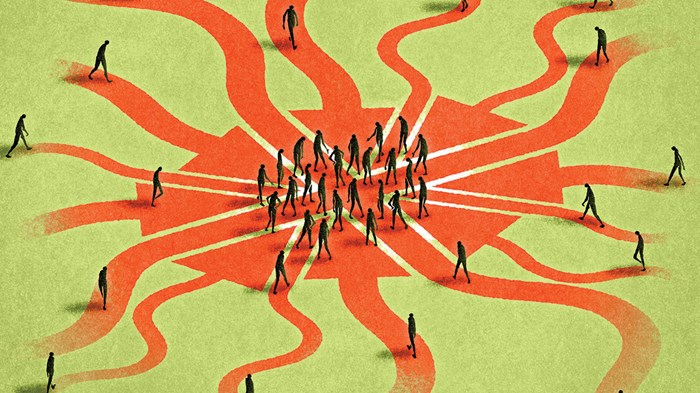 Editor's note: The following piece appears in the fall issue of Leadership Journal. It's one of many features taking a look at the current state of the pastorate. For more on pastoral training, see Steve Norman's "4 Surprising Benefits of Seminary." Subscribers can read Josh Harris's piece on why he decided to step down from his pastorate to attend seminary full-time.
Brian McNeilly plans to pursue full-time ministry. But he's not quite ready for the pulpit, and maybe not even the postgraduate classroom. Instead, McNeilly, 23, a U.S. Army First Lieutenant, decided that he wouldn't jump straight into a seminary program.
"[Growing up,] I saw all these pastors that had done something before ministry," he said, referring to one mentor who was a former ESPN announcer, while another had practiced accounting. "Those experiences gave them a broader view and a broader base to relate to people. It taught skills you couldn't learn from ministry. I'm always trying to figure out where I can be better, what can make me more valuable to the church."
McNeilly's path is not unusual. While completing an undergraduate degree and two to four years of seminary is by far the most common path to the pastorate, many current pastors say that finances, marriage, or unexpected life circumstances have resulted in paths other than the traditional one. Even those who take a "secular" path to the pastorate, by first pursuing non-ministry careers, are deeply shaped by their involvement in the local church.
Many successful ministers find themselves pursuing postgraduate education later on in their career, if at all. Here are four common alternative paths for those entering pastoral ministry today.
1. Secular vocation
McNeilly is currently based at Fort Campbell, on the border of Tennessee and Kentucky, where he lives with his wife, Beka. At age 15, he felt a tug to pursue full-time ministry and immediately began considering "how to chase the pulpit," he said, landing on the military as an ideal route to not only fund college, but also provide discipline and an ultimate "real-world" experience.
For two years, he enrolled in Reserve Officers' Training Corps (ROTC) at Gordon College near Boston, studying biblical studies and philosophy. For personal reasons, he transferred to Biola University in Southern California, where he graduated with a bachelor's in biblical studies and theology.
"Formal education is helpful," McNeilly said. "Books, papers, and discussions are good for forming worldview, but you have to seek conversations with people who aren't Christians."
Although he lacked mentors despite searching for them throughout high school, McNeilly found one at Gordon College, while starting to contemplate heavier issues of death, persecution, and how to live a set-apart life.
"A lot of pastors are really novices at life," McNeilly said. "Infantry lets me see human sin not just theologically, but acted out in the world. We're supposed to be light in a dark place. Infantry is a great place to explore that and also meet people from all different walks of life." He'd like to pursue seminary eventually. But for now, he's ministering where he is.
Tom Wright, 59, works as the teaching elder at Community Bible Church, a congregation of about 250 members near Dallas, Texas. He has pastored at the church for less than four years, after a more than 20-year career in a secular industry.
Wright felt the call to vocational ministry in undergrad, and immediately pursued a master of theology degree at Dallas Theological Seminary. However, after his first church plant opportunity fell through, he and his wife decided that God was calling them to be faithful at their current church.
"I had long believed that God calls all Christians to minister," Wright said. "I knew that God could use me no matter what I was doing."
In fact, Wright used his job in the pool cleaning industry to pay for seminary and support his family, all while teaching Sunday school classes and occasionally filling in to preach at church. When an IT job came along at a software company, he accepted.
Even those who took a "secular" path to the pastorate were deeply shaped by their involvement in the local church, even as they pursued non-ministry careers.
After 16 years of lay ministry, Wright was asked by the elders at Community Bible to become the pastor when the previous pastor retired.
"When the opportunity was presented to me, I knew I would love doing it on a full-time basis because I had already been doing it part-time.
"I benefited greatly from in working in the public sector all those years and ministering in that mode. I got to experience firsthand what it's like to be in the congregation, called to use your gifts and to fulfill your calling while working another job."
2. Internships
Pastoral internships are frequent means for a future church leader to earn a position at a church and gain practical experience. Many churches have formed their own internship programs, including Capitol Hill Baptist in Washington, D.C.
Mike Law, 33, the senior pastor at Arlington Baptist Church outside of D.C., a church of about 100 adults, was an intern. Although he felt the Lord calling him to ministry his junior year studying criminology at the University of Maryland, he was encouraged by a mentor at Capitol Hill to not make a rash decision but to experiment with his gifting while at the church.
"Who knows if you're really gifted and qualified for this," Law recalls his mentor saying. "Why don't you stick around here and let us help figure out if you're called."
So he did. Capitol Hill pastor Mark Dever hired him halfway through the program to become his personal assistant, where he served for nearly four years.
He sat in on elder meetings, premarital counseling sessions, and witnessed the pastor's daily work. When he was offered chances to teach, he received feedback and constructive criticism. But the program is different than many internships.
"Rather than deploying you in active ministry, it's putting a hold on you for six months to understand the structure and mission of the church," he said. "If you don't have that clear in your mind before you lead the church, you're really going to struggle."
Now, while pastoring at Arlington Baptist, Law is slowly working his way through a master of arts in religion at Reformed Theological Seminary. The program is structured so that if he decides to step up to the master of divinity, he can.
"Who knows if you're really qualified for this? Why don't you stick around here and let us help figure out if you're called."
"I want to pursue as much education as I can; it's good for my soul," he said. "But one class a semester is what I can do if I hope be a faithful pastor and father and disciple men in the church."
In Raleigh, N.C., Imago Dei Church guides about a dozen students annually, most from Southeastern Baptist Theological Seminary, through its internship program. Seth Brown, 29, graduated from the internship program and now serves as a lay pastor for the congregation of about 400.
After completing a two-year associate's degree in drafting and design technology, he entered William Carey University in Hattiesburg, Mississippi, for biblical studies and philosophy. He also worked as a youth pastor.
He finished seminary with an MA in Christian studies in 2013, but in talking with Tony Merida, the pastor at Imago Dei Church, who was moving forward with planting the church, he learned an internship program would be started "from day one."
"The internship opened up a whole new world for me," Brown said. "My thinking began to shift from academic preparation for ministry to being part of this core team that would actually teach me a lot about pastoral ministry." He still plans to do seminary in nearby Wake Forest.
3. Mentorships
Not to be confused with internships, a mentorship is an opportunity for a future church leader to learn under a current pastor or theologian.
Brian Croft, 40, has pastored Auburndale Baptist Church in Louisville, Kentucky, for the past 12 years. Yet Croft has never completed a seminary degree.
While studying at Belmont University in Nashville, and later finishing his undergrad at Indiana University, he realized the call to vocational ministry. He bounced around at four churches in eight years in positions from youth ministry to music ministry.
"At all four churches, I desired to be mentored," Croft said. "But the senior pastors didn't feel that that's what they were supposed to be doing. I made a lot of dumb rookie mistakes."
Another pastor, however, saw his situation from afar and met with him over a 10-year period.
"He bought me thousands of dollars of books," Croft said. "He would meet me at the bookstore, he would go, 'Have you read this?' and I'd say no, and he'd grab it off the shelf. I would leave every time with my arms full of books. I became a reader … for 10 years I devoured every book he bought me. He taught me what a pastor is, what a church is supposed to be."
Croft said that because of the man's mentorship and guidance, he felt strongly equipped for a pastoral position even without a degree. His mentor affirmed that assurance, adding that Croft should pursue language study as one missing piece.
"He knew that I had read most of what's in an M.Div. program and more," Croft said.
While beginning his pastorate at Auburndale, Croft met a gifted language student at the Southern Baptist Theological Seminary, who singlehandedly taught Croft Greek over a five-year period, using the text Croft preached from each week.
While "seminary education is good," Croft said he would rather spend his time reading books than writing papers, and avoid going into debt for the degree. Although he recommends seminary to those who are able, he has also set up a program at Auburndale, where he mentors up-and-coming church leaders.
4. Alternative education
Bauer Evans, 52, is a pastor of Crossway Church, a 115-member church in Franklin, Massachusetts, that's part of Sovereign Grace Churches. Although Evans helped plant the church in 2001, the transition from his former career as a public school teacher to become a pastor "was dramatic," he said.
When he converted to Christianity in high school, the public school setting was so significant to his spiritual walk that he felt becoming a public school teacher would be his most impactful role.
While he was teaching, a pastor asked Evans whether he would ever consider pastoral ministry.
Although Evans dabbled in seminary at first during his nine-year teaching career, he realized during a summer seminar that the Lord was calling him to vocational ministry in the Boston area.
"That began a three- to four-year dialogue with the pastors," he said, "which culminated in my quitting teaching and going to the pastor's college."
Sovereign Grace Churches hosts a 10-month training program in Louisville, Kentucky, for future pastors. At the time, Evans' fellowship was in Gaithersburg, Maryland.
"It's the equivalent of a year and a half of a traditional seminary," Evans said. He studied Greek, systematic theology, hermeneutics, and other typical seminary topics. "It's an obscene amount of reading. I don't think we slept the entire year." At Pastor's College, classes are taught primarily by pastors with guest-lectures from visiting theologians.
"The balance of learning in the classroom is not only learning the content, but how you communicate that content as a shepherd among God's flock," Evans said. "We were sharpening our character to care for God's flock in a way that's appropriate to the role and office of pastors."
Even the culture is different than seminary, according to Evans. The focus was on discipleship, family, and practical leadership, with an emphasis on the local church.
What do these paths to ministry have in common? In each case, these paths require and revolve around active involvement in a local church.
"If [future pastors] are serious about pastoral ministry, then it should first be reflected in their active membership with a local church," Evans said. "If they're not involved in the local church, they've got no business in pastoral ministry."
Kara Bettis is a Raleigh, North Carolina, reporter and a regular freelancer for Relevant Magazine, Christ and Pop Culture, and others.