What Your Ministry is Really About
God's people in God's presence.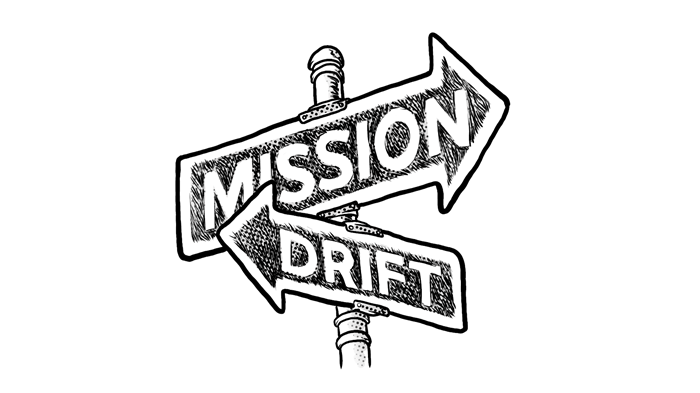 Image: Seth Hahne
As a rule, I pretty much hated any use of leadership jargon when I worked in my local church. "Casting vision" sounds like something forbidden in Leviticus, while breaking down "silos" to facilitate teamwork would probably land me in the chiropractor's office.
All the same, one concept I've come to appreciate from this jargon is "mission drift." The idea is pretty simple, really: your organization—whatever it is—has a mission, but when it drifts from that mission, things start to go sideways.
Once you get your mind around it, applying "mission drift" to the work of the local church is fairly simple. If the church loses its sense of mission—its goal, its telos, the end for which it exists—then breakdown, failure, distraction, and dysfunction (at least, more than usual) is inevitable.
If local church leaders and congregations want to have a future, then they must keep their eyes on the great mission of the triune God: God's people in God's presence.
God's Presence with God's People
Sometimes it helps to start at the end.
Revelation 21 gives us a picture of where the whole sweep of God's project is headed:
I saw the Holy City, the new Jerusalem, coming down out of heaven from God, prepared as a bride beautifully dressed for her husband. And I heard a loud voice from the throne saying, "Look! God's dwelling place is now among the people, and he will dwell with them. They will be his people, and God himself will be with them and be their God." (Rev. 21:2-3)
John the Revelator's glorious vision of the end fulfills God's plans from the beginning. Genesis 1-3 portrays God creating the world as a holy temple: as God's house where he can dwell with his image-bearers, rest with them on his holy Sabbath, and walk with them in the cool of the day.
That is, until we exile ourselves through sin and rebellion.
The rest of the story is caught up in this cycle of presence and exile, with God continually providing ways for sinful people to enter into his company. In the Exodus, God saves the Israelites from slavery, bringing them to the foot of Mt. Sinai to be his people (Ex. 19). The heart of the sacrificial system given to Moses—with its provisions for atonement, cleansing, and sanctification—is to allow Israel to dwell in God's camp surrounding the Tent of Meeting (Ex. 33). God's holy laws set the people apart to live with their set-apart God (Lev. 18-21). Israel's ability to turn, worship, pray, and be heard by the God who is present among them was the great blessing of Solomon's Temple (1 Kings 7).
Jesus Christ, of course, is Immanuel: God come to dwell with us in the tabernacle (or temple) of his own flesh (John 1:14). At his death, the temple curtain tears in two (Mark 15:38), and in his resurrection and ascension, Jesus himself becomes the new and living way through which we are brought into the presence of God (Heb. 10:20). Therefore, when we as believers are united with Christ, we become the dwelling place of God's Spirit, continually being built up into a spiritual house (1 Cor. 3, Eph. 2).
God's people in God's presence. This is the story of the Bible and the future of the universal church—and, therefore, of your local church.
Keeping this eschatological future in mind contributes to the immediate future of the local church. It keeps our eyes focused while we are in the midst of regular ministry—and it keeps our regular ministry focused on God's great mission.
A Broader Vision for the Everyday
It's fascinating to think about the Levitical priesthood: a priesthood aimed at mediating between the people and the presence of God, at representing the people to God. It was a high and holy task that was sometimes quite dangerous, and it was a task upon which the health of the whole people depended.
And yet, when you scan the liturgical literature, you begin to get a sense for how simultaneously messy, repetitive, and meticulous the whole business was. Light the incense, prepare the showbread, slaughter the daily offerings, make sure and manipulate the blood properly. Rinse, wash, and repeat.
Let's be honest and say that much of the priestly ministry was tedious work. What's more—despite the gift of the Spirit, a couple thousand years, and a New Covenant—that doesn't seem to have changed much. Not really. Answering what feels like a hundred emails before lunch, heading off to a couple pastoral visits, squeezing in an hour of sermon prep, rushing through dinner, and then taking two hours to settle a parking procedure in an elders' meeting: it's easy to get discouraged and to become distracted, bored, and complacent in the daily work of the ministry.
This is one of the ways the local church experiences the sort of mission drift that kills its future. Pastors, elders, and various members of the congregation involved in the regular, unglamorous tasks of ministry need a broader vision of the grand end of all their striving in the Spirit.
Our preaching is aimed at bringing people into the presence of God through the Word. Our counsel and admonition is aimed at sanctifying the house of the Lord. Even our decisions about the parking lot become less about logistical headaches than removing the little obstacles that can interfere with people coming to experience the presence of God in worship.
In other words, it's only as we appreciate the radiant glory of the Holy of Holies reflected in the lives of our people—and as we remember where we're headed—that we receive the focus, joy, and clarity of purpose we need to keep from falling into the sort of mission drift that kills ministry.
The Final Purpose
While it's easy to get thrown off course by discouragement, boredom, and drudgery, it's also a fairly simple matter to get caught up in the pressure to do good things.
If you're preaching the Bible regularly, and you're grasping the personal, social, and cosmic implications of the gospel, it doesn't take much time to think of any number of programs your church can get involved in—or even start. We can start choirs for various ages, launch recovery groups, host afterschool tutoring programs, form relationships with local homeless ministries, support refugee settlement efforts and hospital ministries.
You see how easy it would be to keep going?
And none of this is bad. They're all worthy projects and programs for the people of God to be engaged in.
But it's easy to see the way an ever-expanding list of programs dedicated to varieties of wonderful causes can exhaust us, pull us in 20 different directions, and overwhelm our sense of the final goal of all our work. Living in a Sabbath-less, workaholic culture, it's easy for the church to believe the myth that "more is always better": especially when it wants to appeal to religious consumers, church-shopping based on goods and services offered.
In his classic Mere Christianity, C. S. Lewis points out that the various activities of "the State"—with its armies, bureaucracies, courts, economic policies, etc.—boil down to promoting one goal: the ordinary flourishing and happiness of its people. In the same way, the church exists "for nothing else but to draw men into Christ"—into the presence of God. Lewis continues, "If they are not doing that, all the cathedrals, clergy, missions, sermons, even the Bible itself, are simply a waste of time. God became Man for no other purpose. It is even doubtful, you know, whether the whole universe was created for any other purpose."
God's people drawn into God's presence—this is the final purpose of all of our works. This is the final purpose for the world in which we live.
Are We?
Ultimately, the future of the local church depends on God—the God in whose presence we will spend our future.
Are we trusting that the God who is not to be ashamed to be called our God, who is preparing a city for us (Heb. 11:16), will also preserve us until the day of salvation? Are we trusting that he will not neglect to finish the good work he has begun within us (Phil. 1:6)?
Are we remembering where we're going?