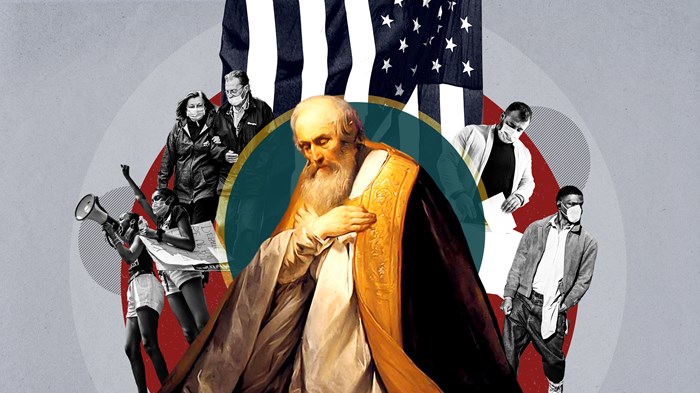 Image: Illustration by Rick Szuecs / Source images: Wikimedia Commons / Acy Varlan / Robinson Greig / Vlad Tchompalov / Unsplash / Halfpoint / Envato
Who are you voting for? Do you require masks? Such loaded questions incited more than informed this past year. A friend and I commiserated over leading our churches through a contentious political season and a global pandemic, two realities rough enough on their own, but combined, they enflamed intense division and uncertainty in our congregations. We smirked at the sense of having been involuntarily cast into an apocalyptic film where the sky inexplicably remained grey as humans turned on one another. We pastors simply did our best to survive. Apocalypse wasn't so far from our experience.
A little over a year into a deadly pandemic that's killed over 2.5 million people, we find ourselves under the oppression of COVID-19 even as vaccinations proliferate. Our church, like many others, runs the gamut regarding whether to wear masks, when to attend church in person, and even the veracity of the illness itself. Most of our church members self-isolate despite in-person options for ...
1