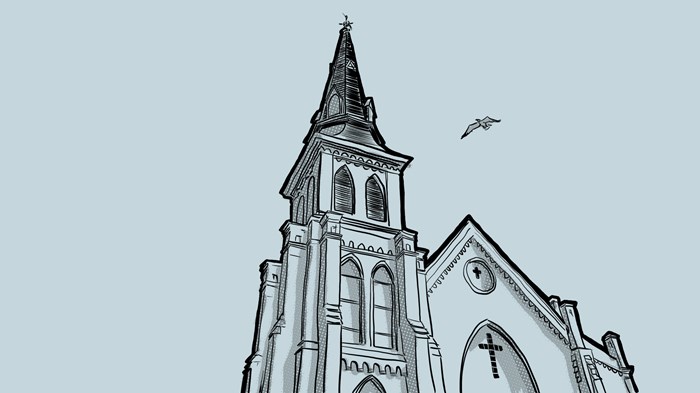 Image: Seth Hahne
Where else could we go? That was the hard truth of our Wednesday nights. This was the 1950s and my family was black, so we didn't have much choice of where to go for a mid-week break.
We went to church. Life stopped for Wednesday night "prayer meeting," as we called it then—and God knows, if black folks needed anything in the 1950s when the sun went down, we needed prayer.
Each Wednesday, Daddy came home about four from his weekday government job as an auditor, walking through the front door of our Denver bungalow and exhaling probably for the first time in a long day. Mama, not needing to ask him how work went, would have already cooked our family dinner. My big sister and I did our daily job of washing up the dishes afterwards, always without complaint.
Then, with Daddy, we all waited on the front porch for our evening ride. Some good church brother—maybe Brother Bell or Brother Cunningham or Brother Wheeler, or one of the other Negro men in our church who was blessed to own a car—would stop and pick up my family for the five-minute ride to the church.
Unlocking the door with his "church trustee" keys, Daddy flicked on the lights, and all was right with our hating world. We were back home. We melted into the second-hand church building with some combination of desperation, anticipation, appreciation, intoxication.
We loved our Wednesday night.
And our church?
Summer or winter, spring or fall, nothing in life satisfied all of the things we, as colored people, needed so achingly in this anti-black nation as the safety, autonomy, and affirmation rendered so graciously inside the sanctuary we called "church"—especially on Wednesday. This was our place. Even more, this was our night.
No, that's wrong: this was God's house, and God said we counted. On Sundays, of course, God said this. Crowds of folks showed up Sundays to ecstatically worship him. But on Wednesday evenings, as the sun was setting and the faithful core of the church came back for a mid-week spiritual refresher, God confirmed our place in his kingdom, in this unique sanctum organized by us—and where white people were not in charge.
Nobody said it like that. But we all felt it in our bones. Understood it. Relaxed in it. Unlike my public elementary school—where white principals and teachers ran the show, even if kindly—at our humble Cleaves Memorial CME Church in Denver, every person in authority was black like me. And they adored me unconditionally, showing me that's how Jesus loved: never mind that I hardly deserved such elaborate acceptance.
"Let me look at you, Patricia!" a church sister gushed, smiling and hugging me, just because I had walked through the church door on this evening when I might've stayed away.
My un-churched school friends didn't get it. "You guys go to church? On Wednesday night?"
How could I explain? I couldn't. I'm sure I didn't talk about it at school the next day. What would I say? "Wednesday night church is my oxygen"?
Which it was. Those Wednesday nights helped make it possible to be black in white America the rest of the week.
The Roots of Wednesday Night Church
Says my current pastor, the Reverend Dr. Timothy E. Tyler at Denver's Shorter Community AME Church: "The mid-week prayer meeting was always a very intimate atmosphere—a place of renewal, love, and connectedness. As a child, when my mother and father dragged me there, I remember noticing that the large crowds of Sunday were much smaller on Wednesday. This group was the spiritual core of the church. The people would testify, petition God, and pray for each other. I finally understood it as a mid-week check-in on your spiritual self. Then you were ready for another Sunday."
I listen to his words, realizing I like reflecting on such things with my own pastor: as I would on a Wednesday night.
He reminds me how Methodism itself, including its practice by African Methodist Episcopalians worldwide, finds its origins in the weeknight prayer meetings and love feasts organized by Methodist movement founder John Wesley.
"Sunday worship became an outgrowth of what happened at the prayer meeting, not the other way around."
"Wesley said, 'We're still Anglican,' but let's go beyond the ritualistic worship of Sunday and meet God in prayer here tonight," my pastor explained. "In that way, prayer meeting and Bible study became the bedrock of our church. Sunday worship became an outgrowth of what happened at the prayer meeting, not the other way around."
Doug Thompson, a professor of Southern Studies at Georgia's Mercer University and editor of the Journal of Southern Religion, points to other origins of the Wednesday night Bible study. Across Protestant America in the 20th century, the Wednesday night tradition took root as changing agrarian patterns left people with more leisure time. This allowed for mid-week Bible study and corporate prayer.
For African Americans, however—as Thompson told Reuters—Wednesday night church goes back further to slave days, when blacks could meet to talk about spiritual matters in front of white overseers but used coded language to talk simultaneously about other urgent topics.
Weekly meetings, like the Wednesday Bible studies, "have a fairly recent creation," Thompson said, "but they would also have been understood in that larger historical arc of resistance and slave traditions."
In that manner, after the shooting in Charleston, the pastors at Emanuel AME—and at black churches throughout the US—urged their members to return to their Wednesday night church meetings with intention: not despite the tragedy, but because of it.
As the Reverend Joseph Darby, the presiding elder of the Beaufort District of the AME Church (which includes Charleston), explained to Reuters, "Bible study is best when it's somehow applicable to daily life, and that's the subject of the day right now."
"No Matter What"
Which brings us to Dylann Roof.
I considered not mentioning the confessed shooter's name in this article, out of respect for the nine he killed. Yet one of the pastors who counseled Roof's family, the Reverend Herman R. Yoos of St. Paul's Lutheran Church of Columbia, South Carolina—and also a bishop of the South Carolina Synod of the Evangelical Lutheran Church in America—has called for the United States to "address the deep serious issue of racism in our society."
Yoos's plea is well-placed, of course. In Christendom, however, where might believers best engage the anti-racism conversation?
On Wednesday nights.
Gathered together in our church basements, fellowship halls, and Sunday school rooms, we are disciples of God in a particular way on our Wednesdays. Plowing through our sacred Word as determined learners, not as Sunday morning people on a pew, we dive between the lines of our sacred text for relational, personal, and ecclesiastical context.
So whether a potluck supper, movie or game night, lecture series, or open-mic dialogue, our Wednesday night gatherings offer an opportunity to dig deep.
Indeed, my pastor argues that if we eschew Wednesday church as "too traditional," as some say, we miss its value. When he switched prayer night to Tuesdays at our church last year, "the church pushed back, but so did my spirit. Halfway in the week, I found I needed the spiritual check-up."
Thus, the writer of Hebrews still issues the urgent invitation: "And let us not neglect our meeting together, as some people do, but encourage one another, especially now that the day of his return is drawing near" (Heb. 10:25, NLT).
These gatherings help get us ready for heaven. In that way, the Emanuel AME group opened their Bible study last June 17 to a confused 21-year-old white man who acknowledged he felt welcomed by the prayer circle—but who turned his gun on them anyway.
Then a week went by.
The site of the slaughter was patched up and cleaned. In the ceiling, according to CNN, at least one bullet hole was covered with tape.
When the 6 p.m. hour arrived, some 100 people packed into the Bible study room.
"It was crowded, they had to bring in extra seating," Rosetta Loving, who attended the service, told NBC News. "But everybody seemed to be on the same page."
Some regular church members haven't returned to Wednesday night prayer service.
The show of support is noteworthy, my AME pastor in Denver says. He is saddened, however, by one rarely mentioned outcome of the Charleston church shooting: some regular church members haven't returned to Wednesday night prayer service.
"Visiting there recently, the new pastor [the Reverend Dr. Betty Deas Clark] shared with me that some of the people are still grieving, still hurting, still in so much pain," he said. "They haven't returned to Bible study yet—because they can't. Some won't even go down to the basement."
When they are ready, however, their prayer-meeting circle will be gathered and ready, still on Wednesday—that night in churches that will not die. Not even murder can kill it.
"Wednesday night will always hold out the energy of faith for people who receive it," Tyler said. "As long as there are grieving, hurting people, Wednesday remains important. No matter what."