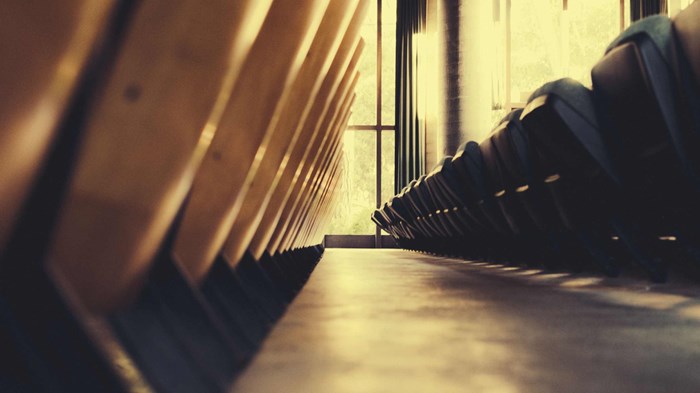 Image: Charlie Foster / Unsplash
I never thought I'd miss it. In fact, it annoyed me most Sundays: this little sound—the shrill squeak of desktops being swung into place as our pastor said, "If you have your Bibles, open them to . . ."
Up until the fall of 2015, our church had only ever met in public school auditoriums. We used to jokingly describe ourselves as a "church-in-a-box," since all the sound equipment, resources, signage, and sign-in systems that made up our church could be packed away in storage boxes and shoved in a closet. We owned that cliché about the church being "the people, and not a building." We were simple, stripped-down, unpretentious. Church-in-a-box.
But we knew we wouldn't always be like that. As renters, we had our problems. We had a great relationship with the school staff, but we knew we could be hastily evicted if they received complaints about the message from the platform, or if we left any significant evidence of our presence on Monday morning. We had grown from around 400 to 1,400 in a few short years, and we had neither more room to seat people nor the time available in our rental agreement to allow the addition of another service.
So after many years of praying and fundraising, and after a couple of false starts, we bought a building and traded the problems of renting for those of owning. The congregation rallied around getting the building ready for our first weekend. Hundreds of hours were freely given to paint the worship center and the children's area, knock out walls, build new offices, fix the roof, repave the sidewalks, set up the new sound system, and finish a thousand other tasks great and small.
And when that first Sunday in the new facility finally came, it was—well, different.
In one respect, there was a sense of relief in the air. The work was done. The fundraising was almost over. The new worship times were set. We were good to go. There was also a new and tangible sense of excitement—we could now start to think more concretely about how God might use us to reach people in our neighborhood.
But on Sunday morning, when our pastor said, "If you have your Bibles, open them to . . . ," it hit me: we weren't "church-in-a-box" anymore. We were something else. We were meeting in a building where we could hold baptisms whenever we wanted, where we didn't have to worry about setting up, tearing down, and hiding everything away until next Sunday. We could even preach through Romans!
But there was no squeaking—and in that moment, I noticed its absence.
Those years' worth of squeaks, wince after wince, were a reminder of how good God had been to us during our time in rented facilities, and in that one facility in particular. That we'd been able to preach the Bible faithfully for six years there, every single Sunday, is nothing short of miraculous. That we were able to build good relationships with the school's staff was a gift from God. For six years, that school was the place where I was able to sit under humble teachers. It was where I brought two of my children to church for the first time as newborns, and where they spent hours each week singing songs, playing games, and hearing stories about Jesus. Our time there hadn't always been easy—in fact, it was rarely easy. But it was good.
It's been several months now since that first Sunday. The excitement of the new building has worn off a bit. The new commute has become routine. I know the route to each of my children's classrooms so well I could find them in my sleep. Life has continued, and God continues to bless us in many ways. The squeaky desks are an increasingly distant memory.
Sometimes, though, when I least expect it, I think I hear them—and when I do, I still miss it.