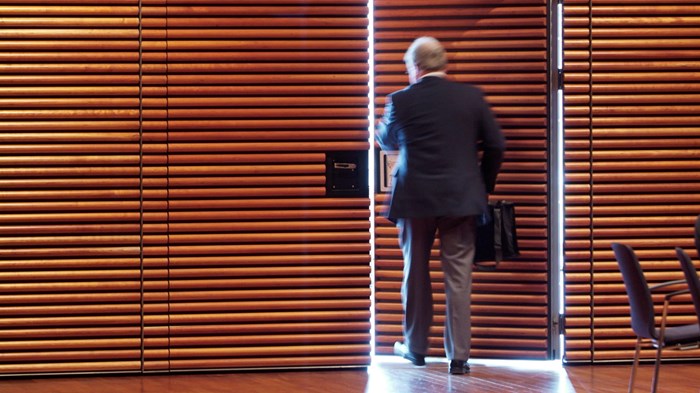 I recently changed jobs. The more sanctified way to say that is, "I transitioned to a new calling from the Lord." Basically, I accepted a job offer (a "call," in my denomination) to serve another church. It was an unexpectedly complicated process.
Are you thinking of making a change? Are you in a search for a new church? Is there a church searching for you? Well, here are a few smack-in-the-head things I learned.
1. It's a privilege, so be thankful.
In my denomination, there are more pastors than available churches. If a church becomes "vacant" (finds itself without a pastor), it will receive somewhere between 40 to 60 applications. If you are contacted by a church, or are invited into their process, say a prayer of thanks to God.
2. Get ready for rejection.
So it follows that only one of at least 40 pastors who apply will be offered a position. To apply, therefore, is a risk. I am thankful for the call I received. But I have been rejected by others over the years.
A pastor I know lamented the brutal reality that every church, in today's world, is searching to find a "five percenter," a preacher who (humanly speaking) is in the top 5 percent of pastoral skill level.
Over the years, I've opened a few emails from churches who say, "Thanks, but no thanks." I guess they don't think I'm a "five percenter." Those are disappointing days … they take you down a notch. Be ready for that.
3. Resist breaking the 10th commandment.
As pastors, we all have times when we feel stuck. Like Moses, we say (in effect), "What am I to do with these people (Ex. 17:4)?" We're begging, "God, get me outta here." There were times in my previous church when it was tough enough that I just wanted somewhere, anywhere, else to go.
Applying for another position can turn up the burner on those feelings. It heightens your discontent. You begin imagining your hot, sweet ministry in that other congregation, and this dreamy coveting can make things in your current church look worse (way worse, possibly, than they really are). So, for this reason too, when the email or phone call comes telling you that you didn't get it, it can be quite crushing. You feel even more stuck.
So keep it loose. Use self-talk like, "Hmm. Looks interesting. I guess I'll throw in an application." Don't get over-invested. Don't put all your hopes there. Don't let yourself get too dreamy. Throw in the application, say a prayer, and get back to caring for your current flock.
4. Get ready for hard work.
In our denomination, you need to keep an updated online profile. It takes time to write that, and to do it well.
If you are invited into a church's process, you will be asked, maybe, to submit written essay answers to a long set of questions. Your answers need to be crafted well, and that takes time. If you get an interview, that takes preparation and time. You need to study the church and its community before you go. This takes time and energy.
So, the pastor application process is hard and time-consuming work.
I lamented to my wife, "I'm so busy applying for this other ministry, I don't have time to do my current one."
Churches in my world can take anywhere from six to eight months to decide what to do about a candidate. It can be a long process of waiting … waiting for a phone call about the next step, if there is one. It's grueling.
At one point, I lamented to my wife, "I'm so busy applying for this other ministry, I don't have time to do my current one." The process was taking an hour here, an hour there, and I was working extra to replace those hours, in fairness to my current church. It was pretty stressful.
5. A church search sticks a fork in complacency.
I had a pastor-friend who, after a long and successful ministry in his church, laughed at himself and admitted, "Why should I look for another church? I'm too lazy. I know, after all these years, where the closet-skeletons and trapdoors are in my current congregation. Why go through all that trouble again?"
I have felt that sense of complacency too. I had served my previous congregation for almost 18 years. Some of the early years were tough, but after reaching a fruitful and joyous time as a congregation, I felt warmth, love, and trust everywhere I went.
Which is why, when the search process sometimes got to be a pain, I was often tempted to give it up and let it go. Too much work, too much time, too much distraction. It was too painful to think of leaving. A little voice said, "Just stay. This is so beautiful right now. Why mess up this nice life?"
But I've seen pastors get stuck in a rut. Really, it is time to leave, and even though a church may not be cruel, it has a sense that maybe it's time for the pastor to make way for some new leadership. There are clear signals, but we miss them because everything seems, well, you know, okay. It's okay.
It's possible also to be in a really bad situation but to give up looking and just keep hanging on. Because hanging on to something bad but familiar is easier than suffering for something different. That is its own form of complacency, and it can be a long, agonizing circling of the drain.
Maybe you are supposed to stay where you are, but you have to at least keep asking the question. It requires faith, painful introspection, and brutal self-truth to press through the complacency and seek another place, or another form of ministry—something—to keep you from stagnating.
An older pastor told me, "It's better to leave two years too early than to stay two months too long."
6. Be honest.
I've heard of pastors who entered a church search in order to make themselves appear more popular to their own congregations. They have no intention of leaving, and have no real desire for another church, but it makes them look "in demand." I guess it gives them a sense of power.
Don't do it. There have been times when I have been in a process, and a church wants to go further, but I know in my heart that if they offered it, I would not accept it. When I came to that moment of clarity in my own heart, I called the chair of their search committee and pulled out.
Look, most search committees have eight or ten people who spend hours in meetings, more hours reading profiles, and who devote deep time in prayer before God.
So don't waste their time and don't abuse their spiritual work for your own sense of glory. God doesn't play games, so you shouldn't either.
7. But you do have to be smart about it.
Not Machiavellian, just smart.
I was in a process a couple of years ago, and I just blew it. They asked me a couple of questions on a hot-button issue, and I went too far. I got emotional and passionate and unburdened myself way too much. I mistook an interview for therapy. They (rightly) dropped me like a rock.
Yes, you have to be honest. You can't lie about where you stand. But you have to be wise about it.
Being smart about it also requires passion. Once you agree with God that you should seek a new position, you have to go for it. Your job when writing the essay questions is to present a compelling case for them to keep looking at you. You need to make that thing pop a little—make it stand out from the pile. Your job in an interview is to get another interview. Be heartfelt and honest before God, but at the same time, be smart.
8. Prepare to be stretched.
If this gets serious and you are in the mix of the final two or three possible candidates, your emotional/spiritual life will be a mess.
For one thing, you will feel grief. In my case, I loved my current congregation. I'd served them so much and so long. As this process became more and more real, I could already feel grief. "Can I really leave?" "Do I really want to leave?" "This will kill me to leave."
When I went to preach at the other church, I agonized in my heart. It almost felt dirty.
At the same time, there is a part of your heart that is excited to think of new possibilities in a new place. You start imagining what you would do there, and you start to love those people too. You're trying to be a faithful pastor here, but you're imagining being a pastor there. And since, for a long time, this process has to remain confidential, I used to joke with my close friend, "This must be what it feels like to have an affair." Without a doubt, it's a spiritual and emotional stretch.
9. Prepare to feel weird.
This gets even worse when you're invited to preach at the "other church." (This, by the way, heightens the risk. Now I have to tell the elders at my current church what I'm doing. And then, if I don't get "the call," it doesn't look good for my reputation, right? Wow … that's pretty sick stuff, isn't it, to think that way? It's definitely weird.)
When I went to preach at the other church, I agonized in my heart. It felt like a reality show. Like, what, I need to pray a really great congregational prayer, I need to preach a really sweet, hot sermon so they will vote for me?
It felt almost dirty. It was a great relief, then, when I went there, to admit in front of everyone that inner conflict. Also, in my heart I committed to being as true as I could be to how I am. I dressed the same, preached the same, and prayed the same as I do in my current church. But even so, it still felt weird.
10. Prepare for mystery.
The dear friend of mine, the one who joked that he was too lazy to enter a search process, finally did. Toward the end of it, he was convinced that if they offered it, he must accept it. And sure enough, they eventually did. He was still sure that he should accept it—so sure of this that his wife had already started to pack a few things.
And then, on the night before he was going to publicly announce his acceptance, his heart changed. He just couldn't do it. He knew he shouldn't do it. To his own shock, he turned it down.
Four months later, while driving down a highway, he suffered a stroke, and then died two weeks after that.
Our whole community wondered, looking back on it, what his wife and family would have done in that situation if they had been in a new church, far away from their dearest Christian friends. Who can understand this? Only God.
When you enter this process, you are entering holy and mysterious ground. You are not just applying for a job. You are seeking the heart of God, and submitting directly to divine leading.
11. Prepare for the "light bulb" effect.
So, I received a call. And I accepted it. Thankfully, people in my previous church loved me vastly beyond my deserving, and we shed tears together. People said all these beautiful things. I felt so loved—and needed.
But the hard, cold truth is that I was not needed as much as I thought. I suggested they start a search committee right away, then (pathetically) was a bit bummed when they actually did. Quickly, also, things started moving on without me. People kept up their great work, and they were planning cool ministry projects that were scheduled for long after my departure. Hmmm. I had to realize that I was not as essential as I thought.
In our denomination, when pastors, elders, or deacons are commissioned for their work, we use the term "install." These persons are installed for their ministry. Yeah, that's the word we all use for light bulbs; you take one out, you put another in. They do their job in that place, in that moment, and eventually get replaced.
So here I am, installed in new place. After all the stress, conflicted emotions, hard work, and soul-searching, I am in a different ministry—and only thankful. Thankful for where I was, thankful for where I am, and thankful for all I learned in the transition. Thankful, really, for God's guidance in the mysterious and complicated process of the great church search.
Keith Mannes, previously pastor of Highland Christian Reformed Church in McBain, Michigan, now serves as pastor of East Saugatuck Christian Reformed Church of Holland, Michigan.