Share the Load in Your Small Congregation
Are you the only pastor on staff? You don't have to bear the burden alone.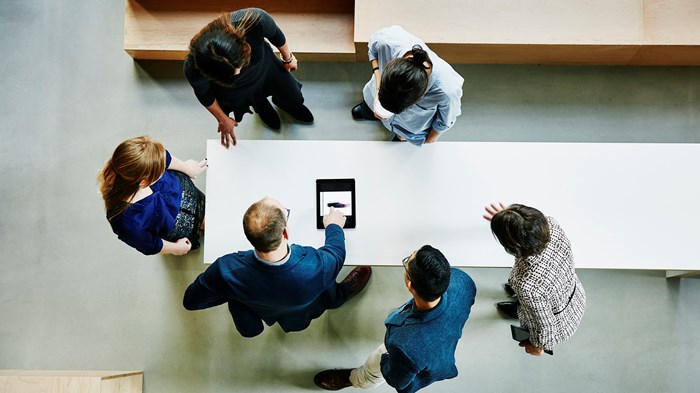 Image: Thomas Barwick / Getty Images
During the first winter at my current congregation, I shook hands with one of my members before the service. She had missed a couple of Sundays in a row, so I asked if she was feeling better. "Oh, I've been in the hospital," she said. I was mortified! I apologized and stated that I would have visited her if only I had known. She smiled and said it was alright—she knew I was a busy person. However I could tell it bothered her.
It was, unfortunately, not the first or the last time I missed visiting someone in the hospital or at home with an illness. I serve a primarily older congregation with numerous overlapping needs at any given time. Previous congregations informed me that it was my job—and my job alone—to meet the pastoral needs of the congregation. But in this congregation, I knew we needed a different plan. So I went before my elders to ask for something I did not fully understand.
Sharing the Load
In Exodus 18, Moses' father-in-law, Jethro, came to him because he saw Moses developing a problem. Moses attempted to solve all of Israel's problems by himself. This likely took a great physical and emotional toll on Moses and prevented him from focusing on more critical issues of leading a nation. Jethro suggested that Moses appoint tribal leaders over the people as a way of distributing the leadership load (18:13–27). This story gave me an idea for my own congregation: distributed pastoral care.
Sitting before my current group of elders, I explained my plan to put this story from Moses' life into practice in our congregation. I was convicted that this would strengthen our ministry, but I still worried about how the elders would respond.
Several years before, when I was preaching in central Texas, the teenage daughter of one of our members required significant back surgery. In a moment of distress, her father went straight to this passage from James 5:14–16:
Are any among you sick? They should call for the elders of the church and have them pray over them, anointing them with oil in the name of the Lord. The prayer of faith will save the sick, and the Lord will raise them up; and anyone who has committed sins will be forgiven. Therefore confess your sins to one another, and pray for one another, so that you may be healed. The prayer of the righteous is powerful and effective (NRSV).
The girl's father went to one of our elders, showed him this passage, and asked him to pray over his daughter and anoint her with oil. The elder refused. Undeterred, the father brought his daughter to an elder meeting. He carried her in, sat her before them, read the passage from James, and said, "I invoke you as my elders to carry out your biblical duty to my family." They refused again, arguing that this was the job of a minister. Besides, they were in a meeting and could not be bothered by issues that weren't on the agenda. When the father refused to leave until they prayed for her, they hesitantly got up from their seats and circled around the girl. After a short and awkward prayer, they returned to their meeting, and the member and his daughter departed.
This father's persistence reminded me of the meaning of the primary word Luke, Peter, and Paul use to describe church leaders: episkopoi, meaning "overseers." Episkopoi carries with it the idea of being a servant rather than holding an office (Acts 20:28–32; 1 Tim. 3:1–7; Titus. 1:5–7; 1 Pet. 5:1–4). It also reminded me that, when our people seek healing from God, they should find it in the hands and prayers of their leaders. Yet I struggled with my hesitant elders' response to the worried father. I wondered, How can I help these non-ordained leaders see that their leadership role must extend beyond the boardroom?
Thankfully, the elder board in my new congregation saw things differently. Early in my time with this congregation, I learned that a member had been admitted to the hospital. When I visited her, I discovered one of my elders and his wife already there. They told me another elder and his wife had visited earlier in the day! On another occasion, one of my elders had asked me to take him on a visit to the ICU because he was nervous visiting someone in such critical health. He were eager to take on pastoral care responsibilities, but he lacked the experience. So, in our fateful meeting, I quietly thanked God for this current elder board, cleared my throat, and laid out my plan.
I regularly receive emails, text messages, phone calls, and face-to-face conversations about a variety of concerns that may have otherwise slipped through the cracks.
Here's what I proposed: At the time, we had five elders. I would take our directory, evenly divide our congregation into five lists, and give each elder one of the lists. Additionally, all of our youth group would be assigned to our youth minister. These lists would improve communication because each member would have access to an elder whom he or she could talk with directly about concerns, requests, or ideas. The leadership would have a way of maintaining regular contact with everyone in the congregation, and I could focus on preaching, evangelism, administration, benevolence, hospital visitation, community involvement, and offering common services.
If someone missed for a week or two, their assigned elder would contact them to see how they were feeling and to learn if more serious concerns needed to be addressed. Serious issues—like a hospitalization, benevolence request, or long-term illness—would be forwarded to me so I could follow up and provide personalized care.
So far this has worked out quite well. I regularly receive emails, text messages, phone calls, and face-to-face conversations about a variety of concerns that may have otherwise slipped through the cracks.
Implementing the Plan
How can you implement a similar plan in your congregation?
1. Get the leaders on board. If your congregation uses elders, deacons, or some other official leadership structure, ask them to take up their mandate to "tend the flock of God" (1 Pet. 5:2, NRSV). If your congregation does not have recognized leaders beyond the staff, seek out interested individuals who demonstrate the qualities mentioned in 1 Timothy 3, Titus 1, James 5, and 1 Peter 5. Recently, two of my elders retired, leaving two holes in our leadership team. With my elders' permission, I spoke with two of our deacons who demonstrated the gift of compassion. I asked if they would be interested in helping me shepherd the congregation. They graciously accepted.
2. Provide the proper training. Teach your leaders how to provide pastoral care and brief forms of counseling. Most congregational leaders are volunteers with limited ministry training. Work with them to develop strategies for contacting members and establish channels to deliver care to those members. Show them how to make a hospital visit, conduct a brief counseling session, and assess benevolence needs. If you do not feel comfortable doing this, contact the pastoral care office at your local hospital. I have also included a resource list in the sidebar below.
3. Implement a model of communication. This will ensure that everyone stays updated on pastoral care concerns, and it will help you keep a record of what is being done. I recommend using TheCareNotebook.com to connect your team. This site offers a communication network for your team and allows you to keep a running record of all the care you provide. If, however, the price of this site doesn't work for you, other options—such as a Gmail account—will allow your team to send group and individual messages back and forth. Our team also uses prayer request cards, which all come to me and I pass out as needed.
Not all was smooth when we put the plan into place. Some folks, when visited by an elder, said, "It's just not the same." Now, however, the congregation as a whole feels much more cared for. Communication has improved as circles of care have been established. We have experienced a few bumps along the way, but our congregation would not have endured some of the subsequent crises or developed a sense of common care over the past couple of years without it.
Rob O'Lynn is senior minister at Beech Street Christian Church in Ashland, Kentucky and director of the Bible and Ministry program at Kentucky Christian University.