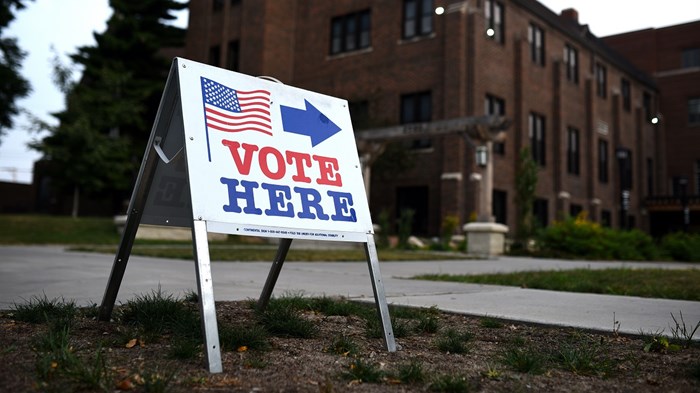 Image: Stephen Maturen / Getty
For several years, I had been on the fence about my church operating as a polling place in our community. I was sick and tired of having my ministry work interrupted. Then, this last primary, we had an incident that turned me off to the idea completely.
Our church runs a preschool which results in a long line of cars for child pickups. When voting day rolled around, my preschool line clashed with the voting traffic. Worse, the two major political parties had set up tables at the entrance to our parking lot and were hounding parents to take flyers and participate in exit polls. At one point, our preschool teachers asked the pollsters to please stop harassing these young parents. The pollsters' solicitations were causing the preschool drop-off line to back up and spill out into the main street, creating a morass of angry-toddler gridlock.
The pollsters did not respond well to my preschool teachers asking them to keep their solicitation limited to the folks on campus for the election. My sweet, gentle teachers were thanked for their trouble with a shouting match filled with curse words and threats. The end result was a full police blockade, replete with sirens, lights, interrogations, and all sorts of bad optics for my church and preschool.
That was the last straw. These preschool parents were one of my primary mission fields. Many were unchurched, and I desperately wanted these folks to visit our church service. I had no patience for these vitriolic, toxic secularists getting in the way of my favorite gospel opportunity.
Over the last few weeks, my church has been deciding whether we should continue supporting this community need. I, for one, had made my decision. Here is the subject line of an email I recently wrote to my team:
"Re: General Election Polling Site – I vote that we don't do this. What is in it for us?"
I cringe as I re-read that line: "What is in it for us?" Could I sound any more callous and un-Christlike? But in that moment, my mind was made up: if I had my way, we would not serve as a polling place again.
When Church Hosts State
My distaste for using our church as a polling location didn't start with the voting day antics that culminated in that curse-filled, partisan shouting match. When I took my first job at a small, independent community church, I was devoted to separation of church and politics when the body of Christ gathered. I promised myself I'd never be one of those preachers who told people who to vote for or how to think about certain amendments. I was going to preach the gospel and equip congregants with a biblical worldview to make their own decisions behind the election booth curtain. Then November rolled around during my first year in ministry. The conversation at one of our staff meetings went like this:
Senior Pastor: "Jake, we are going to need you to make some coffee for the election."
Me: (Nervous laughter) "Yeah, it's going to be tense. I guess we will need a stress reliever."
Senior Pastor: "No, Jake, it's for the volunteers."
Me: "What will the volunteers be doing, consoling us because our favorite guy lost?" (I genuinely didn't know what my pastor was talking about.)
Senior Pastor: "You know that blue sign in our parking lot that you drive past every day? The one that says 'Voting Precinct'?"
Me: "Yes."
Senior Pastor: "That means we are a voting precinct! Hundreds of people will be here tomorrow to vote."
Let's get the obvious out of the way first: I need to be more mindful while parking. But during that meeting, my stomach imploded as I thought through my previous convictions about maintaining the purity of the gospel on our church campus. Was this compromise? Was this biblical? It was the first issue of civic-religious crossover I'd ever had to process. I had a mini-crisis wondering if I would be participating in sullying the gospel.
Our pastor of families grounded me though. "The community knows us," he told me, with the wisdom of someone who knew what it meant to work out the gospel in people's lives. "They trust us. They know they are safe here and that, even in this part of their lives, we will love them."
The fruitfulness of serving as a polling place became clear to me in that moment. Unfortunately, that lesson didn't stick as well as it should have. Over the years, as Election Days came and went, each brought its own set of logistical frustrations, and I slowly lost that clarity.
My stomach imploded as I thought through my convictions about maintaining the purity of the gospel on our church campus. Was this compromise? Was this biblical?
Anyone who does church operations can think of 1,000 reasons why volunteering your campus as a polling site would be a pain. We gave up staff members for county-mandated training, we lost our gym for two whole days, and don't get me started again about the traffic and parking issues. I couldn't see a discernable win for us. All of our regular work—which seemed more gospel-centered to me—had to take a full two-day pause for something that didn't fit my agenda.
Eventually I forced myself to give it more thought. I asked myself, Why am I so negative about this? After all, church operations guys like myself solve logistical nightmares all the time. If it's Easter or Fall Fest, I can park 1,000 cars in 200 spots and still receive thank yous for making people feel welcome. But something in my heart was repelled by the idea of letting hundreds of strangers on our campus for voting day. I went along with my church's decision to serve the community in this way—reluctantly. Then we came to the 2018 primary election.
A Worthy Inconvenience?
The night before the primary election, I roamed the parking lot at 1:00 a.m. picking up the candidate signs planted in our parking lot—a strict prohibition for voting precincts. Signs can go out on the road but not in the parking lot. I am a rules guy. That's why I found myself pretending to be a martyr while grumbling about this dirty job. I sent an angry text to my team about how wronged I was, something like this: "You know what I really needed today? To clean up trash in the parking lot like I'm on the clean-up crew after a concert. If anyone wants to help, I'll be flinging political signs onto the road shoulder like discuses. I don't have time for this." Not my most pastor-y moment.
Early the next morning, when the voting crowd started gathering, I decided I deserved to sleep in a bit—my team could do without me. In the past, I had opted to bring volunteers "thank you" mochas at 7:00 a.m. when they started prepping, but this time I hit the snooze button instead. When I finally rolled in at 9:00 a.m., I was greeted by a police officer, who told me about the shouting, the cussing, and the threats. I was appalled that we had allowed this to go on, and my mood continued to sour.
In elections past, I had made a habit of standing at the entrance to chat with the security volunteer—a member of our church—and smile while greeting guests. But that morning I decided to interrogate the volunteers about why things had gotten so out of hand: "What did you see? Which car were you driving? Did you say anything back to them?"
I overheard guests talking about their experience on our campus. "That wasn't the welcome I was expecting," said an elderly man in a Korean War veteran hat to his daughter. I figured he was talking about the pollster and police debacle.
The security volunteer said to me, "Pastor Jake, you look like you have a lot on your plate. Why don't you head back to work? I can handle things here." Translation: "Your bad attitude is the thing that's actually hurting people's experience."
Politics had, in fact, corrupted the gospel work in our church. Not because our guests were bringing sin onto church campus—but because of me.
All of this ran through my head as I typed out that email subject line about whether we should open our campus to voters again: "What is in it for us?" I realized I had a terrible attitude regarding an opportunity to invite lost people to our church campus.
Opportunities for Hospitality
Despite the chaos, occasional vitriol, and parking messes involved in using your church as a polling location—and doing so might invite all three—I want to encourage you to welcome and embrace these problems. Making these sacrifices to keep a solid foot in the community is a win for the gospel.
If you are anything like me, you treasure the gospel and know that it has the power to change lives and impact communities. You love seeing your members on Sunday morning, but you get an extra thrill of excitement every time you see a new family. A little piece of my heart throws a party every time a new family visits because I know the gospel can transform their lives.
That's why it's so difficult to admit that, every year, I have a few excellent opportunities to meet total strangers in the community, folks who have no clear reason to visit a church, and I squander those opportunities to show them the love and hospitality of Jesus. I forget that Jesus said, "Truly I tell you, whatever you did for one of the least of these brothers and sisters of mine, you did for me. … Whatever you did not do for one of the least of these, you did not do for me" (Matt. 25:40, 45). Why do I forget this applies to people who come to our campus to vote? Yes, even to people from thatother political party.
With these things in mind, I decided to remind myself of a few ways in which our church can display the gospel in its full glory on voting day.
1. It's an opportunity to show voters the hospitality of Christ while expecting nothing in return.
Our church can give them an environment that is safe, anxiety-free, and welcoming. Maybe we cannot preach to them, but we can try to make their day better—even if just a little bit. In the past, we've given away free coffee, which gave us a prime opportunity to smile and say, "Welcome friend!" The Holy Spirit can do wonders with that. It's a shame I didn't even do this for our volunteers during the last primary. And speaking of those volunteers …
2. It's an opportunity to show love to volunteers.
Whether these folks are church members or not, they are doing a civic duty to better their community and serve their country. Voters aren't the only guests in our house. They might only spend a few minutes at our site, but the volunteers will be there for hours. These people may never come back to our church, but we never know how God will water the seeds we plant while they're guests on our campus.
3. It's an opportunity to put our best foot forward.
By treating the logistics of this event with the same care we treat Easter, the worst-case scenario is that our church looks professional and logistically adept—a positive presence in the community. The best-case scenario is that we get key opportunities to strike up conversations with people who have never been to church. Why was I so eager to blow off this chance to show people the love of Christ?
With the right attitude and approach, voting day should be a small-church pastor's dream opportunity. I don't meet as many strangers as I should. I rarely get to dine with sinners. But on voting day? The world comes to me. And my community gets to see that my church is a safe and loving place with a real footprint in the community.
A few days after I sent the team my "nay" vote for using our campus as a 2018 general election voting precinct, I sent a second email to my team. The new subject line read, "Re: Re: General Election Polling Site – I change my vote. Let's do this. Let's go all in. Let's be Jesus to our neighbors."
Jake Corn is executive pastor at Switzerland Community Church in Florida.