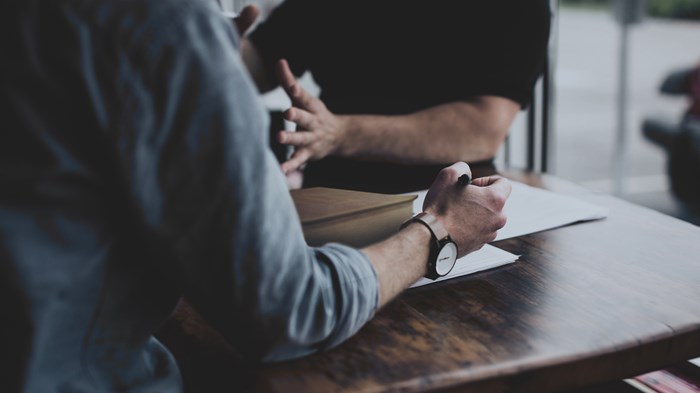 Image: Nik MacMillan / Unplash
While visiting the elders of another church to learn about a pastoral opening, I felt like the main character in Alexander and the Terrible, Horrible, No Good, Very Bad Day. Air turbulence required not one but two attempts to land at Dulles airport. Next came the cab ride: 90 minutes of stop-and-go traffic to the outskirts of Washington, DC, in record-breaking heat.
Because of these delays, the elders and I scrambled to coordinate a new meeting location by phone. I had 15 minutes in a gas station to change from travel clothes to something nicer before the search team picked me up, so I got the key to use the restroom around back. I've never been one to quickly label a moment "spiritual warfare," but as I struggled to button my dress shirt, I was ready to rebuke the flickering fluorescent light that compounded my nausea.
Yet this prelude to our meeting wasn't the most difficult part. The worst part was shaking hands with the elders, feeling like a traitor to my current church. Under cover of darkness, my meeting wasn't just dinner and drinks with new friends; it was treachery.
Or perhaps not. If God is the one calling a pastor from one church to another, there must be a way for that transition to proceed in a God-honoring manner—right? And surely a transition that honors the Lord will also respect the churches involved, as well as a pastor's family.
Still, I couldn't help feeling that my clandestine visit made me guilty of treason.
Lonely, Guilty, and Confused
Back at the church I pastored, I sat in staff meetings planning the church's future while knowing my own future might be elsewhere. I tried to soften the certainty of plans, giving vague answers about my participation or a project's timeline. That made me feel worse and probably confused others. I wanted to let my yes be yes, but I didn't always know how.
Besides the guilt of knowing I might leave, I felt an abiding loneliness. My wife and I told only our two closest friends that we were considering a move. No one else knew. I remember doing a video conference interview in my living room while my wife took our children to a McDonald's PlayPlace—even my children couldn't know.
In hindsight, I wish I had been more open with my senior pastor. I was an associate at the time. Not every pastor can trust their church leadership with such information, but I think I could have.
Even when a pastor feels confident it's the right time to leave, there isn't a perfect way to share that news with people. Feelings will be hurt no matter how thoughtful and truthful the pastor tries to be.
Eventually, in my own transition process, I concluded it was time to leave. When I told one man I would be leaving, he asked what Bible verses had been particularly instructive as I contemplated the transition, what "word from the Lord" led me to this decision. I couldn't cite a specific verse, which disappointed him. He wanted me to speak of my departure in more spiritual terms.
Another man on staff detested the over-spiritualization of decisions—using Christianese like "God's calling" and "open doors"—when sometimes decisions are as fleshly as a lust for greener grass. How could I talk about my departure in a way that would satisfy both of these individuals?
I don't think my transition was the sinful act of chasing after a better pastorate or running away from responsibilities in my current one, but I sympathize with my coworker's aversion to over-spiritualizing big decisions. It's not unlike a church meeting that goes way past the scheduled time. One person says, "Wow, the Holy Spirit was really moving," but you know the meeting was just poorly run. It doesn't honor God when we pretend to give him credit when we are actually blaming him for our poor decisions.
The Qoheleth tells us in Ecclesiastes that there is a season for everything, a time for every matter under heaven. That doesn't mean transitions won't be lonely and full of conflicting desires. Seasons of pastoral transition feel antithetical to pastoral ministry in the same way engagements are antithetical to marriages. Engagements are meant to end; marriages are not. Pastoral transition is about yanking up roots; pastoring involves putting roots down. Engagements are filled with frenetic activity and wedding-day planning; marriages thrive on the slow burn of love anchored in vows. Pastoral transition implies movement; pastoring requires standing with both feet in one neighborhood among one flock.
When I spoke with the elders of the church I was moving to about the uncomfortable way it affected my ministry at my current church, their reply was helpful. "Good," they said. "We wouldn't want to hire you at our church if you could leave a pastorate without being conflicted."
And they were right. Shepherds can, and perhaps should, let their eyes occasionally glance beyond their own flock, but those glances should be infrequent and primarily to look for straying sheep or predators, not to find a new flock altogether. Hired hands run when a wolf comes or when someone offers better pay. If you find yourself mourning the fact that you feel like a hired hand, that's a good sign. Hired hands rarely mourn transitions; they just move.
Embrace the Struggle
"Shepherd the flock of God that is among you," Peter writes in 1 Peter 5:2 (ESV). I wish I could pull Peter aside and ask him what a pastor should do when straddling two flocks. I think he'd tell us to embrace the tension we feel as a sign that we understand the gravity involved and, conversely, to consider it a warning sign if we can bail without angst.
I've spent the last few years studying pastoral transitions and interviewing dozens of pastors. The best piece of advice I received on the topic came in the line "Don't leave without feeling conflicted"—which, incidentally, was shared with me by the elders of the church I currently pastor. Seasons of pastoral transition are conflicting. They should be, so embrace the struggle.
Benjamin Vrbicek is a teaching pastor at Community Evangelical Free Church in Harrisburg, Pennsylvania, and is the author of Don't Just Send a Resume and Struggle Against Porn.