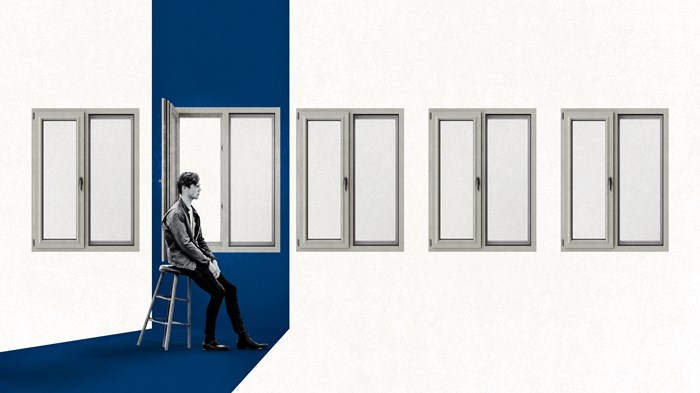 The numbers of infected pile up. Death counts are rising. Shelter-in-place restrictions are taking a toll. You've moved your office to your home, turned on a dime to livestream or record services, and lined up a series of webinars. You've managed to adapt, to keep serving people. Yet as the workday wraps up, a gnawing restlessness eats at you. You see another depressing headline. Your heart sinks.
What is this feeling?
In an interview with Harvard Business Review, David Kessler, an expert on death and loss, says the discomfort we're feeling is grief. The world has changed. City streets are barren. Businesses have shut down and investments are plummeting. Church members have lost their jobs and watched the falling Dow drain their savings. Loss is upon us—not simply the loss of things, but the loss of embodied joys.
We can't pop into our favorite coffee shop for a cappuccino and an encouraging conversation with a friend. Our children are denied the thrill of chasing one another around bark-carpeted playgrounds. Post-church-service fellowship is reduced to "gallery view" online chats. Everything is once removed, a click away from flesh and blood, face-to-face, wholesome, everyday interaction. Even a hug feels wrong.
As we adjust to working from home, lead organizational change, and implement new technologies, we must not forget to lead our churches to mourn. While the restlessness we feel may be the result of a more sedentary life, it is mingled with the grief of isolation.
Stages of Grief
Kessler and his co-author, Elisabeth Kübler-Ross, wrote the well-known book, On Grief and Grieving: Finding the Meaning of Grief through the Five Stages of Loss. Many of us have guided church members through their sorrows using these five stages. While the stages are not prescriptive steps for mourning, they do provide a map for sorting through our sorrows. Kessler applies them to our uncharted times:
Denial: This virus won't affect us.
Anger: You're making me stay home and taking away my activities.
Sadness: I don't know when this will end.
Acceptance. This is happening; I have to figure out how to proceed.
Bargaining: Okay, if I social distance for two weeks everything will be better, right?
These stages filter through our headlines and across our lips: "Can you believe the government is shutting things down? We cannot let the cure be worse than the problem! When will life go back to normal? We'll get through this together. One more week and I'm getting back out!"
I contacted the at-risk, wrote encouraging articles, recorded Psalm-based devotionals, and prayed for the anxious and disheartened. But I had not grieved myself. I began to realize that grieving is also leading.
When we read or hear these statements, it can be tempting to argue the particulars, giving our takes on the best response to the pandemic. But these sentiments often represent responses of grief to the swift losses we've seen over the past few weeks. We need to give ourselves, our families, and our churches space to grieve the loss of old securities and dearly held joys. This started for me when I chose to be honest with myself, and God, about what was going on inside of me: "Lord, I'm restless. I don't know what to do. Show me what's underneath my restlessness."
I'd leapt over anger, denial, and sadness to acceptance. I had to get on with leading the church. I contacted the at-risk, wrote encouraging articles, recorded Psalm-based devotionals, and prayed for the anxious and disheartened. But I had not grieved myself. As I sorted through things, I began to realize that grieving is also leading.
During our next staff meeting, I confessed I'd gone to bed troubled each night. I told our team that I'd been feeling a deep restlessness and that I'd sought to shoo off the discomfort with family board games, Netflix, and sleep. But it wasn't working. I confessed I needed to get beneath the restlessness, to discover what is there, to name it, and to hand it to God. I cried out to God: "I'm not enough for these people! I'm not enough for my wife and kids, for my church. I'm not enough, Lord. I miss my old life, my friends." I grieved and he cradled each grief with care.
Do you need to do something similar for yourself, your family, your staff, or your church? Grieving isn't unspiritual. Some of the greatest figures in the Bible made time to weep: Joseph, Hannah, David, Nehemiah, Esther, Peter, Mary, Jesus.
The Sixth Stage
But how do we get through grief?
Kessler recently wrote a new book exploring a sixth stage of grief—meaning. He comments, "I did not want to stop at acceptance when I experienced some personal grief. I wanted meaning in those darkest hours. And I do believe we find light in those times."
Meaning can be quite helpful in sorrow. Confined to Auschwitz, Austrian neurologist Viktor Frankl witnessed the slow, steady, dehumanizing effects of the Nazi concentration camps. He recalls watching a patient who, upon his last breath, was immediately ransacked by prisoners for shoes, clothes, and string. Many of his fellow prisoners committed suicide.
Then Frankl stumbled upon something.
He noticed he was able to coax prisoners out of suicide by imploring them to discover meaning. One laborer expressed a longing to be reunited with a child (love). Another aspired to finish a series of scientific books (vocation). By embracing the meanings of love and vocation, these prisoners learned to persevere under the harshest of circumstances and survived.
More than Stages
There is no more profound meaning than the gospel of Jesus Christ. It extends to us the sturdy handholds of truth and grace. Truth: Our restless souls are made to rest in Jesus Christ. Grace: God patiently and generously coaxes us toward him us as we fumble about for him. We do well to heed Frankl's hard-won wisdom and search for meaning. The saints need pastors who will guide them to the handholds of truth and grace, whereby they may pull themselves up through sorrow into abiding meaning.
However, perhaps more profound than the meaning coaxed from his fellow sufferers was the fact that Frankl gavehimself to them. It wasn't just a cogent raison d'être that got them through their sorrows; it was a person. It was Frankl's presence.
While we are secluded from one another, we are not isolated from the Father, Son, and Holy Spirit. God is present with us in our grief and in our sorrow. Prayer and meditation put us in touch with his comforting presence. Unlike a good friend, Jesus is always available. Unlike our go-to distractions, the Father is never distracted from our needs. And unlike meaning, the God of all comfort consoles us with custom-cut mercies for every sorrow (2 Cor. 1:3–4). God is present. The Spirit follows us even to the grave; there he will take us by the hand and lead us (Ps. 139:8, 10). We are held by the hands of a suffering Savior.
Let's tell the Lord our sorrows and name our griefs. Let's seek a cure, but not more than we search for Jesus. And let's bring others along in our grief and in our comfort. Pastors, we need not comfort our church's every sorrow. The Father, Son, and Holy Spirit have that covered. But we can show them the way God has comforted us.
As the effects of the pandemic continue to wash over us, may we grieve with hope—in the presence of the ever-present Comforter who will one day restore all our joys.
Jonathan K. Dodson is the founding pastor of City Life Church and the author of Our Good Crisis: Overcoming Moral Chaos with the Beatitudes.