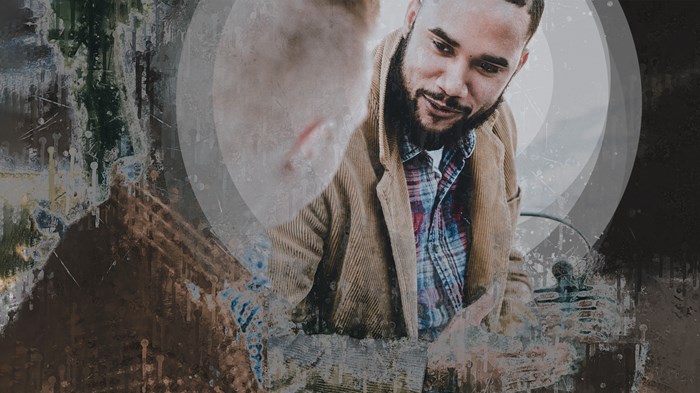 For 45 years, I have been talking about racism and reconciliation. The tragic and unnecessary deaths of Auhmad Arbery, Breonna Taylor, and George Floyd; the nationwide protests; civil unrest; and political turmoil lead to me lean on the hymn:
Just a few more weary days and then, I'll fly away;
To a land where joy shall never end, I'll fly away.
I'm weary and I want something better. While sometimes helpless and often answerless, I'm not hopeless. My spirits are buoyed by the psalmist's declaration, "I remain confident of this: I will see the goodness of the Lordin the land of the living" (Ps. 27:13). The promised goodness of the Lord is the gospel of Jesus Christ.
After graduating from college, I returned home to minister in my impoverished hometown of Pembroke Township, Illinois. In addition to the 60–70 hours a week I spent teaching in high school and after-school and family programs, I also founded and published a newspaper, ran for political office, and sat on the board of a health clinic. Understandably, I wore myself out trying to fix all that ailed my community. As I lay flat on my back, God asked me, Are you done yet? He spoke a word into my life that has shaped everything I have done since: "I am not ashamed of the gospel, because it is the power of God that brings salvation to everyone who believes" (Rom. 1:16).
God impressed upon my heart that my vehicle and focus for community transformation was not going to be education, the media, or politics, but preaching the gospel. There were members of my community work who now wondered whether I was becoming too heavenly-minded and hence no earthly good. They asked if this gospel was only about the great "by and by," a gospel that encourages the broken to patiently suffer hell now and look for heaven later, a gospel that ignores injustice with the hope that "in that great getting-up morning," all will be well.
These colleagues questioned my commitment to a gospel that seemingly lacked power to change present circumstances. This gospel had often been used to enslave and oppress rather than liberate as promised. I understand. This gospel has been obscured by centuries of racism, religion, cultural, and ethnic genocide; denominationalism; politics; money; and power plays. I don't blame people for wanting no part of it.
You have to scrape past the centuries of bad paint to uncover and get back to gospel power. Our hope lies in the simplicity and purity of Jesus Christ and his calling:
The Spirit of the Lord is on me,because he has anointed me to proclaim good news to the poor. He has sent me to proclaim freedom for the prisoners and recovery of sight for the blind, to set the oppressed free, to proclaim the year of the Lord's favor (Luke 4:18–19)
If we are going to see transformation in our culture, we must preach the unpainted, unfinished, gospel of the heavy, rough-hewn, blood splattered, sweat soaked, and nail-scarred old rugged cross. This is the gospel that brings about personal and cultural transformation in today's broken world. This gospel speaks to racism and brokenness, to despair and helplessness, to disenfranchised masses and disillusioned warriors.
The gospel is illustrated in the account we read in Matthew 14:22–33 where the disciples are in a desperate fight for their lives, boat-bound on a lake at night, facing a fierce storm. In the midst of the struggle, Jesus walks to them on the water. This story illustrates the unpainted gospel that is good news to an exhausted and stressed-out world.
The good news is that Jesus is one of us.
Jesus assured the disciples that he was not of a different world, he was not wholly other, he was not an enemy, but that he was one of them. In becoming human and making his home among us (John 1:14), hetore down the walls of "us" and "them" and built a bridge of "we."
The good news is that Jesus is with us.
Because he was one of them and with them, Jesus was fully aware of the impact of the storm they faced. He knew the fear and anxiety it produced. Jesus is with us in the storm we face now. As he invited Peter , to "come" to him on the water, so he invites us to walk with, rest in and learn from him (Matt. 11:28–30). He shows us how to live in the brokenness the storm produces but not allow the brokenness to live within us (Heb. 4:15).
The good news is that Jesus saves us.
Peter began to sink when he took his eyes off of Jesus and relied on his own capacity to walk on water.
We sink when we try to live a life apart from God, attempting to solve our problems solely with political action, military solutions, and social welfare programs. Like Peter, some of us arrogantly try to water-walk without God. Some of us stay in the boat because we have lost hope. In either case, we have lost sight of God as the source of salvation.
When Peter realized his inability to save himself, he cried out to Jesus, "Lord, save me." Jesus calls us to look to him for salvation and humbly to take his outstretched hand of grace. Jesus does for us what we cannot do for ourselves. Jesus' death sets us free from the bondage, the brokenness, that causes us to focus on self rather than the Savior (2 Cor. 5:21).
The good news is that Jesus empowers us.
Jesus died for us to set us free from our brokenness, but he rose again to give us power to live. It is the presence of God in our lives in the person of the Holy Spirit that gives us power to live the life that Jesus demonstrated by living with us.
Our mandate as the body of Christ is to live in this world in the same way that Jesus did. When we do, we change the world.
We are to break down the walls of "us" and "them" and build bridges of "we." Conflict arises from categorizing neighbors as "other." The gospel calls us to live into the reality that the blood of Christ has already broken down the walls of hostility that keep us apart (Eph. 2:14). We need to believe this and treat each other like we believe it.
We are to live with one another. We change the narrative of racial strife and national division when we begin to walk with others, learn to hear their stories, feel their pain, cry with those who cry, and weep with those who weep.
We are to die. We are to emulate the attitude of Christ that humbly set aside his privileges in order to help others gain their privilege. A heart transformed by the love of God will sacrifice itself for the good of others. Dying to self is more than the willingness to take a bullet or step in front of a bus (it's easy to say we will do those things because in reality, we will rarely be in a position to make such a choice). It's the willingness to give up our prime position in line, to sacrifice our time to humbly serve others (John 13:1–8), and to put others' needs before our own (Phil. 2: 3) who have been denied even a place in line, even though it wearies us.
We must tap into resurrection power. As Jesus rose in power to empower, so must we. When we live in resurrection power, we overcome our naturally selfishness and divisive desires. Then, when we let our light shine, we have the capacity to bring light to others because we have the light of life. When we live as people transformed by the gospel, we become change agents that transform relationships, communities, systems, and organizations.
The gospel is not mere words we confess, but a life to be emulated.
Jason Perry currently serves as the Co-Pastor of Living Springs Community Church (Glenwood, IL) and as the Director of Oak Tree Leadership. He has been in full time ministry for nearly 40 years serving in a variety of local, national and international pastoral and leadership roles.