April 28, 2020
What is "Central" to the Gospel?
Claiming something as central is too often rhetoric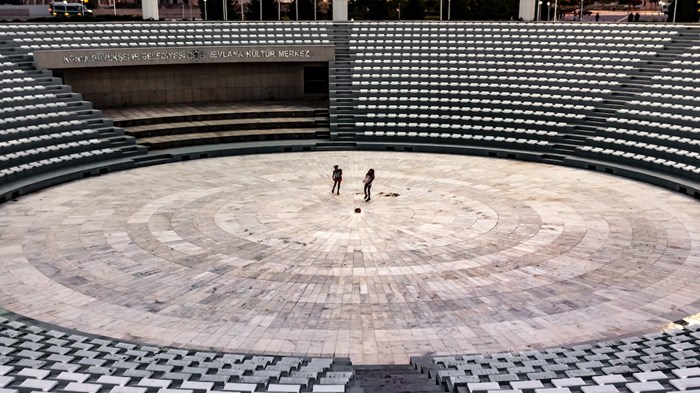 It is claimed by some that the "center" of the gospel is justification by faith or that "central" to the gospel is justification by faith. How does one make a compelling case for what is "central"? The centrality for justification by faith for the content of the gospel is something I've heard many times.
This post will probe whether we might improve our conversations about what is "central" to something.
One could never, for instance, say that justification by faith is central to Moses or to Isaiah or to the Jesus of the Gospels. In the Gospels there are two very common expressions: in the Synoptics it is "kingdom" and in John it is "life."
One could never say justification is central to John's letters or to Hebrews or to James or to Peter.
A couple illustrations of how I have heard similar claims to "centrality" in theological discussions.
When I was a seminary and PhD student in the USA Jack Dean Kingsbury was busy making his case that the "central" title for Jesus in the Gospel of Matthew was "Son of God," which was more important of a title than Messiah or Son of Man or Lord. Because Kingsbury was the leader of the Seminar on the Gospel of Matthew, his view got lots of attention in SBL Meetings. I remember beginning my PhD studies on Matthew and having conversations with various Gospel scholars in England and one of the most common responses there was "Is there such a thing as a 'most important' or 'central' title?" They were not only right but it was impossible to prove which title was most important. It was also clear that they thought this was an American conversation and not a European one.
Not that long ago an old friend of mine in NT studues, Tom Schreiner, made a case that "penal substitution" was the central metaphor/idea/category for atonement in the NT, and that all other metaphors should be explained by penal substitution. Schreiner was responding in part to my book, A Community called Atonement, in which I had argued that we need all the metaphors and that no one of them was "central." I remember reading him and thinking, How does one prove such a thing? And, truth be told, I found his argument lacking though he worked hard to establish his case. We don't need a "central" metaphor. What we need is the right atonement theory at the right time for the right person.
Now when it comes to gospel there's a big (and only one big) reason why justification by faith is claimed to be central: His name is Luther or the movement is called Reformation. What Luther and the Reformation got right was that our justification is not based on anything we can do and that it is rooted entirely in what God has done for us and all we do is trust God. Hence, justification by faith.
Central to the Reformation, then, one could say was justification by faith. There's a lot that goes down here, but if the Reformation was the rediscovery of the gospel and for Luther the Reformation was his rediscovery of justification by faith, and if justfication by faith was what Luther discovered in his own relation with God and his work on Psalms, Romans, and Galatians, then justification gets close to centrality.
Fine and good. Luther is Luther, a man for his time; the Reformation is the Reformation, and it was a movement for its day and time. Both matter today, please understand.
But that's not exegesis of "gospel" in the New Testament.
So we ask, What is central to the gospel in the NT?
We can begin with this, and no one will disagree: God is at the center and, since God the Father sent God the Son, then at the center is Jesus and his life and death and burial and resurrection and ascension and return. No one disputes that.
But there's something quite often distorting when making a claim about something as "central" and it's this: most of the time what one claims as central is then used to explain everything in light of what is claimed. Hence, the claim to centrality becomes one's explanation in light of one's assumption. To explain is not to establish. The major pushback against NT Wright's "end of exile" for Jesus was that he gave that expression full explanatory power and the power of rhetoric repetition became convincing (for some and not others). Douglas Campbell's pressing hard on the distinctions between covenant and contract has the same kind of explanatory power (and weakness). if you use dispensational as a hermeneutic grid long enough you begin to see it everywhere. If you read Barth, Barth, Barth … before long you see Barthian themes everywhere. Enough is enough.
Using the term "central" then tends too often to be an explanation of everything in light of one's claim of centrality and then concluding that one's explanation is what is central. At times it actually works; often it does not.
Matthew Bates, for instance, doesn't talk about what is "central" to the gospel, and speaks of Jesus' enthronement as the "climax" to the gospel.
So, I would argue that instead of using an explanation (justification by faith) as what is central to gospel that we instead look to what is common to the most explicit statements. This permits us to hear what Scripture is saying and it permits us to let Scripture do the determining (if not in more ways the explaining too).
So, I would argue that instead of using an explanation (justification by faith) as what is central to gospel that we instead look to what is common to the most explicit gospel statements. This permits us to hear what Scripture is saying and it permits us to let Scripture do the determining (if not in more ways the explaining too).
Which is what I have done in The King Jesus Gospel.
Which is what Matthew Bates does in Gospel Allegiance.
My contention that we should go to Four Distinct Texts. Why? Because each explicitly makes the claim of telling us the gospel (in distinct ways). These are the four texts I bring up all the time (Bates very helpfully brings in Romans 1:3-5):
2 Timothy 2:8
1 Corinthians 15:1-28
The gospel sermons in the Book of Acts, and I have often focused on Acts 10:34-48
The Gospels themselves as the gospel itself (as John Dickson recently announced again)
Because I did not include this in my last post on this topic, here is Peter's sermon in Acts 10, which is a gospel sermon to a gentile who believes and repents and gets baptized. Please read it again.
Then Peter began to speak to them: "I truly understand that God shows no partiality, but in every nation anyone who fears him and does what is right is acceptable to him. You know the message he sent to the people of Israel, preaching peace by Jesus Christ—he is Lord of all. That message spread throughout Judea, beginning in Galilee after the baptism that John announced: how God anointed Jesus of Nazareth with the Holy Spirit and with power; how he went about doing good and healing all who were oppressed by the devil, for God was with him. We are witnesses to all that he did both in Judea and in Jerusalem. They put him to death by hanging him on a tree; but God raised him on the third day and allowed him to appear, not to all the people but to us who were chosen by God as witnesses, and who ate and drank with him after he rose from the dead. He commanded us to preach to the people and to testify that he is the one ordained by God as judge of the living and the dead. All the prophets testify about him that everyone who believes in him receives forgiveness of sins through his name."

While Peter was still speaking, the Holy Spirit fell upon all who heard the word. The circumcised believers who had come with Peter were astounded that the gift of the Holy Spirit had been poured out even on the Gentiles, for they heard them speaking in tongues and extolling God. Then Peter said, "Can anyone withhold the water for baptizing these people who have received the Holy Spirit just as we have?" So he ordered them to be baptized in the name of Jesus Christ. Then they invited him to stay for several days.
You tell me What did Peter preach? Better yet, About Whom did he preach?
Jesus. His gospel sermon to this gentile who knew some Scripture told him the story about Jesus – what he did and what was done to him and what God did to undo what was done to him. Those who trust that Jesus have their sins forgiven.
First Jesus, then salvation.
Speaking of salvation, read the following from my King Jesus Gospel, and then ask how anyone could be possibly confused by what I say about the gospel of Jesus the Savior:
However we tell the Story of Jesus, that story must deal with "sins," and it must deal with those "sins" as something "for which" Jesus died. We can tell this story in a number of ways — and I'm thinking right now of Brenda Colijn's richly textured new book that explores images of salvation in the Bible — but the story must aim at showing that the gospel saves. My own preferred way to describe the comprehensiveness of the saving death of Jesus is to see that three things happened in that death: Jesus died (1) with us (identification), (2) instead of us (representation and substitution), and (3) for us (incorporation into the life of God).

That is, he first of all entered fully into the human condition — and not just our sinfulness but the fullness of our condition. Second, he died our death as our representative and as a substitutionary death. That is, he stood in our place and shouldered the punishment due us for our sins, and that punishment according to the uniform witness of the Bible is double death, both a physical death and a spiritual/eternal death. Third, his death did something for our good: his death procured forgiveness of sins, reconciliation with God, justification before God's tribunal — and I'll sidestep for now the comprehensiveness of this term, ransoming us from our slaveries and liberating us from all that entraps us. Ultimately, Jesus' death (and resurrection) leads us into the very presence and life of God. I believe this and more are at work when Paul says "for our sins."" [HT: a reader sent this to me to remind me of what I had written!]
Tell them about Jesus – and the story of Israel comes through with "all the prophets" – and people will be drawn by the Spirit to him and in him such believers will find redemption. That's gospel preaching.
What is "common" to all these gospel texts and these gospel sermons in Acts is that they are all focused on Jesus: who he was/is, what he did, what he has accomplished, and what he will accomplish.
What is common then, I would suggest, just might be what we want to call central: at the center of the gospel texts in the NT is God as revealed to be for us in Christ.
Jesus Creed is a part of CT's Blog Forum. Support the work of CT. Subscribe and get one year free.
The views of the blogger do not necessarily reflect those of Christianity Today.