April 15, 2020
What to do with Our Fears
Christian faith comes into play when fear becomes present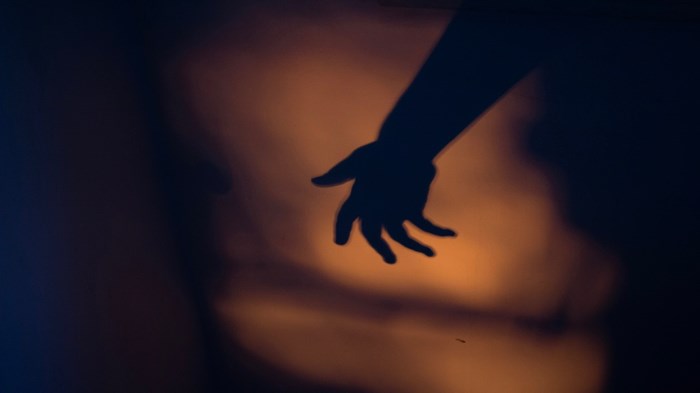 When I was a little girl, my greatest fear was taking out the trash. And despite my negotiations and pleadings with my siblings for a chore swap, I always ended up with the terrible task. Our big industrial-sized trash can sat at the very end of a long drive way and each night when it was time to take the trash out, it was already dark. The inside door leading to the garage was as far from the trashcan as you could possibly get. I remember hesitantly peaking my head out the window, looking with dread at the long drive way and the big trash can at the end of it. Slowly, I would crack the door, reaching my hand through the crack to push the button to open the garage. Then I would fling the inside door open, sprint and duck under the opening garage door, down the long drive way, where I would fling open the garbage can, dump the trash in, slam the garbage can lid shut and then sprint back, with great panic slam the inside door shut, and stand safely behind it with my heart pounding in my chest. My mom asked me so many times, what I was so afraid of. I don't know. I was afraid of the dark. I was afraid of the unknown. I was afraid that someone was lurking outside behind the trashcan waiting to grab me and kidnap me. I was afraid someone would attack me and I would have to go to the hospital. I was afraid of hospitals.
I can laugh about these fears now. But the truth is, fear isn't funny. Whether silly child-hood fears or real life adult fears, life always seems to give us a reason to fear.
We are living through a global pandemic today. These days will be written about in history books. Our grandchildren will ask us questions about living through this the way that we ask ours about living through the Great Depression.
Anyone who says that they have no fear during this time is either the healthiest and deeply centered person on the planet (Richard Rohr, maybe?) or they are living with a smidge of denial. We have legitimate reasons to fear.
And this has me asking the question, "What do we do with our fear?" We can stuff it down and ignore it. We can try and numb it with food, alcohol, working out, shopping, or binging Tiger King. We can let it morph into anger and spill out onto those around us. We can grasp for control in the midst of it, allowing OCD behaviors to become how we manage. Or we can take it to God. What does that look like? Consider the example of Paul.
Phil 4:6-7 NIV
"Do not be anxious about anything, but in every situation, by prayer and petition, with thanksgiving, present your requests to God. And the peace of God, which transcends all understanding, will guard your hearts and your minds in Christ Jesus."
Paul writes to a church facing fear and anxiety. They are facing threats and persecution. Paul himself is in prison and is uncertain if his arrest will end in execution or if he will be freed. Paul, as well as the Christians at Philippi, had daily experiences with fear and anxiety.
Anxiety, in this context, is defined as fear and genuine concern over the future.
They wondered together,
Will we be killed?
Will our children be killed, beaten, burned, or jailed?
Will we be attacked?
Will we be ostracized, losing jobs and friendships and social status?
A couple of observations.
These are not silly things to worry about. The Christians, as well as Paul, have genuine concern over things that really matter.
It is important to note that Paul's tone is gentle as he commands the Christians to pray. He is not angry or frustrated, the way that we often treat ourselves in the midst of fear and anxiety. He is loving and empathetic. Surely his tone is because he knows what they are going through.
3. Paul invites the Christians to do as he does, to pray. But to pray in a certain way. He instructs them to present their requests to God in the face of their worst nightmares coming true. To pray in a way that tells God all the details of their requests. In other words, Paul is saying, "Lay it all out, friends and don't leave anything out. Tell God about every fear and every anxiety. Play out every worse-case scenario that you have. And do this exercise with God, before God and in God's presence. See what God will say and do as you present your fears to God."
This is what I am doing these days. And I invite you to join me.
In the midst of fear and anxiety, treat yourself the way Paul treated the Christians at Philippi. Talk to yourself the way you would talk to your best and dearest loved one.
Lay out your requests before God in intimate detail. In this place, ask God, "God, where are you in this? What is the truth in the midst of this fear?"
Jesus Creed is a part of CT's Blog Forum. Support the work of CT. Subscribe and get one year free.
The views of the blogger do not necessarily reflect those of Christianity Today.