December 5, 2020
Weekly Meanderings, 5 December 2020
Our weekly selection of links across the web.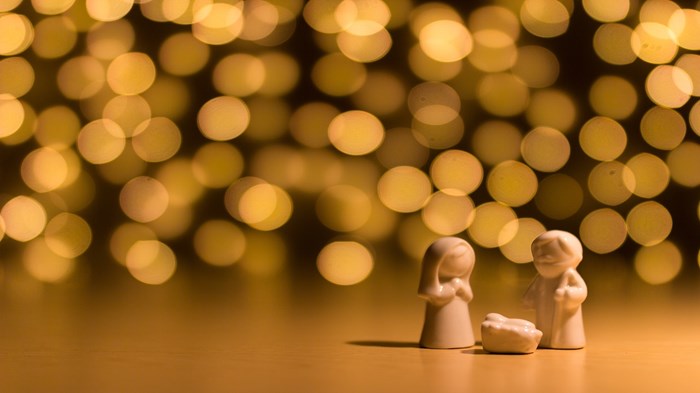 It's Advent, so we offer to you a blessing as you wait in anticipation of the joy of the Messiah.
Tom is one of Chicago's greats:
CHICAGO — Loyal WGN News viewers have watched Chief Meteorologist Tom Skilling's weight loss for months. However, few know the struggles off the air that culminated in his transformation.

In March, Skilling underwent gastric bypass surgery, but the procedure was just the beginning. In February, the meteorologist shared the news about his procedure with his thousands of followers on Facebook.

"As anyone who's struggled to get weight off and KEEP it off, you realize at some point there are some people who need help beyond merely dieting," he said in his post.

Few knew the man with the big laugh and the wonderful appetite for life, struggled.

"I used to be embarrassed at the promotional ads they would run on TV because I was so overweight," Skilling said. "And I thought, 'You look awful. That's an embarrassment not only to yourself but to your station.'"

Chasing tornadoes was an incredible experience, but Skilling said he couldn't bare to look at the video. He said WGN viewers took notice and said they would write to him and say they were concerned about him and said he was overweight.

"You at first are embarrassed that somebody is saying that to you, but really, they are absolutely right," he said.

And the scientist who calculates and crunches numbers every day identified some concerning numbers of his own — weight, blood pressure, insulin and cholesterol were all rising. It was a developing health storm reminiscent of his father.
WASHINGTON (Reuters) — The U.S. Centers for Disease Control and Prevention (CDC) on Wednesday said it was recommending shorter self-quarantine periods after potential exposure to the coronavirus of seven days with a negative test and 10 days without a test.

Health authorities currently call for a 14-day quarantine after close contact with a person who has COVID-19 in order to curb the transmission of the virus.

The CDC still recommends the 14-day quarantine period for those exposed to COVID-19, calling the shorter options alternatives it hopes will increase compliance, CDC officials told reporters on a conference call.

The CDC updated its definition of what constitutes close contact in October to include direct physical contact, sharing food utensils, or exposure of 15 minutes spent six feet or closer to an infected person.
The Salvation Army Metropolitan Division said it received its first gold donations of the 2020 Christmas season.

A pair of generous donations were dropped in two of their Red Kettles over the Thanksgiving holiday weekend.

A 1-ounce 2005 $50 American Gold Eagle coin was dropped into a kettle outside a Jewel-Osco in Bartlett on Saturday.

The Salvation Army Tri-Corps Center in St. Charles will receive the anonymous donation which is worth an estimated $1,900, according to a release.

Later that day, a 1-ounce fine gold bar was dropped into a kettle outside a Jewel-Osco in Mundelein.

The donation, also worth an estimated $1,900 will help fund programs and services at the Salvation Army Waukegan Corps, officials said.

The Salvation Army's Red Kettle campaign dates back to 1891 in San Francisco.
ELMIRA HEIGHTS, N.Y. (WETM) — A 10-year-old boy from New York got a visit from a special person after completing a challenge.

Rodney Smith Jr. started "Raising Men Lawn Care" in 2016 after helping an elderly man mow his lawn in 2015. He then decided he wanted to help others by mowing lawns for free for the elderly, disabled, veterans and single parents.

Smith Jr. has since traveled all over the United State mowing lawns for free in each state. This jump started the 50-yard challenge.

Megan Starkweather saw the challenge on her Facebook back in March and thought it was pretty neat. She asked her 10-year-old son Julian if he would like to do it and he agreed.

"We started going around asking all our neighbors. We live in an elderly neighborhood. Um, and they're like yeah we appreciate it and there was a couple of houses that they were vacant, either for a temporary time being or the owner had deceased. And we did theirs as well," Starkweather told NewsNation affiliate WETM.

At least one kid has finished the challenge in each state. Smith Jr. said never expected the challenge to explode like it has.

"It's something that you can never expect to see I believe it was God's plan it's like a book. And you just take it chapter by chapter what God has already written the book for you," Rodney said. "So it's just up to you to read the chapters in the book and see what he has planned for you."
ATLANTA (NewsNation Now) — A 12-year-old Georgia boy is making history after being admitted to Georgia Tech.

Caleb Anderson has dreams of studying aerospace engineering and other planets.

It was not hard for Kobi and Claire Anderson to discover their firstborn son was different. The bubbly baby boy was babbling and trying to speak at just 3 weeks.

"He would mimic whatever people were trying to say. You can tell that he wanted to speak," said Claire Anderson.

So his mother tried a new approach.

"I would teach children to read, as they were learning to talk," said Claire.

At just 6-months-old, Caleb showed his mom he got the message.

"He was kind of like reading back. I was like 'I was right,'" exclaimed Claire.

At just one year old, his reading improved and so did his math skills. At 2 he was mastering sign language and fractions. The Andersons say when all other parents focused on material things, they placed education and morals at the top of the list.
Before my recent retirement, I spent four decades in church work, mostly as a parish pastor. During those years, I always held a special place in my heart for doubters. I loved interacting with people who could relate to the words of Mark 9, "Lord I believe; help my unbelief!" If you resonate with that text, this website is for you.

The sole purpose of Doubter's Parish is to help thinking people navigate faith in the twenty-first century. In short, it serves as a "digital parish" for people grappling with traditional beliefs and institutional religion in the modern era. Not all the materials on this site focus on faith struggles. However, everything posted here respects doubters, both within and outside the church.

The books, articles, and posts on this website are all free, including my new downloadable novel, An Inconvenient Loss of Faith. The site also provides resources for pastors, including more than one hundred sermons. My compensation is being allowed to serve a parish of doubters, and I find great joy in that service.

~ Martin Thielen
As recently as 20,000 years ago—not long in geological terms—Britain was not, in fact, an island. Instead, the terrain that became the British Isles was linked to mainland Europe by Doggerland, a tract of now-submerged territory where early Mesolithic hunter-gatherers lived, settled and traveled.

Doggerland gradually shrank as rising sea levels flooded the area. Then, around 6150 B.C., disaster struck: The Storegga Slide, a submarine landslide off the coast of Norway, triggered a tsunami in the North Sea, flooding the British coastline and likely killing thousands of humans based in coastal settlements, reports Esther Addley for the Guardian.

Historians have long assumed that this tsunami was the deciding factor that finally separated Britain from mainland Europe. But new archaeological research published in the December issue of Antiquityargues that Doggerland may have actually survived as an archipelago of islands for several more centuries.

Co-author Vincent Gaffney, an archaeologist at the University of Bradford, has spent the past 15 years surveying Doggerland's underwater remains as part of the Europe's Lost Frontiers project. Using seismic mapping, computer simulations and other techniques, Gaffney and his colleagues have successfully mapped the territory's marshes, rivers and other geographical features.
Based on recent statistics, the Episcopal Church in the United States of America (ECUSA) faces a "dire" and "vastly diminished" future—and may even cease to exist in a few decades. Although numbers can't tell the whole story of a church body, the ECUSA has experienced major declines in attendance and membership.

"The overall picture is dire," says the Rev. Dwight Zscheile, an Episcopal priest and professor. "Not one of decline as much as demise within the next generation unless trends change significantly." During the past decade, the ECUSA has lost one-quarter of worship attendees.

"At this rate," says Zscheile, "there will be no one in worship by around 2050 in the entire denomination." While offering pledges have increased, "the fact that fewer people are giving more money is not a sustainable trend over the long term," he adds.

On a recent episode of "The Holy Post" podcast, researcher Ryan Burge sounded an alarm by predicting that the Episcopal Church will be dead within 20 years. In a follow-up "Religion in Public" blog, he clarifies that while that faith tradition may not completely disappear, "it will be vastly diminished" and "will very likely be on life support."

Burge breaks down several factors in the denomination's decline, focusing first on the graying membership. About 55 percent of all U.S. Episcopalians are at least 60 years old. And out of America's 20 largest religious traditions, the ECUSA has the highest average age.
MLB is putting on a big squeeze, sad to say:
NEW YORK — Major League Baseball is creating a minor league for top eligible prospects leading to the summer draft.

The wood-bat MLB Draft League is launching with five teams and could add a sixth, MLB said Monday. Teams will play a 68-game regular season that includes an All-Star break that would coincide with the draft in early July.

Teams are being awarded to communities that lost franchises as MLB moved to shrink the affiliated minor leagues from 160 to 120 teams this offseason following the expiration of the Professional Baseball Agreement, which governed the relationship between the majors and minors. MLB has planned to eliminate the separate governing body of minor league baseball.

The founding members of the MLB Draft League are located in Ohio, Pennsylvania, West Virginia and New Jersey: the Mahoning Valley Scrappers, the State College Spikes, the Trenton Thunder, the West Virginia Black Bears and the Williamsport Crosscutters. MLB said it is in discussions with a sixth team that it hopes to announce soon.

The season will run roughly from late May through mid-August, broken into halves. The first half will be a showcase for draft-eligible high school, college and junior college players. Following a multiday break for the draft, rosters will be restocked with the best players passed over by MLB teams who are still interested in signing.

The start of the season will overlap with the College World Series, meaning some top college players won't be able to join until after opening day, similar to other college summer leagues like the Cape Cod League.

The league will be operated by Prep Baseball Report — a scouting, events and media organization focused on youth ball — and former Cape Cod League coach Kerrick Jackson has been appointed president.
(NEXSTAR) — Through the month of December, Starbucks is offering free coffee to "those keeping our communities safe during COVID-19."

The company announced Wednesday that any customer identifying as a frontline responder to the pandemic will receive a tall brewed coffee — hot or iced — free of charge.

"It has been an extraordinarily difficult year, especially for the front-line responders who are serving our communities," Virginia Tenpenny, Starbucks vice president, Global Social Impact, said in a release. "We want to show our deep gratitude for those who support and protect us every day with a small gesture of kindness and a cup of coffee."

The offer is available for doctors, nurses, public health workers, pharmacists, dispatchers, firefighters, paramedics, police officers, dentists and dental hygienists, mental health workers, hospital staff and active-duty military, the company said.

Starbucks has also donated $100,000 to the National Alliance on Mental Illness (NAMI) to support virtual mental health resources for frontline responders and this holiday season plans to surprise 50,000 responders with care packages and Starbucks gift cards.

Since the start of the pandemic, Starbucks has given away more than 2 million cups of coffee and 300,000 care packages and letters to frontline responders.

The offer of free coffee can be redeemed at Starbucks' U.S. locations.
Jesus Creed is a part of CT's Blog Forum. Support the work of CT. Subscribe and get one year free.
The views of the blogger do not necessarily reflect those of Christianity Today.