July 24, 2020
Mark's Gospel as Formational
Mark's Gospel is organized to help people remember and live
In the history of the church and in preaching the Gospels of John and Matthew have been the favorites with perhaps Luke third and Mark fourth. Helen Bond, in her wonderful new book The First Biography of Jesus, in some ways aims to suggest otherwise.
She urges us to shelve Mark with the biographies.
Many Christians, of course, operate with an image and memory of "Jesus" and not so much the various portraits of Jesus in the individual Gospels. Fair enough. Others, not least those who are called to teach and preach the Gospels, will have a more subtle knowledge of the various approaches to Jesus in Matthew, Mark, Luke, and John.
Take the organization of Mark's Gospel. Some (include me) have been critical of his style and organization. Why? From Bond's book: It has an abrupt beginning and ending, an absence of anything about Jesus' family and parents, some scenes are just too brief and others seemingly unimportant (why include a young man running away naked?), and many think Papias compared Mark to Matthew (or John) and found him different or even lacking.
Many have followed Papias.
Bond thinks otherwise.
There is a basic geographical plot: in Galilee, on the way from Galilee to Jerusalem, in Jerusalem.
More significant, however, is that Mark is filled with episodes and so Bond joins others to called it an episodic narrative. She's right. Plus, there are collections. Say, 2:1-3:6 and the intense contest of Jesus and those who questioned him.
Biographies in the ancient world had episodes, and they tend either to open up the character of the primary person or to be exempla/examples for how to live.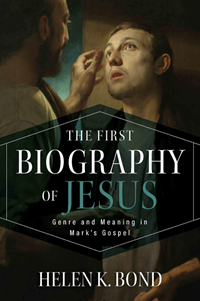 Image: Cover Photo
The focus in chps 10—16 is not unlike biographies that also dwell on the last days of a philosopher or politician.
This episodic nature of Mark deserves consideration. What Mark does is reduce events in the life of Jesus to brief episodes and these bring out what is typical and characteristic of Jesus. These episodes are of course hung on that basic geographical plot but also on one clearly moving with destiny: Scripture predicted the Messiah would die and be raised. Hence, Mark moves us sometimes hurriedly toward the destiny in darkness at Golgotha.
Yet, the episodic nature also provides for readers and early Christians a way to live. The stories are brief enough to be memorized and remembered. They are varied enough to apply to many dimensions of life. They are paradigmatic enough to be used in various contexts by various people.
The Gospel of Mark, then, while not sorted out into a detailed chronology as one might expect today, is sorted in a way for maximal value for ordinary Christians to learn about Jesus and to remember about Jesus and to walk in the way of Jesus.
Jesus Creed is a part of CT's Blog Forum. Support the work of CT. Subscribe and get one year free.
The views of the blogger do not necessarily reflect those of Christianity Today.