May 2, 2020
Weekly Meanderings 2 May 2020
Our weekly selection of links across the web.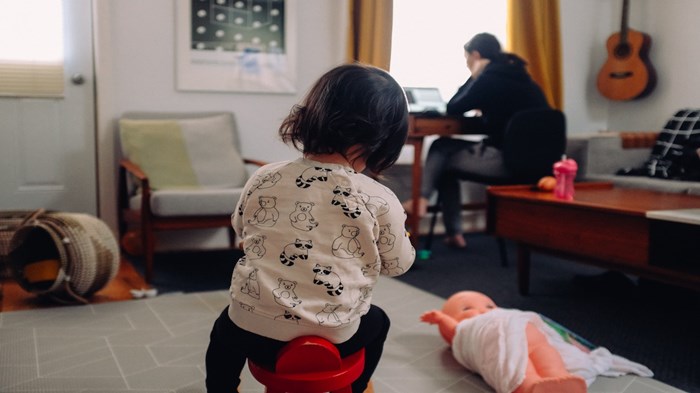 I would not have guessed six weeks ago that we'd still be in lockdown in the USA and in our state, but we are… and it's getting old and it's important that we keep it up.
Working from home has plenty of little challenges.
One of my friends when I was a prof at TEDS was also a regular player with us on the basketball courts, Bruce Fields. Bruce was a strong player with a deadly shot and we got to team up a number of times – and then we shared the joys of sons playing baseball and then I heard some time back that Bruce had a serious battle with cancer. I'm so glad that Vince Bacote wrote this up for CT:
Early last week, theologian Bruce Fields lost a 21-month battle with brain cancer. I met him in the fall of 1990, near the beginning of my time as a student at Trinity Evangelical Divinity School. With the exception of Doug Moo, he was the tallest faculty member, a basketball player who knew how to play the big man's game. I remember learning that one of his coaches had been Chuck Daly (who went on to coach NBA championship teams with the Detroit Pistons) and asking him about his experience. He did not enjoy Daly's approach of playing mind games and other forms of manipulation. I was hoping for some anecdotes about glory days under a future celebrity coach; Bruce revealed the more complicated and unsettling truth. I discovered that Bruce would tell you the truth as it was and did not seek easy or palatable answers to questions, whether about basketball, theological questions, or the world of evangelicalism.

When I arrived at Trinity, I was stepping into a world of theological education at an institution that placed a premium on academic excellence and publication. Before long, I found myself in those conversations with other students where you admire the achievements of certain faculty members. As I recall, not many brought Bruce into this conversation. While there are reasons these conversations emphasized some professors with more publications or prominence in the evangelical debates of the day, I know now that I missed the opportunity to learn how Bruce was walking through a unique experience: that of an African-American theology professor in an evangelical institution. …

Though he is no longer with us, there is still much to learn from him. Bruce was a highly reflective and humble man. He had tremendous knowledge but his discourse never laid an emphasis on how much he knew. Rather, what I picked up from him was a perpetual state of inquiry. He never hesitated to share his convictions but seemed aware that there was always much more to be known; he wanted to tread the academic path with curiosity, always seeking to learn more. He had a learner's mindset and patience with the process.
Come to church, but no singing!
Germany is to set out guidelines for holding religious services during the coronavirus pandemic with a list of strict restrictions expected to include a ban on singing.

Religious services have been banned since the start of Germany's lockdown in mid-March and some worshippers have expressed fury at the government's apparent slowness in plotting a route back to reopening churches.

A loosening of restrictions a week ago after Germany's infection rate decreased sufficiently, saw small shops, along with bicycle repair workshops, car washes and other businesses, able to operate again. But places of worship have not been viewed as such a political priority, despite pleas from religious leaders that spiritual nourishment is as important to many Germans, if not more so, than shopping.

One Catholic community in Berlin, which insisted on continuing to celebrate mass, even took the government to court over the ban.

Angela Merkel, a pastor's daughter and herself a regular church-goer, will meet the leaders of the country's 16 states on Thursday to coordinate a nationwide set of rules.

Religious leaders have agreed in advance meetings a set of general rules on strict physical distancing and the prohibition of anything involving bodily fluids, such as kissing religious objects, including the Jewish Torah, or administering communion from hand to mouth. Muslim leaders have agreed a temporary halt to Friday prayers.

Communal singing has reportedly proved to be a particular sticking point in the discussions, despite repeated warnings by leading epidemiologists that singing is as dangerous as coughing for spreading the virus.

Reports around the globe including in Los Angeles, where three-quarters of the members of one choir fell ill and two died, and in Berlin, where 59 out of 78 singers from the choir of Berlin's Protestant cathedral went down with the virus – have offered plenty of anecdotal evidence that singing in choirs has contributed to the spread of coronavirus in some communities.
This doesn't sit well with us: some numbers were way off.
State and city officials are winding down the alternate care facility they set up at McCormick Place, saying the extra space to treat patients is not needed now that the growth of COVID-19 is slowing in Illinois.

McCormick will no longer accept new patients, and after the last of the current patients leaves, officials will take down half of its existing 1,000 beds — those meant for people who are mildly ill. Dr. Nick Turkal, executive director of the McCormick Place alternate care site, declined to say how many patients were at McCormick on Friday.

Officials plan to keep the other 500 beds standing for the time being, though without staff, Turkal said. Those beds were to accommodate sicker patients. Read more here. —Lisa Schencker
Speaking of COVID in Chicagoland, why are we now just hearing that our Latinas and Latinos were most affected by the virus?
As the COVID-19 pandemic makes grimly clear, cities are arguably humanity's greatest invention, but densely populated metropolises also make us vulnerable to the rapid spread of disease.

Yet humans aren't the only species that face this problem. Honey bees have lived social lives for tens of millions of years, making them some of the oldest veterans in the battle against contagion. And over time, natural selection has given them an impressive array of strategies for mitigating transmission within colonies.

Sophisticated as they are, however, these strategies are not enough to stave off every threat. Honey bees are battling their own global pandemic, for which they were utterly unprepared. A parasitic mite, aptly named Varroa destructor, originally infested only colonies of Asian honey bees, Apis cerana, but jumped to infect Western honey bees, Apis mellifera, the species that dominates the modern commercial pollination around the world.

The mite probably jumped from Asian to Western bees sometime in the 1950s, with the first reports in 1957 in Japan, then 1963 in Hong Kong. Humans facilitated this host expansion by keeping A. cerana and A. mellifera in artificially close proximity within apiaries, then transporting newly infested colonies within and between countries. And V. destructor has been living up to its name. Today, it has spread to every region where honey bees are kept except Australia and a handful of remote islands, quickly becoming a global pandemic and the single biggest pathological threat to honey bee health.

Left untreated, a colony will typically die from the miteswithin two years. These and other pathogens, plus pesticides and poor nutrition, have forced beekeepers to struggle to keep their colonies alive. Of the 2.6 million honey bee colonies in the U.S., over half of them are infested with V. destructor.

And that's only counting those that are tested and reported; the actual numbers are likely much higher. Beekeepers have still managed to slowly increase the number of colonies they keep, on average, but at a substantially higher cost. And those increases are being outstripped by rising pollination demand.
(Reuters) - U.S. coronavirus task force coordinator Dr. Deborah Birx is best-known for her calm, authoritative briefings at the daily White House press conferences. But she has also become a pop culture phenomenon for her scarves.

Knotted around her neck or wrapped around her shoulders, the brightly colored scarves seem to change almost daily.

Texas resident Victoria Strout was one of millions who noticed, and created the Instagram account @deborahbirxscarves a few weeks after the briefings began.

Strout, who works at a footage and music licensing company, said the account now has over 30,000 followers. She said she hopes it provides a "brain break" for people dealing with nonstop COVID-19 coverage, as well as a bipartisan celebration of Dr. Birx, who has had a distinguished three-decade-long career focused on HIV/AIDS, vaccine research, and global health.

"It's a combination of people that admire Dr. Birx and also like scarves," Strout said. "It's kind of created its own little community, which has been really fun and something I absolutely didn't expect."

Washington Post fashion critic Robin Givhan said anyone with such a collection of scarves had to be invested to some degree in their esthetics.

"Some of them exude a kind of patriotism, others I think are more playful... giving people a sense that there's a personality behind the resumé, behind the titles."
A cutting-edge NASA satellite has provided one of the most detailed looks yet at glaciers in Greenland and Antarctica. The findings are clearer than ever: Both ice sheets are losing billions of tons of mass into the ocean each year, contributing significantly to global sea-level rise.

The results were published yesterday in the journal Science by a team of researchers from around the country, led by Ben Smith of the University of Washington. They're among the first published findings from the ICESat-2 mission, a NASA satellite that can measure changes in the height of the Earth's ice sheets and the thickness of polar sea ice.

Launched in September 2018, the mission was a much-anticipated follow-up to a previous ICESat mission, which concluded in 2009. Equipped with a set of high-tech laser instruments, ICESat-2 is far more sensitive than the original mission—able to make fine observations of changes in the Earth's surface.

Now, those observations are giving scientists new insight into the plight of the world's largest ice sheets.

Since 2003, the combined ice loss from Greenland and Antarctica has contributed more than a half-inch to global sea-level rise. While some sections of the ice sheets are actually gaining mass in the form of accumulating snow, those gains are outweighed by losses from melting ice and crumbling glaciers in other areas.

Previous studies have come to similar conclusions. But the new data gives scientists a closer look at exactly where those losses are coming from—and what's causing them.

In Greenland, ice loss mainly occurs in the form of surface melting. The top of the ice sheet warms and melts, and the water runs off into the ocean.

While Greenland saw some modest gains in mass near the center of the ice sheet, it suffered far more serious losses in other areas—especially the northwest and southeast regions.

Antarctica also gained mass in some areas, mainly East Antarctica. But these gains were outweighed by losses in West Antarctica and the Antarctic Peninsula.
Jesus Creed is a part of CT's Blog Forum. Support the work of CT. Subscribe and get one year free.
The views of the blogger do not necessarily reflect those of Christianity Today.