May 30, 2020
Weekly Meanderings, 30 May 2020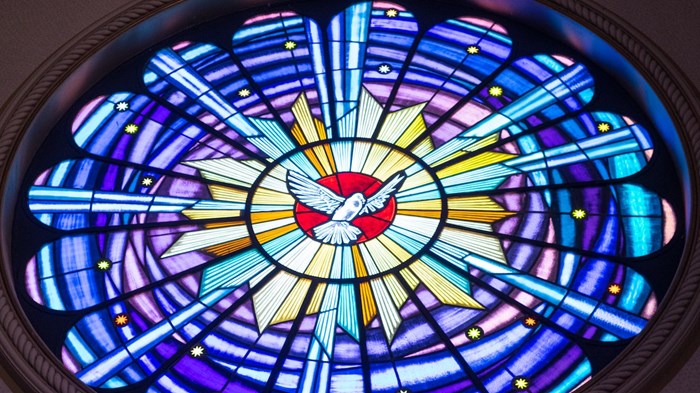 Greetings this Saturday morning!
Tomorrow is Pentecost. We need it, we nee the Spirit's power come upon us and stir a revolution.
Today we can read the words of former President Obama reflecting on George Floyd:
I want to share parts of the conversations I've had with friends over the past couple days about the footage of George Floyd dying face down on the street under the knee of a police officer in Minnesota.

The first is an email from a middle-aged African American businessman.

"Dude I gotta tell you the George Floyd incident in Minnesota hurt. I cried when I saw that video. It broke me down. The 'knee on the neck' is a metaphor for how the system so cavalierly holds black folks down, ignoring the cries for help. People don't care. Truly tragic."

Another friend of mine used the powerful song that went viral from 12-year-old Keedron Bryant to describe the frustrations he was feeling.

The circumstances of my friend and Keedron may be different, but their anguish is the same. It's shared by me and millions of others.

It's natural to wish for life "to just get back to normal" as a pandemic and economic crisis upend everything around us. But we have to remember that for millions of Americans, being treated differently on account of race is tragically, painfully, maddeningly "normal" — whether it's while dealing with the health care system, or interacting with the criminal justice system, or jogging down the street, or just watching birds in a park.

This shouldn't be "normal" in 2020 America. It can't be "normal." If we want our children to grow up in a nation that lives up to its highest ideals, we can and must be better.

It will fall mainly on the officials of Minnesota to ensure that the circumstances surrounding George Floyd's death are investigated thoroughly and that justice is ultimately done. But it falls on all of us, regardless of our race or station — including the majority of men and women in law enforcement who take pride in doing their tough job the right way, every day — to work together to create a "new normal" in which the legacy of bigotry and unequal treatment no longer infects our institutions or our hearts.
We are long on outrage and anger, and short on solutions that transform.
Kate Shellnutt on "Big (George) Floyd":
The rest of the country knows George Floyd from several minutes of cell phone footage captured during his final hours. But in Houston's Third Ward, they know Floyd for how he lived for decades—a mentor to a generation of young men and a "person of peace" ushering ministries into the area.

Before moving to Minneapolis for a job opportunity through a Christian work program, the 46-year-old spent almost his entire life in the historically black Third Ward, where he was called "Big Floyd" and regarded as an "OG," a de-facto community leader and elder statesmen, his ministry partners say.

Floyd spoke of breaking the cycle of violence he saw among young people and used his influence to bring outside ministries to the area to do discipleship and outreach, particularly in the Cuney Homes housing project, locally known as "the Bricks."

"George Floyd was a person of peace sent from the Lord that helped the gospel go forward in a place that I never lived in," said Patrick PT Ngwolo, pastor of Resurrection Houston, which held services at Cuney.

"The platform for us to reach that neighborhood and the hundreds of people we reached through that time and up to now was built on the backs of people like Floyd," he told Christianity Today.

Ngwolo and fellow leaders met Floyd in 2010. He was a towering 6-foot-6 guest who showed up at a benefit concert they put on for the Third Ward. From the start, Big Floyd made his priorities clear.

"He said, 'I love what you're doing. The neighborhood need it, the community need it, and if y'all about God's business, then that's my business,'" said Corey Paul Davis, a Christian hip-hop artist who attended Resurrection Houston. "He said, 'Whatever y'all need, wherever y'all need to go, tell 'em Floyd said y'all good. I got y'all.'"

The church expanded its involvement in the area, holding Bible studies and helping out with groceries and rides to doctor's appointments. Floyd didn't just provide access and protection; he lent a helping hand as the church put on services, three-on-three basketball tournaments, barbecues, and community baptisms.

"He helped push the baptism tub over, understanding that people were going to make a decision of faith and get baptized right there in the middle of the projects. He thought that was amazing," said Ronnie Lillard, who performs under the name Reconcile. "The things that he would say to young men always referenced that God trumps street culture. I think he wanted to see young men put guns down and have Jesus instead of the streets."
Good advice for what's safe and what's not, and "Should we do this or that?"
It has been around two months of quarantine for many of us. The urge to get out and enjoy the summer is real. But what's safe? We asked a panel of infectious disease and public health experts to rate the risk of summer activities, from backyard gatherings to a day at the pool to sharing a vacation house with another household.

One big warning: Your personal risk depends on your age and health, the prevalence of the virus in your area and the precautions you take during any of these activities. Also, many areas continue to restrict the activities described here, so check your local laws.

And there's no such thing as a zero-risk outing right now. As states begin allowing businesses and public areas to reopen, decisions about what's safe will be up to individuals. It can help to think through the risks the way the experts do.

"We can think of transmission risk with a simple phrase: time, space, people, place," explains Dr. William Miller, an epidemiologist at Ohio State University.

Here's his rule of thumb: The more time you spend and the closer in space you are to any infected people, the higher your risk. Interacting with more people raises your risk, and indoor places are riskier than outdoors.

Dr. Emily Landon, a hospital epidemiologist and infectious diseases specialist at University of Chicago Medicine, has her own shorthand: "Always choose outdoors over indoor, always choose masking over not masking and always choose more space for fewer people over a smaller space."

Our experts shared their thoughts via phone and email interviews.
Good work by these college students:
As college students are seeing the school year come to a unprecedented end, many are trying to help out their communities during this pandemic.

A group of college students are stepping in to help senior citizens. Students are joining an organization called "Leave it to Us", where they go out grocery shopping for seniors citizens— and deliver the groceries right to their doors free of charge.

Eljie Bragasin is a molecular biology student at UCLA and joined a growing group of college students volunteering to do essential shopping runs during the coronavirus pandemic. Bragasin believes the small gesture shows seniors that they aren't alone.

"The gestures that we do shows that we can care about people, even if we don't have any real connection with them" Bragasin said.

Bragasin said he wanted to give back to the community during this trying time.

"I think a lot of us at UCLA are pretty used to being involve with the community," Bragasin said. "And not being able to do that, really affected us. And we just wanted to be able to offer what we had."

Bragasin's friend and fellow college student Michael Arundel started "Leave it to Us" out of Chicago just a few short months ago.

Now more than 400 volunteers have signed up with 25 chapters across the country. Arundel said he is proud of his generation during this uncertain time.
MIDDLETOWN, Md. (Reuters) - The milk truck can be heard more than a block away, chugging along the narrow tree-lined streets of Washington's historic Capitol Hill neighborhood.

Milkman Seth Burmeister is making the first of the day's 150 home deliveries of milk, eggs and ice cream produced at South Mountain Creamery in Middletown, Maryland, some 60 miles (100 km) away.

South Mountain Creamery says it saw an almost tenfold increase in new home delivery customers over a single weekend in late March when stay-at-home measures due to the COVID-19 pandemic started in the region. By mid-May the company had a wait list of 6,000 new households, it said.

"COVID kind of pushed people over that line, that 'Hey, I'm going to have to try this'," said the dairy's CEO, Tony Brusco.

An extra advantage is the milk is delivered in glass bottles rather than single-use plastic jugs found in most grocery stores. The eggs come from cage-free chickens and the milk from grass-fed cows, according to the company's website.

South Mountain's overall customer base doubled over four weeks after the initial surge in interest in late March, said Brusco, and they are still hiring more drivers and trucks.
The potholes of Chicago get art:
CHICAGO (Reuters) - The COVID-19 pandemic has been a bumpy road for many Chicagoans, but they have mosaic artist Jim Bachor to thank for paving the way to some unexpected smiles with four additions to his "pothole art" series installed on the city's North Side.

Along a side street near the iconic Green Mill jazz club in the Uptown neighborhood, Bachor has created four glass and marble mosaics inside small craters in the pavement.

The colorful creations, which glisten in the sunlight, refer to symbols of the city's experience with the pandemic. There are mosaics depicting an Old Style beer can, one of Chicago's classic brands; a toilet paper roll and a bottle of hand sanitizer; and a red Chicago flag star, in homage to a city that has recorded 1,830 coronavirus-related deaths.

"It's a little bit of an unexpected joy ... an unexpected grin," he said. "It's finding a little bit of humor in times that are not funny and elbow to the ribs of us humans and the ridiculous things that go on."

Chicagoans are all too familiar with potholes, and Bachor has been placing tile mosaics in them since 2013 after a particularly stubborn crater in front of his Northwest Side home inspired him.

"Everyone can relate to potholes. It doesn't matter if you are rich, poor, young or old ... everyone hates them," he said.
The news from that wonderful country Finland:
(Reuters) - Finland has seen no evidence of the coronavirus spreading faster since schools started to reopen in the middle of May, the top health official said on Thursday.

"The time has been short, but so far we have seen no evidence," Mika Salminen, director of health security at the Finnish Institute of Health and Welfare, told a news conference.

Finland started to reopen schools and daycare centres from May 14 following an almost two-month shutdown.
Jesus Creed is a part of CT's Blog Forum. Support the work of CT. Subscribe and get one year free.
The views of the blogger do not necessarily reflect those of Christianity Today.