October 26, 2020
Our Responsibility to Others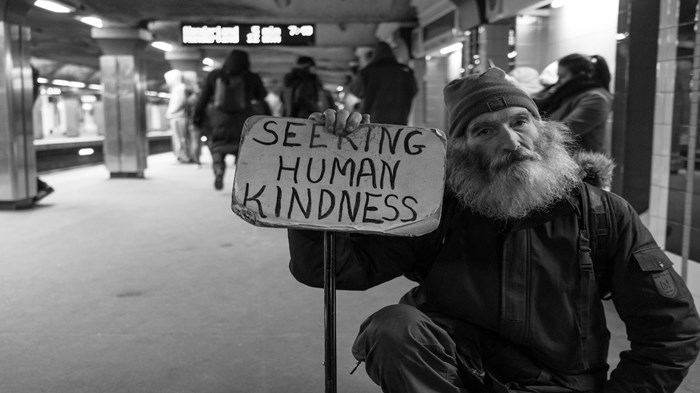 As followers of Christ, we have a unique responsibility to love and care for those in our community who are vulnerable and oppressed. Throughout the Old Testament and carrying over into the life and ministry of Jesus, we see a particular focus on children, the poor, the widowed, and the foreigner. This was completely counter-cultural then, and it's completely counter-cultural now. Why should we invest in the lives of people who seemingly bring nothing to the table? Except it is a falsehood that only certain types of people have something to offer. Each of us brings something unique and beautiful to the table, and a person's value in what they bring doesn't lie in their wealth, marital status, education level, age, nationality, or any other standard the world uses to determine significance.
When I talk to my kids about being a Christ follower, I tell them it's a bit like living in an upside-down, topsy-turvy way, an Alice-falling-down-the-rabbit-hole way. It's often the exact opposite of how our world is telling us to live. In our American culture, which often seeps into our Church culture, we see a focus on individualism, on climbing the ladder of success at all costs, at placing high value on high returns, on outward expressions of attainment, and on our own personal health, wealth, and happiness. It certainly is easier and more pleasant to spend our time, energy, and money on things which will provide us with some type of return and will make our lives easier and more comfortable. Sometimes, though, we view people through this same grid and reduce them to a profit-loss chart.
Yet, Jesus requires us to love those who at first glance appear to have very little. 1 John 3:17 says, "If anyone has material possessions and sees a brother or sister in need but has no pity on them, how can the love of God be in that person?" In other words, if those of us who have, don't open our hearts to those who don't have, and instead ignore and refuse to give generously, it is questionable that we truly love God. Those are strong words, but this is just one example demonstrating how seriously God takes our treatment of people who are vulnerable.
I wonder how many of our churches are so busy with our programs and Bible studies and building plans, that we forget this critical component of our lived-out faith. We need to care for those who are hurting in our midst, and we need to care for those hurting outside the walls of our church building. I don't think Jesus is asking us to do one-off food drives or to make people our pet projects either. What I believe he's calling us to do is to lay down our lives for fellow image bearers who need to see Jesus in our deeds, not just hear about him in our words. This means friendship, siblingship, and investing in people's lives, not just in their salvation. It's easier to give money or drop a canned good in a basket than it is to listen to someone's story, show compassion, ask about specific needs they have, and walk their journey with them, no matter how difficult it might be.
When it comes right down to it, our responsibility to others is to love them. Period. Jesus didn't offer any caveats in his command to love others. And when we love others, what we often see is our own need, vulnerabilities, and ways in which we need what others have to offer. Relationships are not one-directional. It is not just others who will gain, we will gain as well.
In his book, Church Forsaken, Jonathan Brooks talks about the forgotten people and the forgotten communities which have often been forsaken by the Church. I was personally convicted and deeply impacted by his writings. One quote in particular which stood out to me was, "To hear congregants speak as if they only have assets and no deficits feels patronizing to those who have been neglected. It comes across as condescending to act as if we only come to serve and have nothing to receive from the community." Is my heart softened and open to what others have to offer to me or am I solely focused on what I bring to the situation or relationship?
Let us love in word and deed all people, but especially those who have often been overlooked, neglected, and marginalized. We need them. Not because they offer us worldly goods or success. We need them because they bear the image of Christ, and if we are to know God in all his fullness and glory, our responsibility is to look for him in the very faces of those the world has chosen to dismiss.
Jesus Creed is a part of CT's Blog Forum. Support the work of CT. Subscribe and get one year free.
The views of the blogger do not necessarily reflect those of Christianity Today.