September 19, 2020
How and Where I Write: James K.A. Smith
How and Where I Write: James K.A. Smith
By David George Moore
I've had the privilege to be in the personal spaces of several writers. Among others, Pulitzer winner Tony Horwitz warmly welcomed me at his home on Martha's Vineyard as did William F. Buckley on Long Island Sound.
I've interviewed close to 200 authors. Everyone has their own style with reading, capturing what they have read, and then writing. As I writer myself, I have settled on an approach I feel comfortable with.
James K.A. Smith is a professor of philosophy at Calvin University. He an award-winning author of many books. My favorites of Smith's are On the Road with St. Augustineand How (Not) to be Secular.
Please include picture(s) of your library/workspace
Moore: Do you still acquire books as you get older or have you slowed down a bit?
Smith: Absolutely. It would be a surrender to death if I stopped buying books.
Moore: What are the best time(s) and place(s) for you to write?
Smith: As I've aged, I can no longer write at night. But other than that, a life spent on the road the past number of years has taught me to write almost anywhere. I've written significant portions of books on airplanes, in hotel rooms, at coffee shops. But I still prize the comfort of my home office, surrounded by my books and William Morris's "Willow Boughs" on the walls.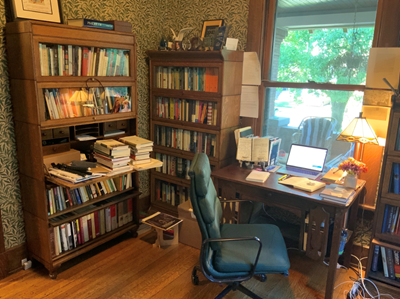 Image: Personal photo
Moore: How do you capture your research? Old school with note cards etc., or new school with computer programs?
Smith: I'm still a Moleskin guy, but Evernote is now also integral to my research. I call it my "digital Moleskin."
Moore: Do you immediately start writing on the computer (perhaps typewriter) or by longhand?
Smith: I do what I'd call "architectural sketching" by hand in a notebook, trying to picture the structure of a book. But generally, from the start of actually writing, I'm typing my drafts on a laptop.
Moore: Do you put marginalia in your physical books?
Smith: Yes, this is really integral to the way I digest my reading and set myself up for writing later on. In fact I've blogged about some of my annotation methods before (and provided some pictures).
Moore: Do you read digital books?
Smith: Never.
Moore: What is some good advice you received on writing?
Smith: I suppose I've never forgotten something Anne Lamott says in Bird by Bird: picture a one-inch frame across the page and just fill that inch. Then the next one. Bird by bird.
Moore: What do you think is your best book?
Smith: My next book. Always my next book.
Moore: Please name a few of your favorite authors from your own field of study
Smith: This is a little tricky, because I'm not sure what my field of study is. If we say philosophy, and you let me interpret that generously, then Albert Camus is one of my patron saints. And Iris Murdoch. I also love O.K. Bouwsma, though no one else reads him, unfortunately.
Moore: What is a book you should have read by now, but haven't? This will make all of us sleep better!
Smith:Middlemarch.
David George Moore is the author of the forthcoming Stuck in the Present: How History Frees and Forms Christians (Leafwood/Abilene Christian University Press). Some of Dave's teaching videos can be found at www.mooreengaging.com.
Jesus Creed is a part of CT's Blog Forum. Support the work of CT. Subscribe and get one year free.
The views of the blogger do not necessarily reflect those of Christianity Today.