April 7, 2021
How is Faith Formed?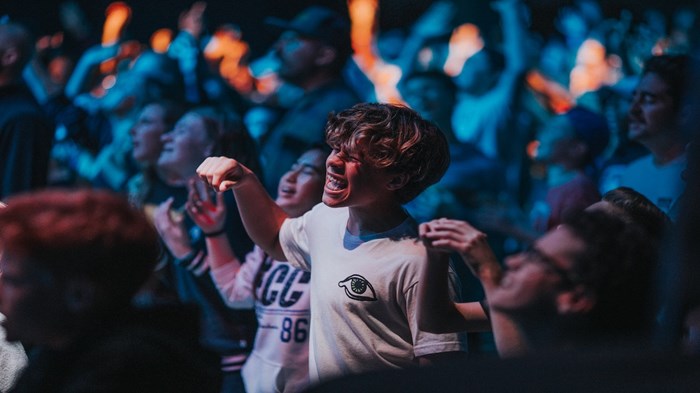 How is Faith Formed?
I started following Jesus when I was 15 years old through an experience I had at summer camp. If you have grown up around church, you probably know the scene: youth group kids at summer camp, girls crying their mascara off, and boys standing strong hoping to be the shoulder that they will cry on. There I was, confessing my sin of materialism and the "sinful" decision of kissing the 18-year old boy at the dance. I was repentant to never again lie to my mom about the rated-R movie I snuck into at the movies with my friends the weekend before. And as my new camp friends surrounded me and we sang one last verse of "All in All" (a cappella of course), something profound happened to me that changed my life forever.
I cannot describe exactly what I experienced that night. All I can tell you is that I could not stop crying and telling Jesus that my heart was His. It was confessional. It was communal. It was supernatural. I say that happened "to me" because it was something outside myself. It was a force that intervened, or broke into those moments of my life.
I am 37 years old today and what happened to me on that day changed the course of my life. Those moments are the reason that I am who I am today and the reason that I am where I am today.
As a youth pastor, I have often thought back to that day and to that 15-year old girl. As I do, it occurs to me that today looks very different than that day.
Today I am no longer crying my mascara off in worship. My mom no longer cares if I stay out too late and watch rated-R movies. I'm only kissing one man, and we don't sing "All in All" acapella at church camp anymore.
Today I am no longer crying my mascara off in worship. My mom no longer cares if I stay out too late and watch rated-R movies. I'm only kissing one man, and we don't sing "All in All" acapella at church camp anymore.
As a Youth Pastor, I think about that night at church camp and I think about that 15-year old girl often. I remember her tumultuous journey after that night. I remember her deep desire to please God but her inability to do so on her own. I remember the pull of her flesh being stronger than she ever dreamed it would be. I remember those who came alongside her as guides, mentors and friends.
Today I lead a Youth Ministry and I am the mother of three small children.
As a Youth Pastor and as a mother, I often wonder, how is faith really formed?
Is it in a moment?
Is it over time?
What are the ingredients that must be present for faith in Jesus to grow?
There are a countless number of books, podcasts, seminars and conferences that all seek to answer this question. But I think that there is a lot more mystery to this question than we are willing to admit. I have found that faith is oftentimes something that is done "to us" instead of something we create.
Paul offers us a resource as we ponder this question of faith formation. Many scholars call this the "theological heart" of the letter to the Ephesians: Ephesians 2:1-10
But because of his great love for us,God, who is rich in mercy,made us alive with Christ even when we were dead in transgressions—it is by grace you have been saved.And God raised us up with Christand seated us with himin the heavenly realmsin Christ Jesus,in order that in the coming ages he might show the incomparable riches of his grace,expressed in his kindnessto us in Christ Jesus…. (Ephesians 2:4-7)
…For we are God's (workmanship) handiwork,createdin Christ Jesus to do good works,which God prepared in advance for us to do. (Ephesians 2:10)
Notice the verbs that Paul uses to describe God's work of "creating us in Christ" (Ephesians 2:10). What is the work of creation that God does on behalf of believers in Christ?
God:
made us alive with Christ
raised us with Christ
seated us with Christ.
These three verbs occur in the Greek aorist tense. That tense emphasizes "that" something happened, not how and not when but that. This is what I am calling faith formation: God's work of creation and re-creation of believers.
In other words, the faith formation of believers is tied to God's very act of creation, to what God has done. Creation is something that is done to us. We were created by God at the very beginning with all of creation. But now, in Christ, we have been re-created. We are made alive with, raised with, and seated with Christ continually over the course of our lives.
The promise of Ephesians 2:10 is that whatever season of life we find ourselves in, we are being created and re-created by God. We are God's new creation story, God's handiwork, God's workmanship. This work did not cease at the moment of salvation. This work continues to this day and it is the beautiful handiwork of God. Whatever season you are in and no matter how it feels to you, the truth is that you are still being made alive, still being raised with and seated with Christ today. Let's embrace the mysterious act of God as God creates and re-creates us and as we lead others to do the same.
Jesus Creed is a part of CT's Blog Forum. Support the work of CT. Subscribe and get one year free.
The views of the blogger do not necessarily reflect those of Christianity Today.